Mushroom Soup Recipe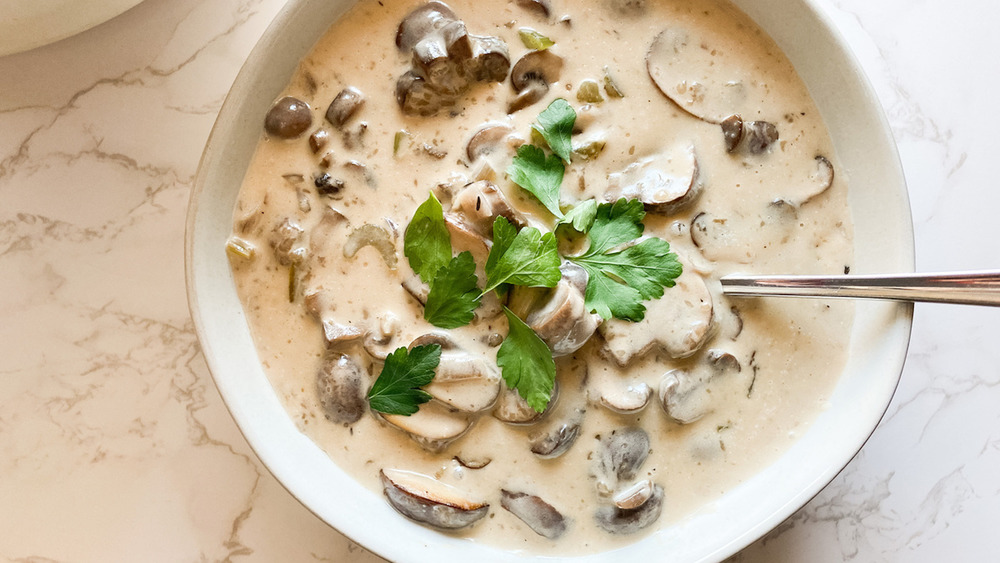 Kristen Carli/Mashed
If you are a big fan of mushrooms like we are, you'll love the mushroom soup created by registered dietician Kristen Carli and Mashed. We are obsessed with how easy this creamy, flavorful soup is to make at home, whether you are looking for a quick lunch, dinner, or even a starter for a dinner party. The delicious dish comes together with a short list of ingredients, and it takes just over a half an hour from start to finish.
Meanwhile, you can 100 percent make Carli's mushroom soup ahead of time, with the recipe maven telling Mashed, "This dish stores well in an airtight container in the fridge for up to five days and heats well in the microwave."
As for serving up the succulent soup, Carli shared with us, "I love to serve this with a big hunk of sourdough bread for dipping." Sound yummy? Yup, our mouths are watering, too.
Build your ingredient list for this mushroom soup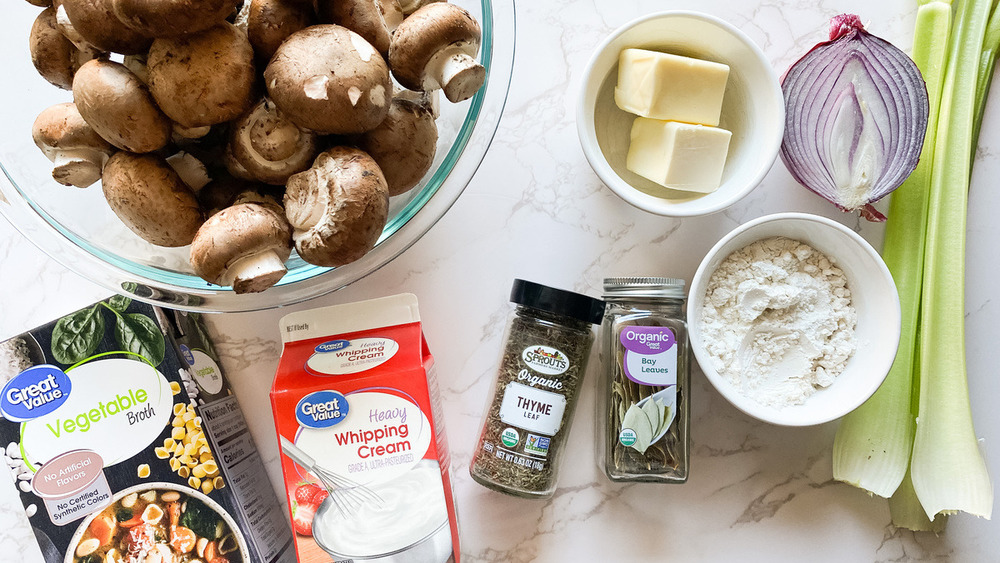 Kristen Carli/Mashed
If you plan to make this savory mushroom soup soon, go ahead and shop for, or gather from the kitchen, the following basic ingredients: unsalted butter, celery, a red onion, baby bella mushrooms, all-purpose flour, dried thyme, bay leaves, veggie broth, and salt, pepper, and heavy cream.
We asked Carli about her choice of a few of these ingredients, namely, the heavy cream. "To make this soup really decadent and creamy, I use heavy cream," she told Mashed. But there's another option for those who want to enjoy a lighter version of the soup, with Carli noting, "You can substitute whole milk if you want to save some calories."
Meanwhile, we wondered why the recipe developer chose red onion specifically for this dish. "I love the flavor pairing of red onion with mushrooms," she shared with us, adding, "It is a bit sweeter."
Sauté the vegetables for your mushroom soup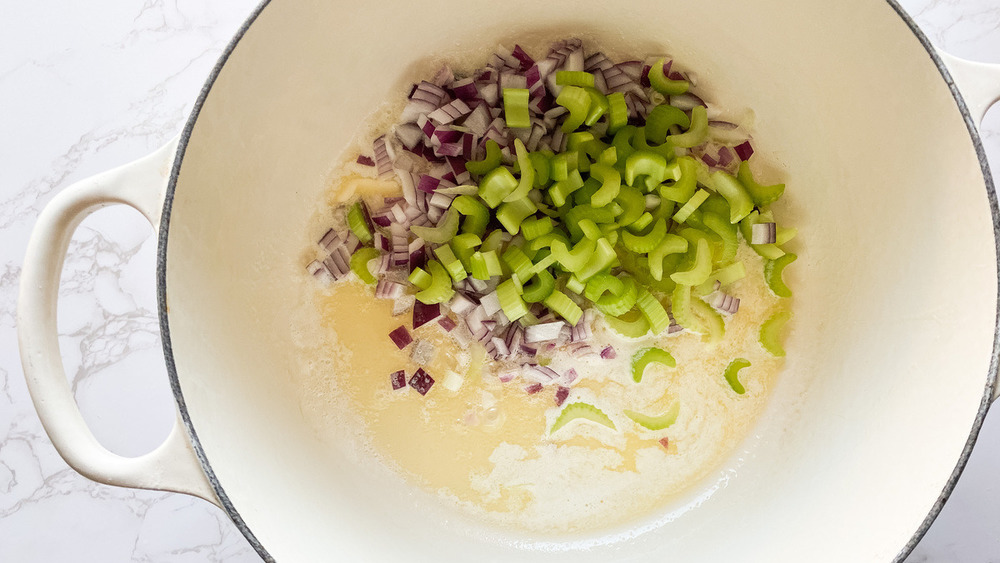 Kristen Carli/Mashed
To get your mushroom soup to the table in no time, simply pull out a large stock pot, to which you will add your butter first over medium heat. Once the butter is bubbly, add in your diced celery and onion, cooking the fragrant veggies until they are tender, which Carli estimates will take about five minutes. Next, go ahead and add in your sliced baby bella mushrooms, cooking the vegetable mixture for 15 more minutes. Carli notes you will see that your mushrooms are reduced in size, and they will be nice and soft before it's time to move on to the next step of the soup prep process.
Next up, you will be adding flour to your veggies. Wait, what? For those who have not cooked a homemade soup like this previously, Carli explains, "The flour helps to thicken the soup. If you are gluten-free, cornstarch works well too!"
Finish cooking your mushroom soup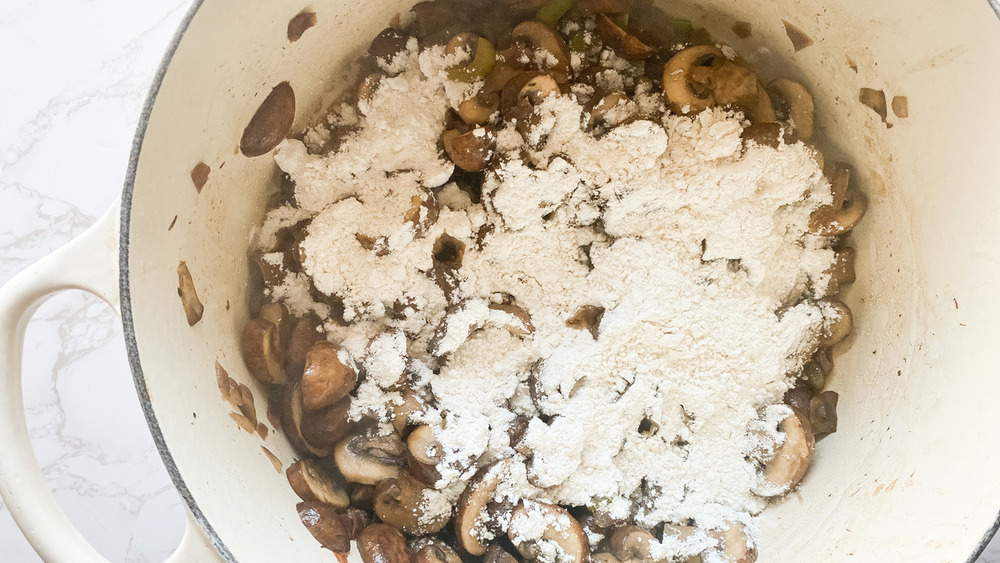 Kristen Carli/Mashed
You will next add your flour to the softened veggies, and stir these ingredients to combine them, coating the mushrooms, onions, and celery with the flour. Next, add in your thyme, the bay leaves, and the vegetable broth, and then season your soup with plenty of salt and pepper. Carli notes at this stage, you will simmer your soup for ten minutes.
Finally, remove the soup from the heat and stir in heavy cream. Now, the dish is almost ready to indulge in, with Carli advising home cooks to allow the soup to cook through with the residual heat for five more minutes. And then, dig in. But of course, Carli reminds us, "You remove the bay leaves before serving."
And remember, if you wish to serve your soup later in the day or week, this one keeps and reheats as easy as pie.
Mushroom Soup Recipe
If you are a big fan of mushrooms like we are, you'll love this mushroom soup created by registered dietician Kristen Carli and Mashed.
Ingredients
6 tablespoons unsalted butter
3 celery stalks, diced
½ red onion, diced
2 pounds baby bella mushrooms, sliced
6 tablespoons all-purpose flour
1 teaspoon dried thyme
2 bay leaves
32 ounces vegetable broth
1 teaspoon salt
½ teaspoon pepper
1 cup heavy cream
Directions
In a large stock pot, add butter and heat over medium heat. Add celery and onion and cook until tender, about 5 minutes.
Add mushrooms and cook for about 15 minutes until softened and reduced in size.
Add flour and stir to combine. Add thyme, bay leaves, vegetable broth, salt, and pepper. Simmer for 10 minutes.
Remove from heat and stir in heavy cream. Allow to cook with residual heat for 5 minutes.
Nutrition
| | |
| --- | --- |
| Calories per Serving | 311 |
| Total Fat | 26.9 g |
| Saturated Fat | 16.6 g |
| Trans Fat | 0.5 g |
| Cholesterol | 84.9 mg |
| | |
| --- | --- |
| Total Carbohydrates | 14.2 g |
| Dietary Fiber | 2.5 g |
| Total Sugars | 4.9 g |
| Sodium | 452.5 mg |
| Protein | 6.8 g |