Trader Joe's Has An All New Vegan Caramelized Onion Dip, And Fans Are Excited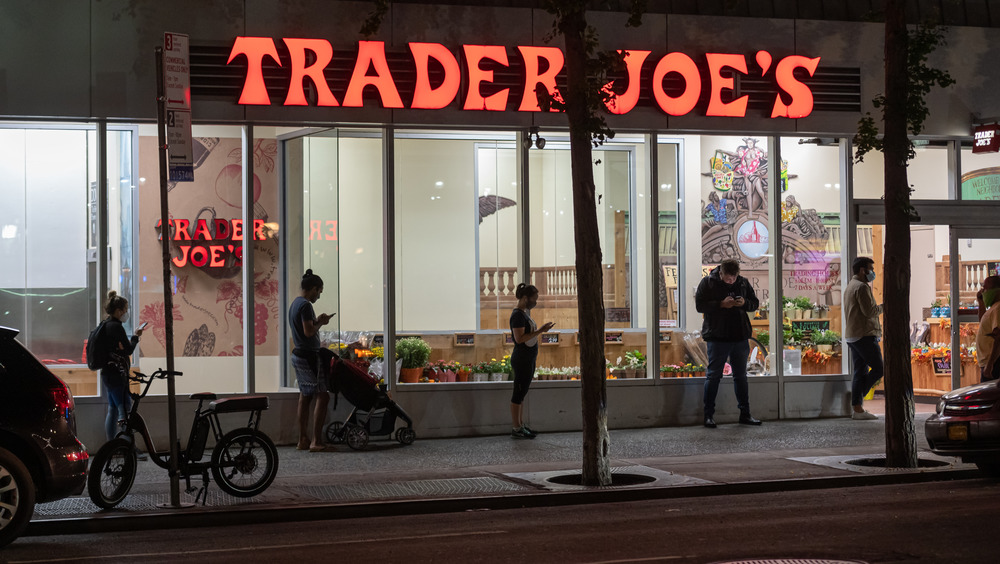 Noam Galai/Getty Images
Trader Joe's is one of the coolest grocery chains out there and has managed to appeal to audiences across the country. As reported by Thrillist, one of the things that really strengthens its brand name is the fact that it has a plethora of products at accessible rates. Shoppers can even find items like rare snacks and healthy meal options at the store. Some of the most popular items at the store include its Cookie Butter, Everything But The Bagel Seasoning, Dark Chocolate Peanut Butter Cups, and Cowboy Caviar.
Also, the store doesn't shy away from stocking vegan and gluten-free options. As per Spoon University, some of the store's most popular vegan and gluten-free items to look out for are the Roasted Plantain Chips, Herb and Spice Popcorn, and the Cinnamon Apple Snack Sticks. The store has also recently come up with a vegan dip that fans are raving about on social media. 
Trader Joe's new vegan dip has promising reviews
As per posts on Instagram, the Vegan Caramelized Onion Dip from Trader Joe's is a definite win. An Instagram user expressed their delight at finding the vegan dip and wrote, "So excited to see more #vegan items at #traderjoes. I'm not vegan but tend to sway more vegan than not! Last week they released a vegan Tzatziki Dip and now this!" Another Instagram user wrote that the product is definitely worth the hype and tastes delicious. They added, "There's a bit of a sweet aftertaste but it's delish!"
Commentators can't get over their excitement. Another fan who has tried out the product called it "phenomenal." Many commentators wrote that they simply couldn't wait to get their hands on the new dip and test it out for themselves. Sounds like you should definitely give this one a shot if you're vegan and need something delicious with your chips!