Chrissy Teigen's Easter Chocolate 'Masterpiece' Only Lasted A Few Minutes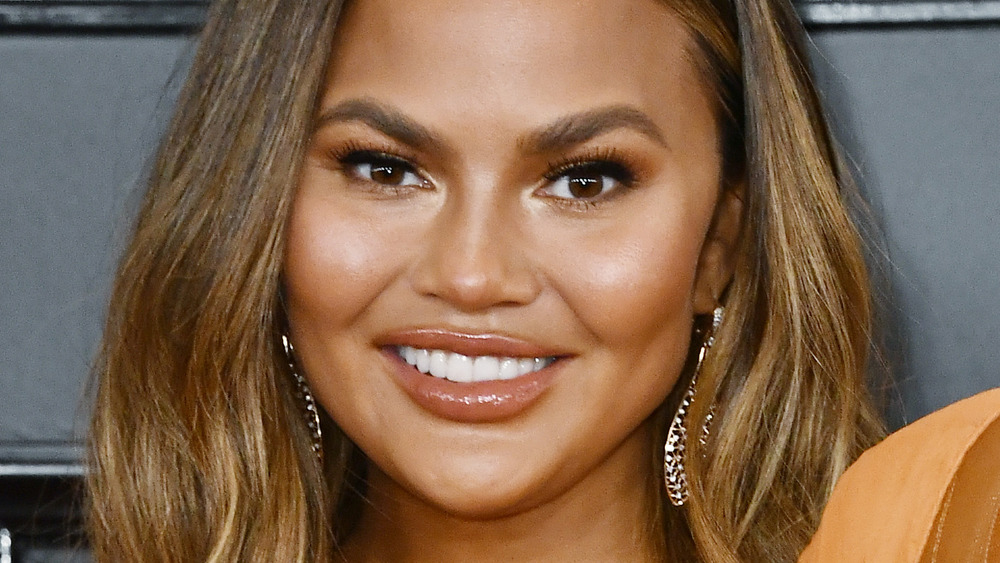 Frazer Harrison/Getty Images
Anyone who has ever worked hard on a culinary feat — from a multi-tiered cake to delicate homemade chocolates — can likely understand the big disappointment that comes after things suddenly go awry. Unfortunately, Chrissy Teigen had her own brush with culinary disappointment over the past few days. In an Instagram post she shared on Sunday, March 21st, Teigen was working away on a stack of chocolate ducks and a chocolate egg during a chocolate session she and her husband John Legend had at Kollar Chocolates in Yountville, California (via Instagram).
Teigen had stacked four chocolate ducks on top of each other and decorated them with chocolate eggs and even a white chocolate fried egg on the front of the sculptural creation. In the post, which was liked by more than 160,000 people, Teigen was painting and decorating the edible art as she assembled it. Once it was complete, she along with the chocolatier, took photos of the well-balanced, gravity-defying chocolate concoction.
Chrissy Teigen's chocolate masterpiece quickly crumbled
After all of that hard work, Teigen was able to take her spring-themed chocolate creation back home with her. She posted again on Instagram saying, "look who's coming home!" (via Instagram). But shortly after the triumphant post of her impressive chocolate sculpture, there was yet another update. The chocolate "masterpiece" of ducks and eggs had become masterpieces after it toppled and broke with only two of the four ducks still stuck together in the back of a car (via Instagram).
Teigen looked like she was reasonably upset, but she was also recorded joking with her husband, "John, you were watching... you didn't do anything!" He simply responded saying, "There was a bump in the road." Whether the chocolate holding the ducks together had melted slightly or it was accidentally tapped and then broke, the ducks just couldn't hold on and didn't make it home after all. Not to worry, though.
With Teigen's cooking skills, she should be able to easily mend it with more melted, tempered chocolate at home. According to Epicurious, tempering chocolate is easy when you use a doubleboiler or heat the chocolate in a metal bowl over a saucepan. Maybe Chrissy Teigen should just use a bit of extra care when displaying it once it is back together in her own kitchen. Eating it is obviously another great option.