The Surprising Ingredient Chrissy Teigen Loves To Add To Her Dishes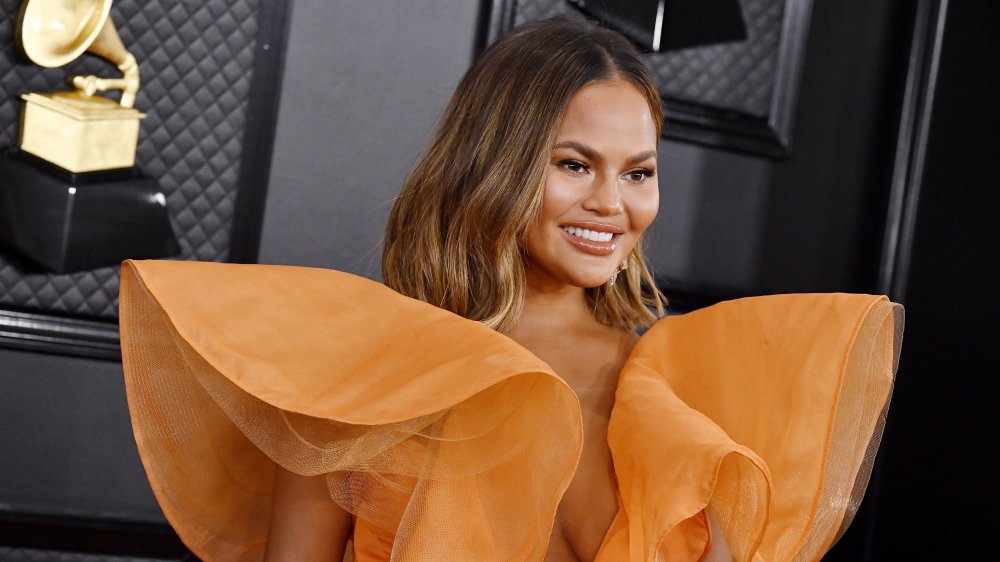 Frazer Harrison/Getty Images
Chrissy Teigen's resume is pretty impressive: mom, model, television host, Cravings cookbook author, wife to John Legend, influencer, actress — and the list goes on. She is pretty amazing, and luckily, she is willing to share her culinary tips, tricks, and know-how with her fans. Teigen even let us in on a surprising ingredient both she and her husband, who also knows his way around the kitchen, love to use to give their meals and snacks what Carrie Bradshaw would probably call the "zsa zsa zsu" you feel when you sink your teeth into that first bite. Teigen and Legend's special ingredient: Lawry's seasoned salt. 
Teigen's husband uses this seasoning in his mac and cheese and in the brine and breading of his fried chicken, while she is a little more liberal in her use. You can find the supermodel dusting Lawry's seasoned salt over favored fruits like pineapple and honeydew melon, sprinkling it into a glass of cold beer, and even ameliorating her husband's chili recipe, which she included in her own cookbook, by adding the salty mixture. Teigen explained, "John's always had this chili recipe in his family, and it's a great chili, but to me, it's a little boring, so I was like, 'I'm going to need you to jazz it up. We started putting Lawry's in it, and putting it on top of Fritos for a Frito Pie, which is so nice."  Frito pie and chili with a little bit of Lawry's? Yes please (via Delish).
Chrissy Teigen took over Lawry's Instagram
Teigen's love affair with Lawrys salty flavors even led her to team up with its makers in 2016 to share game day tailgating recipes and tips for using the seasoning. She even took over their Instagram account, posting: "Some chicks roll in cash... I roll in Seasoned Salt. — Chrissy" (via Hello Giggles)." And she was serious about rolling in it, too — Teigen uses Lawry's in just about everything.
In a press release, the sassy mom of two shared her favorite part of game day is the food, and she is not alone in this sentiment. According to a survey that was conducted before the 2020 Super Bowl, 56 percent of sports fans admitted that the food is the most enjoyable aspect of getting together for the game (via SWNS Digital). So having the Teigen/Legend pantry stocked with their favorite seasoning is kind of important. Teigen shared, "There are like 10 things that, if I have on hand, I can take over the world — or at least a tailgate. Sriracha, cilantro, and Lawry's Seasoned Salt are some of my favorites." 
She uses Lawry's to make meat rubs, sprinkles it in her guacamole and pico de gallo, and adds a little onto classic burger and hot dog toppers like avocado, sautéed onions, and mushrooms or sliced tomato. It's enough to make anyone's mouth salivate. Who wouldn't want to score an invite to Teigen's tasty game day parties?