Gordon Ramsay's Hilarious Response To This 7-Eleven Beef Wellington Recipe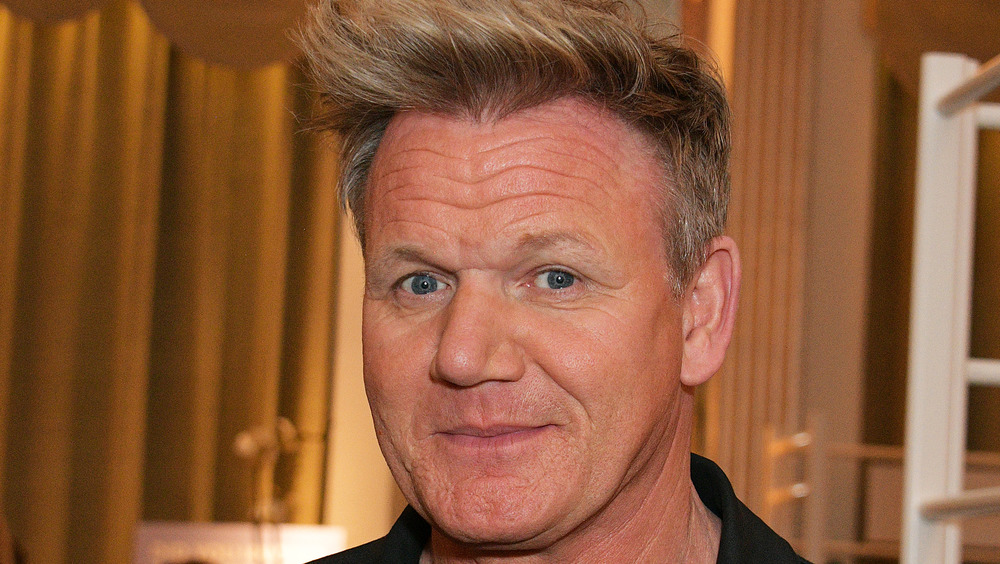 David M. Benett/Getty Images
Mythical Kitchen has just taken its feud with Gordon Ramsay to another level. Josh Scherer, the not-so-master chef on the YouTube cooking channel, is going after Ramsay where he lives: beef Wellington.
Gordon Ramsay restaurants declare beef Wellington to be Ramsay's signature menu item. His two-and-a-half-minute video showing how to make the dish has been viewed more than 4.5 million times on YouTube. Ramsay's Wellington calls for the finest quality fillet steak, and Ramsay insists on using English mustard. "You're not going to put Dijon on there, are you," he says in the video.
If Ramsay finds French mustard on beef Wellington offensive, imagine what he must think about a Wellington created entirely out of ingredients from a 7-Eleven. That's what Scherer at Mythical Kitchen came up with, in a video posted to YouTube on March 4 (and a shorter version appearing on TikTok on March 5). If Ramsay's beef Wellington is a temple, Mythical Kitchen just went in and desecrated it.
On the TikTok video, Scherer first makes a demi-glace from a Coke Slurpee, beef jerky, and hot dog chili. They don't sell premium cuts of fillet at 7-Eleven, so the inside of Scherer's Wellington are three big "glizzys" (internet slang for hot dog, according to Junkee) encased in a hot dog paste. In Scherer's hands, that mustard that's supposed to be from England becomes nacho cheese mixed with whatever mustard they carry at 7-Eleven. Finally, Scherer's Wellington isn't baked, it's deep-fried.
Gordon Ramsay is not impressed with Mythical Kitchen's '7-Elevenington'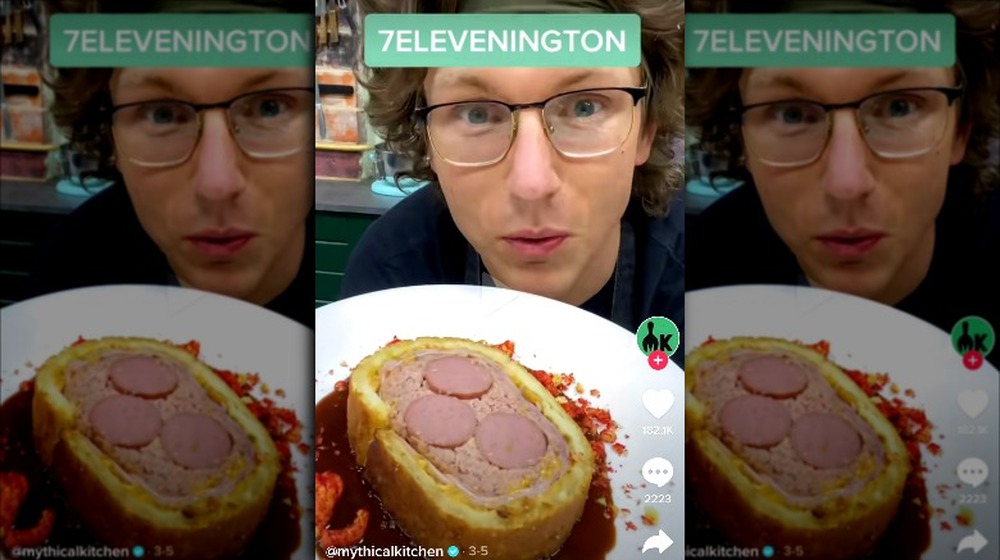 TikTok
At the end of his "7-Elevenington" TikTok, Josh Scherer asks, "Gordon, why don't you love me?" Gordon Ramsay has an answer for Scherer in a duet video the world-class TV chef posted to TikTok on March 18.
"Beef jerky? Come on, Josh, stop being a jerk," Ramsay yells in the duet as he watches Scherer make his demi-glace. "What are you trying to do? Destroy four decades of craft," the 54-year-old chef asks while watching Scherer purée his hot dog paste in a food processor. As the Wellington came out of the deep fryer, Ramsay declared that it resembled a Wellington boot covered in cow dung. And when Scherer bites into his creation, Ramsay insists that he go see a doctor immediately. The viewer comes away from Ramsay's response thinking he never called Scherer an "idiot sandwich" because it would have been too kind.
This back-and-forth over Wellington continues a "beef" that started last summer, when Ramsay trashed Mythical Kitchen's ramen grilled cheese on TikTok. Scherer struck back on Twitter, mocking a Ramsay grilled cheese video. The commenters on Ramsay's Wellington TikTok duet seemed to recognize that this battle between Ramsay and Scherer — or rather, Gordon and Josh — was all in good fun. This may even be the start of a celebrity-chef friendship. As one TikTok commenter said, "I love that they're on a first-name basis now."