Costco Shoppers Can't Get Enough Of These Kinder Bueno Bars
Kinder Bueno Bars are a uniquely delicious European candy bar that combines milk and dark chocolate with a crispy wafer and sweet hazelnut filling for a taste that can only be described as heavenly (via Kinder). They are now available at Costco, where they are a hit with just about everyone who has ever tried them. Many people have found they can't eat just one of these Kinder Bueno Bars, like Reddit user u/fht-ftj, who just had to warn others about the risks of buying a box of the candy. "I think I made a mistake getting this. I can't stop eating them," they posted on social media (via Reddit).
Fellow Reddit users were quick to commiserate, with some people even saying they had to avoid buying them entirely if they didn't want to devour the whole package in just a few days. "I bought that once, but I can't let myself do it again. I don't usually eat candy bars, but when I bought those, I ate two (or more) a day," u/ChaserNeverRests replied. U/Yalado wrote: "I made the same mistake once 'I will bring one to work each day for a snack,' I said. They last a weekend." U/DJ_Jungle agreed: "I don't have the discipline to buy that in bulk." Luckily, Costco now sells them in a 20-pack, for roughly $16.99 (via Costco).
The buzz about Kinder Bueno Bars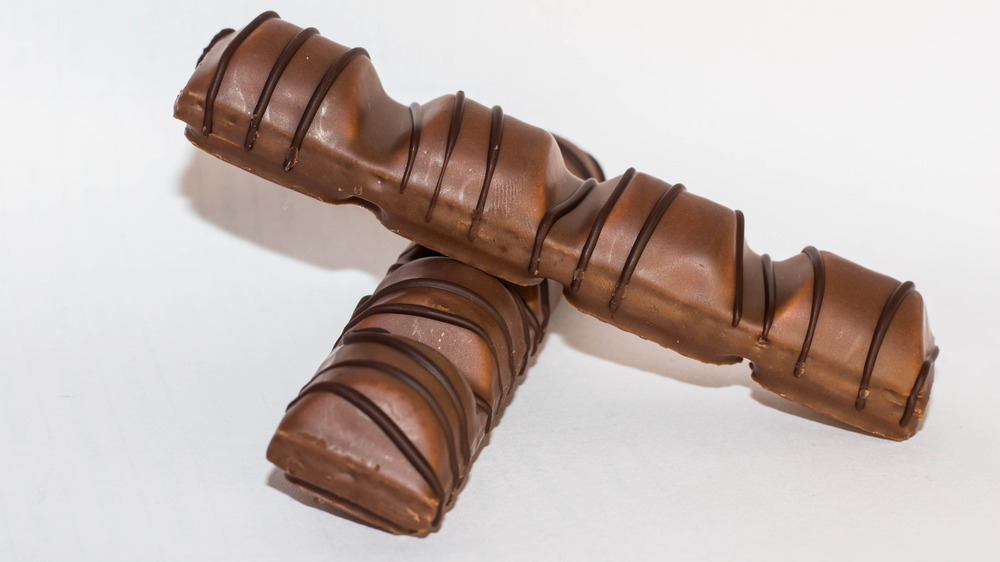 Shutterstock
Kinder Bueno Bars at Costco are made all the more special because they once weren't available in the United States. As reported by Insider, the international favorite didn't make it across the pond until November 2019 — joining the previously banned but wildly popular Kinder Eggs. According to Delish, Kinder Bueno Bars were Europe's third best-selling candy bar. Before these crispy hazelnut bars came to our shores, American shoppers had to turn to Amazon and wait for them to ship to get their hands on them. 
U/flamingphoenix9834 explained: "Oh, Kinder chocolate is a gift from the German candy gods. America tends to judge chocolate against Hershey when they have no idea the sweet, irresistible, unbelievable chocolate bliss that exists in Europe. God I love European chocolate." (Kinder Bueno Bars are actually made by Ferrero, an Italian confectionery company). There is undeniably something delicious about the rich, creamy, crispy Kinder Bueno Bars that you just can't find in other brands. So if you want to treat yourself to a high-quality chocolate the next time you are in Costco, then these Kinder bars definitely won't disappoint.