Aldi Fans Can't Get Enough Of These Colorful Mini Waffle Makers
Aldi has great news for fans of breakfast, bright colors, and all things cute and delicious. They have just released a new Ambiano mini waffle maker that is as adorable as it is functional. The mini waffle maker boasts a 4-inch nonstick surface that can make everything from the classic waffle breakfast to more creative meals like savory sandwiches, meats, mini pizzas, and even dessert. It is versatile, easy to clean, and thanks to its compact size, it is also easy to store until the next time you want to make some tasty waffle creations, even if you don't have a lot of cupboard space.
The waffle maker comes in two darling spring colors, mint or red, and makes a great gift for a friend or loved one. The best part is, it is on sale at Aldi now for just $8.99 (via Aldi). However, it is this week's Aldi Finds, which means that it will only be available for a limited time. The popular Instagram account @theamazingaldi alerted their followers to the new find on social media this week, posting: "Cutie mini waffle maker, $8.99. Might have to go back for it" (via Instagram).
How Aldi fans are using their mini waffle makers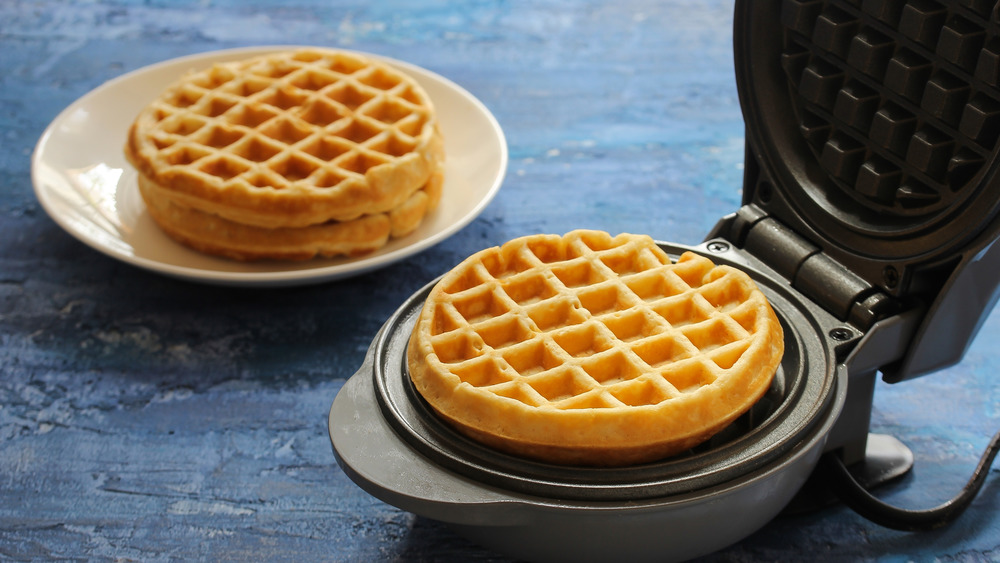 Shutterstock
Shoppers who had already gotten their hands on one of these adorable mini waffle makers couldn't stop raving about it on social media. Follower @brandbliss wrote: "Got the mint green one for my son as an early Easter gift. Today we made waffles and topped it with Nutella, strawberries and whip cream. Yummy waffles and such a cute gift that's easy to use and clean." User @aldiplantlady replied: "Yup definitely went back for this one!"
The Instagram users who hadn't yet purchased their mini waffle maker at Aldi were keen to do so. "I need this!! I was debating on this for so long to get one," @keepingthemilkcold posted. This mini waffle maker is perfect for pulling together an easy Easter breakfast or just mixing up your dinner plans on days when you don't feel like using a ton of pots and pans to make an elaborate dish. Dishes like frittatas, grilled cheese, and quesadillas get an exciting twist in a waffle maker. The Pioneer Woman even uses a waffle iron to make her special hash browns. But it won't be on shelves for long, so don't wait to head to your nearest Aldi and purchase yours while supplies last.