Here's How To Beat Bobby Flay, According To Chef Michael Symon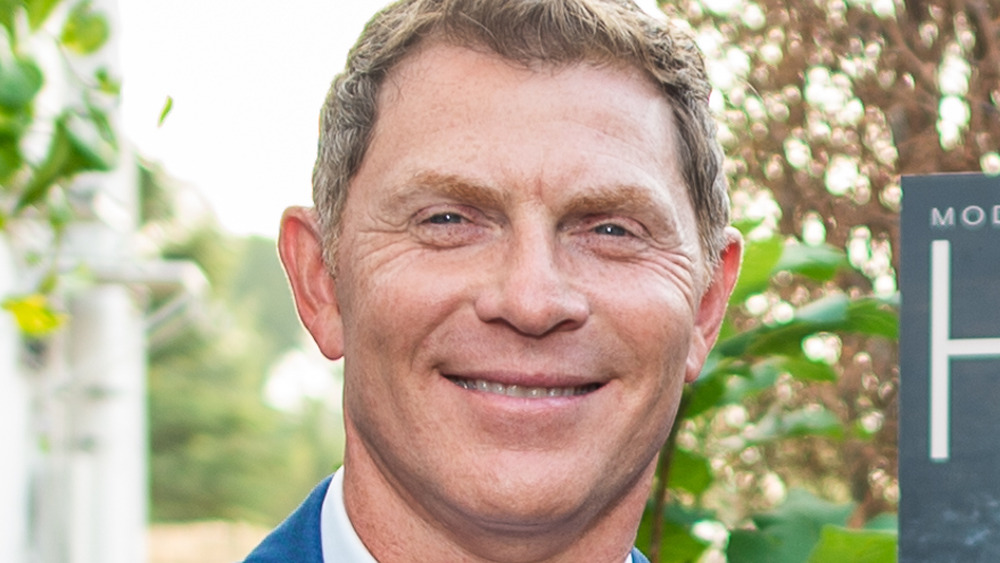 Mark Sagliocco/Getty Images
Bobby Flay is a well-known American chef with acclaim in both the restaurant world and on television. According to his website, Flay currently owns several restaurants including Bobby Flay Steak (in Atlantic City), Bobby's Burger Palace (in Maryland), Mesa Grill (in Las Vegas), and Amalfi (also in Las Vegas).
Flay started his television career in the mid-'90s on shows like Grillin' & Chillin' and Iron Chef, and was given the moniker "Iron Chef Flay" during his long tenure on the show (via Food Network). After that he was given his own show, Beat Bobby Flay, because of his cooking prowess and competitive skills. The concept seems simple enough in theory, with two chefs competing in round 1 for a spot in an even greater competition, the chance to face-off against Flay. Whichever chef wins the first round gets to go toe-to-toe with Flay in the kitchen, preparing the guest chef's "signature dish" and hoping the judges deem their dish the winner in a blind taste test. So, what's the secret to beating the master? 
Michael Symon has this advice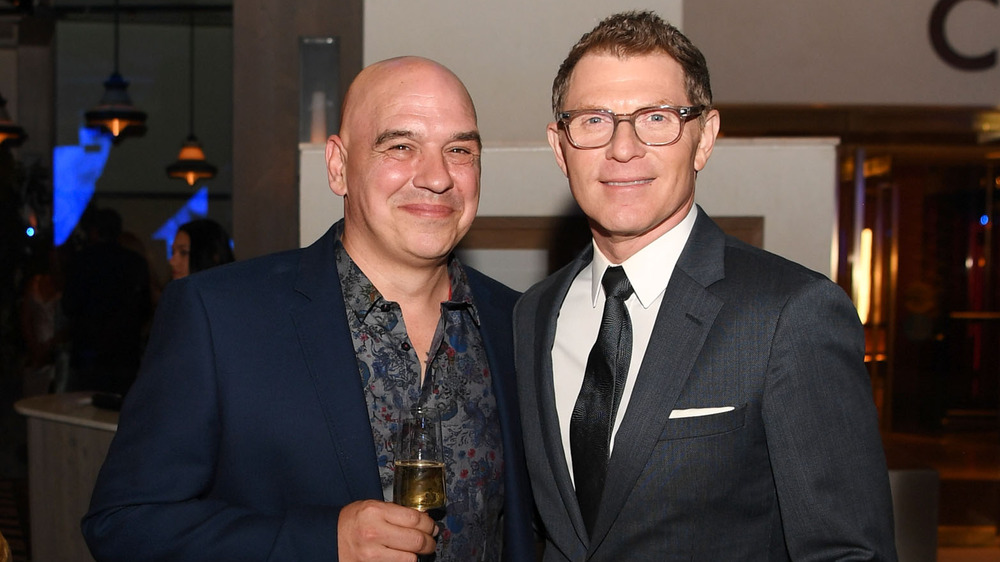 Denise Truscello/Getty Images
According to CheatSheet, Flay has won Beat Bobby Flay about 66 percent of the time, leaving a 34 percent margin for guest chefs to take home the win. Food Network spoke to both longtime tasters of Flay's food and colleagues who've been with him for years, and while they may be his friends, they know better than anyone there's a trick to beating the boss. 
Among those who've spilled the beans are Giada De Laurentiis, who notes Flay's bold flavors, but points out a general lack of strength in the pasta and dessert departments. Additionally, Alex Guarnaschelli, a Chopped judge, notes that chefs competing against Flay have to really hone in on ingredients instead of being intimidated by the hundreds up for grabs. And what does Michael Symon, a "longtime colleague" of Flay's who's had time to witness Flay's craftsmanship and prowess for years have to dole out as best advice? Simple: "Don't be afraid of flavor. And you're not going to intimidate him, so don't worry about doing that." Could it really be that easy? 
Symon was there to witness Guarnaschelli beat Flay in person, but didn't take home the win himself. So maybe take his advice with a grain of salt — pun intended!