The Truth About Subway's Buffalo Chicken Sandwich
The Subway Buffalo Chicken Sandwich had a short shelf life after first being introduced as a limited-time item in 2009 (via QSR Web). However, in October of 2020, it was reintroduced more than 10 years later as part of an NFL promotion (via Thrillist). The new sandwich features the chain's popular chicken strips (found in Subway's other offerings such as Chicken & Bacon Ranch and the Sweet Onion Chicken Teriyaki), but this time covered in a spicy sauce from Frank's RedHot brand. Of course, all Subway sandwiches are customizable, but the standard version of the Buffalo Chicken Sandwich comes with ranch dressing, and the chain suggests lettuce, tomatoes, and cucumbers as toppings.
Some reviews over the years, such as this Houston Chronicle piece from 2011, have given Subway credit for offering a sandwich that doesn't feature the fat and calories of fried chicken. In fact, even with the ranch dressing, the newspaper says the 6-inch Buffalo Chicken Sandwich contains only 370 calories. Not bad, considering an order of six traditional Buffalo wings contains 430 calories (via Verywell Fit). On the other hand, Subway's sandwich has been panned too, mostly for the quality of the chicken. When it was re-promoted in 2020, a few Subway fans took to this Subreddit to say the strips had a spongy texture they just couldn't get past, no matter how good the sauce.
Not all Subway Buffalo Chicken Sandwiches are the same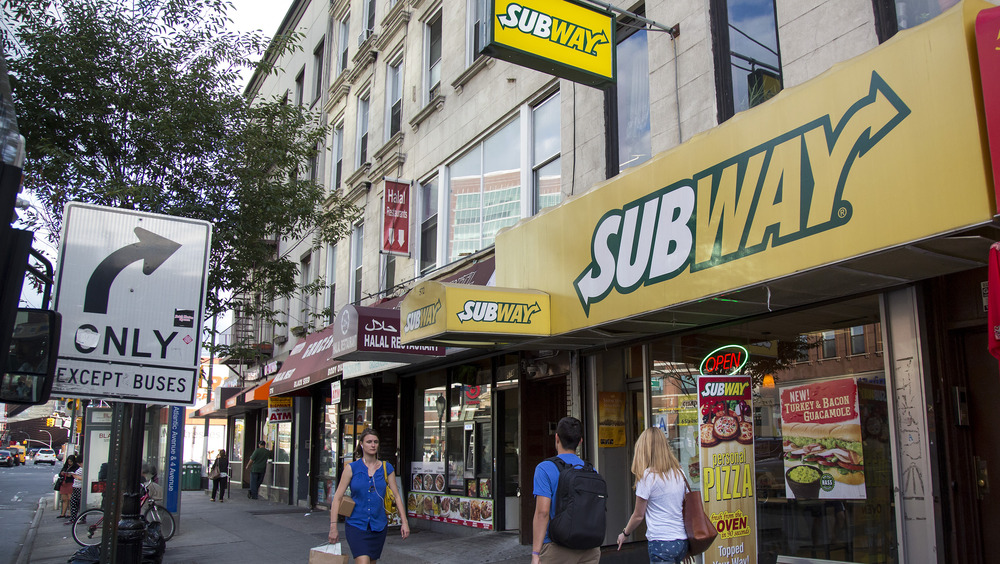 Bloomberg/Getty Images
According to a review on the blog The Impulsive Buy, literally any other fast food outlet's Buffalo Chicken Sandwich is better than Subway's. Ouch. The reviewer goes on to explain that the new sauce is unremarkable and that there isn't enough of it to give you the true hot wing experience.
Like the Reddit thread, this reviewer also complained that the chicken is "unnaturally soft" and tasteless.
Not everyone agrees, however. On YouTube, Melz&Chris says the chicken is tender and flavorful and not overly spicy, thanks to the ranch dressing on top. In fact, the duo calls it the most flavorful sub they've ever had from the Subway chain. However the price point of $4.79 for the 6-inch sub and $7.99 for the footlong was deemed "ridiculous." (It should be noted that, according to Subway, prices for all items vary because they are set by the franchisees.)
It's also important to note that not all Subway franchises create their Buffalo Chicken Sandwiches in the same way. Some restaurants allow the chicken to simmer and marinate in the sauce. Others add the sauce when they reheat the chicken strips, as this employee points out on a Subway Subreddit. Another Subway employee commented that the results are superior when "the chicken has all day to relax in the sauce"—something to inquire about at your local Subway when you order next time.