Mario Lopez Talks About His New Restaurant, Mario's Tortas Lopez, And More - Exclusive Interview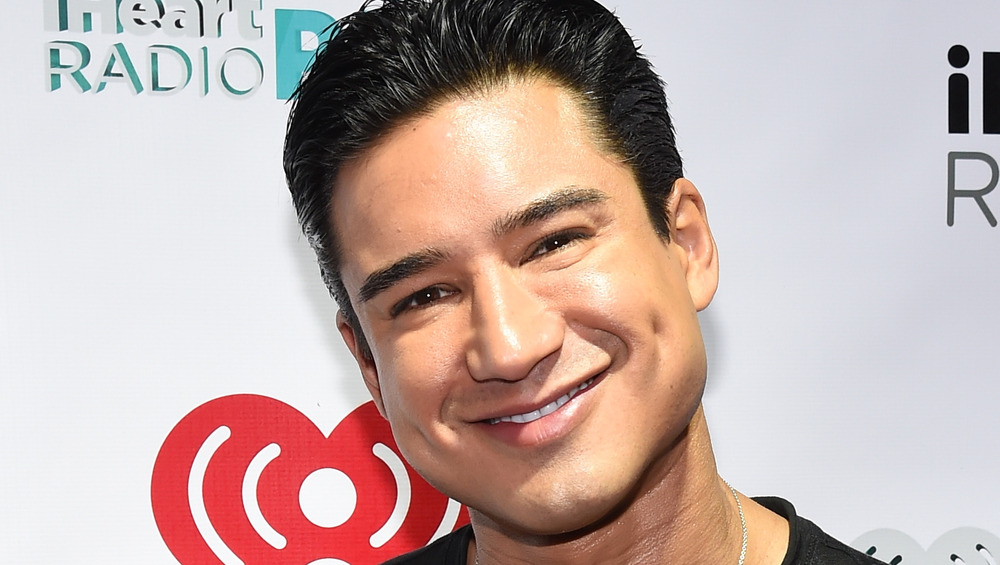 Steven Ferdman/Getty Images
Mario Lopez was just a kid when he broke into showbiz with a role on Disney Channel's Kids Incorporated. But it was his next series, Saved By The Bell, on which he played popular jock, A.C. Slater, which catapulted Lopez into the pop culture pantheon. While Lopez will always be "Slater" to many, he's gone on to play countless other roles, including Colonel Sanders in the deliciously spoofy Lifetime original "mini-movie," A Recipe For Seduction. And over the years, he's been steadily expanding his repertoire. A dancer since childhood, Lopez's sizzling performances on Dancing With The Stars brought him fame as a competitive dancer in 2006. Since the 1990s, Lopez has been parlaying his charm and winning personality into one hosting gig after another. Currently, he's host of Access Hollywood. But let's not forget, he's also been on Broadway and authored three books on fitness and a children's book.
So what could possibly be left? Well, the consummate entertainer has officially become a restaurateur. In partnership with Planet Hollywood's Robert Earl, through Earl's Virtual Dining Concepts, Lopez has founded Mario's Tortas Lopez. Specializing in Mexican-themed sandwiches and bowls, Mario's Tortas Lopez is a "virtual restaurant," meaning it has no physical presence, but rather, partners with existing restaurants which then prepare its menu items for their delivery customers — based on recipes provided by Mario's Tortas Lopez. Lopez sat down with Mashed to talk about this new venture, how it relates to his "Five F's" philosophy and his drive to help others, and more.
Mario Lopez adds restaurateur to his already impressive resume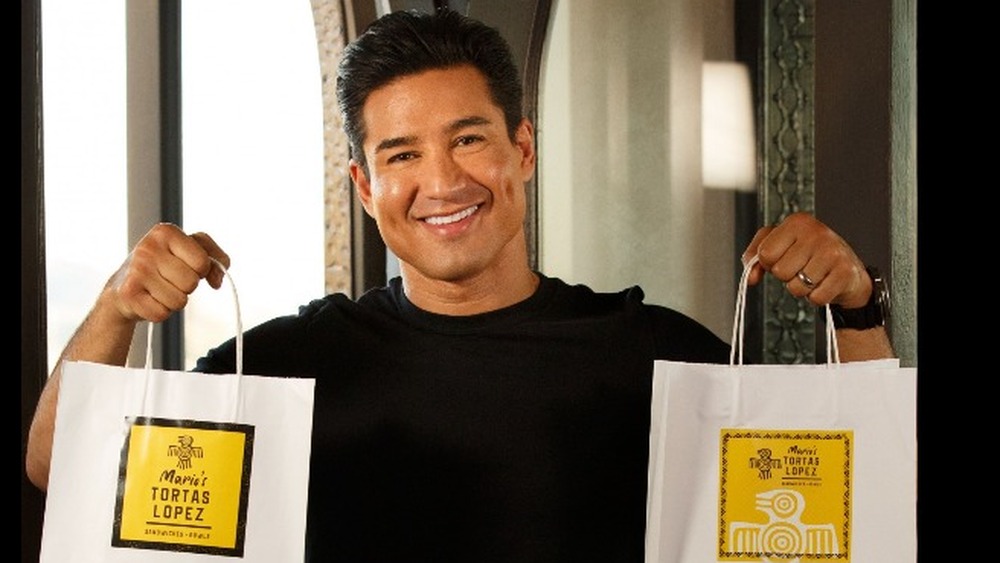 Tamar Aprahamian (Earl Enterprise)
So, Mario, you're a restaurateur now...
I am. Yes. I'm very happy to be a restaurateur and have my very own virtual restaurant brand, Mario's Tortas Lopez. The great thing about it is that it operates out of existing restaurants. There's no actual physical location. So it allows these restaurants to have a new source of revenue without impacting their operation. That's great because restaurants have obviously had a hard time this year. 
When dining-in is once again permitted in restaurants, will customers be able to order Mario's Tortas Lopez to their table in the restaurant? 
It's a delivery-only brand available only on Grubhub.  Grubhub is offering free delivery.
What "role" did you play in developing the menu and the recipes?
I was really involved with the menu. So it's authentic, delicious Mexican food, offering six signature Mexican sandwiches, aka, tortas, served on grilled telera, which is a delicious bread. We've also got cauliflower rice bowls. And we've got beef barbacoa, chorizo and egg, grilled chicken, pork carnitas, chile relleno, all kinds of delicious flavors, and the churros and arroz de leche. So I think people are really going to dig it if they give it a chance.
How did this come about? Did you always want to be in the restaurant business — as well as an actor, dancer, host, etc.?
I've always wanted to be in the food space. I'm all about the "Five F's" — family, faith, fitness, fun, and food. Each one of those buckets is something I'm really passionate about. So when this opportunity came up to work with my buddy, Robert Earl, and his Virtual Dining Concepts, I thought it'd be great. Because we're helping out restaurants, and people are getting some delicious food. It's a win-win all the way around.
The son of Mexican-Americans, Mario Lopez has a special place in his heart for Latin cuisine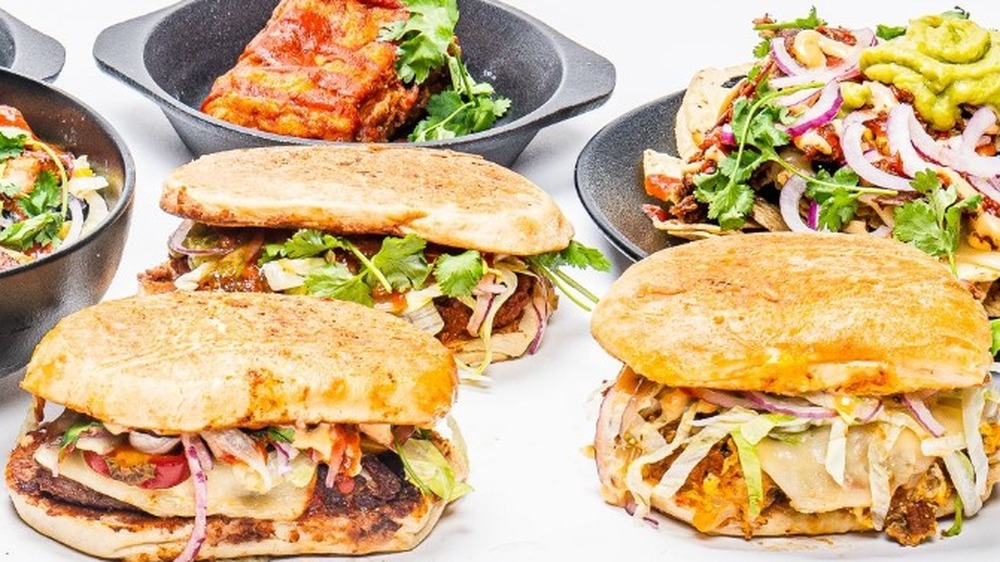 Tamar Aprahamian (Earl Enterprise)
I'm told the chef you've been working with on the menu and its execution is Chef Eric Greenspan — of Iron Chef fame
He is fantastic. He's the culinary director of these Virtual Dining Concepts, he is a great guy, and he knows his food and knows that I'm a foodie. He's been all over the Food Network on a bunch of different shows and worked with everyone. We met through our mutual friend that I mentioned, Robert Earl, and we hit it off. So we're both very involved in developing the menu together.
How much of the menu comes from your Mexican heritage.
That's how I grew up, that's my childhood. I grew up on all this food, and he [Greenspan] was very familiar with it. He's a huge fan of Latin food himself. And so we just started to develop it together, and he obviously helped with the execution.
What are some of the dishes Tortas Lopez is serving that are most meaningful to you?
The tortas. [At this point, Lopez reaches out and grabs two tortas halves, one in each hand.] These two are probably my favorite right here. Here is the pork carnitas one [Lopez gives us a closer look at the one with pork]. And this is the chicken one right there [Lopez gives us a closer look at the one with chicken], and this is the delicious bread [Lopez is indicating the soft Mexican telera bread on which the tortas are assembled]. So these are probably my favorite. And I do like this carnitas bowl, which is a good little bowl. It's right here [Lopez reaches for and grabs a cauliflower bowl]. It's a healthy little bowl. So they're just great. It's quick. It's easy for lunch. It's delicious. It'll keep you full for a while. So I'm a big fan.
Mario Lopez gives us a lesson in what tortas actually are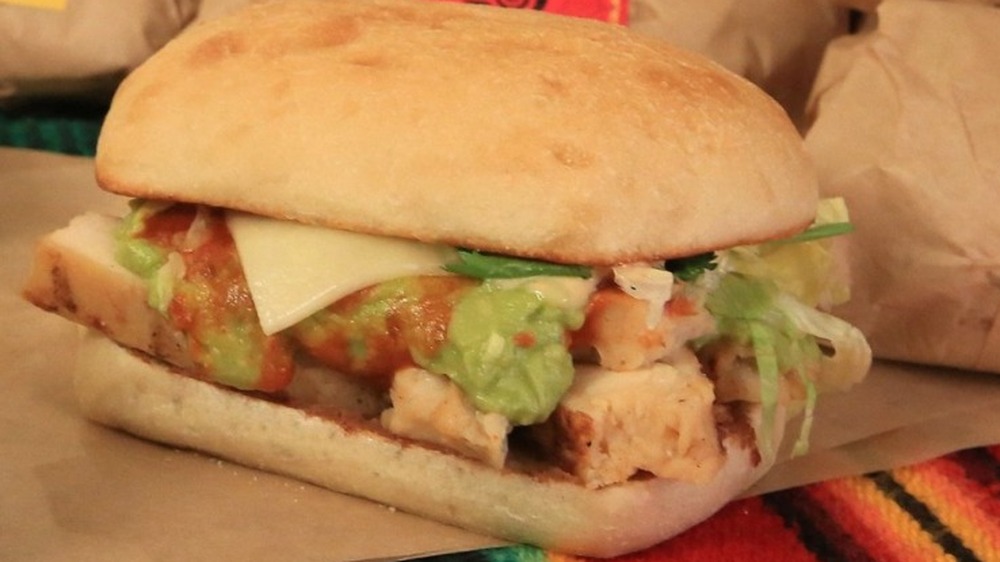 Tamar Aprahamian (Earl Enterprise)
Can you explain what tortas are? I have to admit, I'm not familiar with the concept.
Oh no, a lot of people haven't heard of it. It's a very underrated sandwich. Like I said, it's a Mexican sandwich. It's I think Mexico's version of the hoagie or the sub. But with delicious bread, that telera bread. It's a roll. It's really delicious. And the way it's prepared, it's great. It's quite tasty.
When you say "how it's prepared, are you talking about how the bread is baked?"
I think it's really about the bread and then with the avocado and the different sauces we offer. It's got that Latin kind of flare to it. So it's tasty.
Do you make your own tortas at home?
Well, now I don't have to. I can just order them.
Does your family cook at home?
Yeah, we try to cook as much as we can. And my wife's Italian, and so between the Mexican food and the Italian food, it's the best of both worlds there.
Mario Lopez explains how Tortas Lopez will help other restaurants generate revenue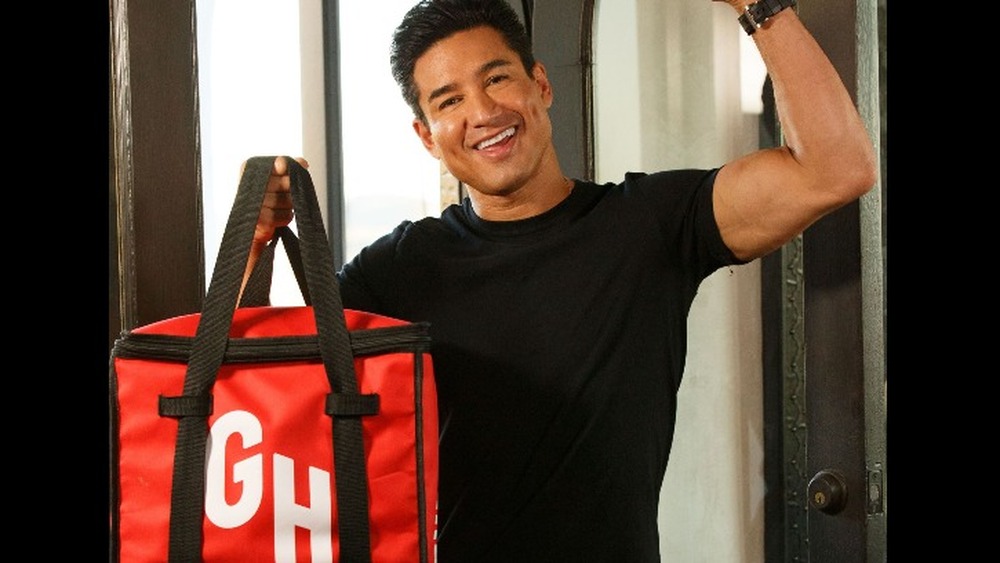 Tamar Aprahamian (Earl Enterprise)
You said earlier that Mario's Tortas Lopez will help the restaurants it partners with to get out from under the damage done by the COVID-19 pandemic. How does that work exactly?
It allows the restaurants to have a new source of revenue. But it's not impacting their operation, and it's allowing them to generate an additional source of revenue because for every order, they're going to get a percentage.
So, let's say I'm interested in ordering some tortas. I have to go on Grubhub. But then how do I find my way to Mario's Tortas Lopez? 
Well, you would have to actually type in "Mario's Tortas Lopez" specifically. It would take you right there. We have a website and the whole deal. And I think if you go to grubhub.com/Mario's Lopez or Mario's Tortas Lopez [the website], you'll find it.  
When will operations start? 
Just started. We just kicked off today. Tortas Tuesday!
Tortas Tuesday. Oh well, that's the end of taco Tuesday, I guess.
That's it. Exactly.

Is Mario's Tortas Lopez going to be available exclusively in Mexican restaurants? Or could it operate out, say, an American place? 
Sure. Yeah, why not?
And just to clarify, Robert Earl is the "king of theme restaurants" — the one who started Planet Hollywood? 
He's the guy. Yeah. Aside from Planet Hollywood, he has the Buca di Beppo's and he does a bunch of others. He's been a restaurateur for a long time. So he knows what he's doing.
Speaking of theme restaurants, how do you like the Saved By The Bell-themed restaurant? I think I've read that you've been to the one in Chicago?
I swung by, yeah, years ago. They did a really good job. And the food was actually good to be honest.
Any Mexican food?
Not off the top of my head. I don't think there was.
That's not right. But, anyway, is there anything you wish people understood about Mexican food? 
Well, people such as yourself weren't familiar with tortas, and I'm hoping to expand the menu and just raise the awareness level for all the different types of cuisine that this delicious Mexican food has to offer.
Is one of your goals to someday have your own brick-and-mortar restaurant? 
We'll see. I've got a lot on my plate and hopefully things continue to go well.
Mario Lopez on playing Colonel Sanders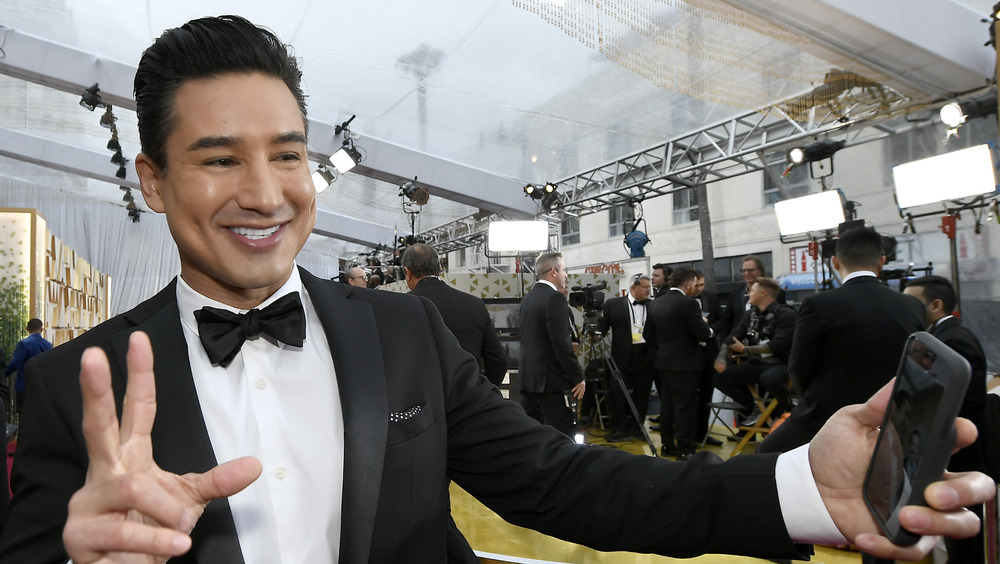 Kevork Djansezian/Getty Images
So, I can't not ask you about playing Colonel Sanders. Did playing Colonel Sanders give you any insight into the food business?
No. That was a fun little spoof we did when I did with my Lifetime Christmas movie, Feliz NaviDAD. We did a fun little iteration. I didn't think it was going to get as much buzz as it did because a lot of people played him before me. But it just got a lot of pickup. And it was fun, we had a lot of fun with it. It was supposed to be very tongue in cheek, obviously.
How does entering the restaurant business compare with some of the other things you did for the first time as an actor or performer?
Well, I've always wanted to be in the food space, so it feels like a very natural transition just because, like I said, people that know me know I'm very passionate about food and know what I'm talking about when it comes to food. I'm really a fat kid at heart. It's something that I can speak to from an authentic place and something that gets me excited to talk about.
Mario Lopez has some simple advice when it comes to Mexican cooking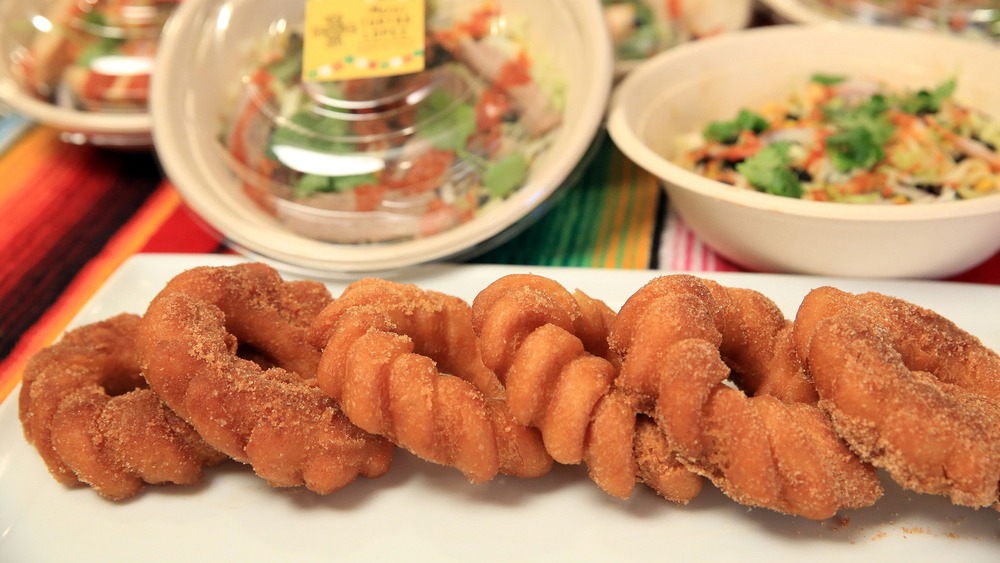 Tamar Aprahamian (Earl Enterprise)
So, honestly, what's your favorite dish on the Mario's Tortas Lopez menu?
I mean I really do love them all. The bowls are great. And the tortas just because they're the staple. I've tried them all, probably the chorizo one. It's very, very tasty. But I really do like them all.
So, how about your kids. What's their favorite?
On this particular menu, they love the churros a lot. They're really tasty.
Any advice for people who might want to start making tortas for themselves at home? 
Well, why go through the trouble? Just order Mario's Tortas Lopez.
So, should I assume you'll have pretty much the same advice about, say, making guacamole at home? 
Pretty much, I think so.
And are you a cilantro-person? Or never-cilantro person. 
I love cilantro.
Okay so before we wrap up, is there anything else you're working on that you want to mention?
No, I'm really excited about rolling out this virtual restaurant and people know they can see me on Access Hollywood or on my radio show On With Mario. I got a lot of other stuff going on, but right now this is the one thing I want to focus on and to be able to raise the awareness level as much as I can. So hopefully people will try it, they'll like it. Restaurants win, you win, we all win. So that's all I want.

For more info on Mario's Tortas Lopez, visit the website.