Every Dollar Tree Item Belongs To One Of These Three Categories
"I hate getting a good deal," said no one ever. Buying something at a considerably cheaper price than most retail store markups makes spending money a little easier — and if you're someone that rides on the high of a good bargain, Dollar Tree is the store for you.
Originally opening its doors as a Ben Franklin five and dime in 1953, the low-price chain transformed into the Dollar Tree name that we all know and love in 1993 (via Dollar Tree). These days, it serves as a one-stop shop for just about anything you can think of, allowing customers to stock up on groceries, cosmetics, dinnerware, and party supplies all in one place — and all for the low, low price of just $1.00.
That's just the shortlist of what you can potentially pick up during a trip. If you've ever been to one of the chain's 15,686 locations throughout the United States and Canada (via Statista), you know the wide and sometimes weird range of bizarre Dollar Tree items offered. However, did you know that they can all be sorted into just three categories? According to Money Inc, everything on the Dollar Tree inventory list is grouped into one of these buckets: seasonal, consumable, or variety.
Here's how Dollar Tree's three product categories break down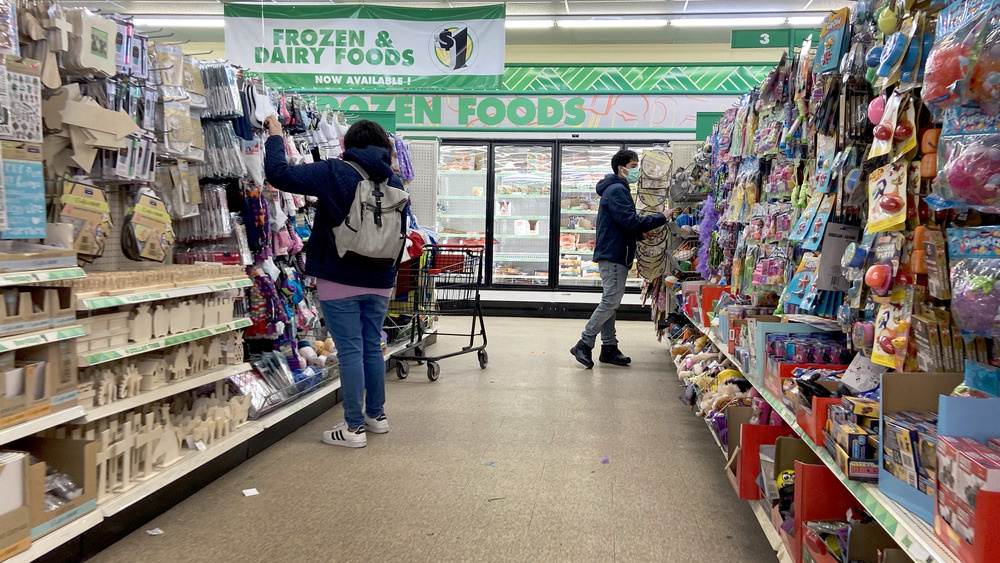 Scott Olson/Getty Images
Despite stocking their shelves with just about anything you can think of, all products offered at Dollar Tree are members of one of three funnels. As you probably could have guessed, those in the "seasonal" category include all holiday-themed items that make a yearly appearance in the stores, such as Easter and Halloween candy or Christmas wrapping paper (via CompaniesHistory.com).
The "consumable" group is another slightly obvious label, home to the food options, such as $1 steaks or the surprisingly wide variety of bread and of course candy — but that's not all. According to CompaniesHistory.com, this category also consists of health and beauty products as well as paper and plastic goods such as toilet paper and plastic silverware. Consumables also includes cleaning products and other "household chemicals." This has been Dollar Tree's best performing category for the last three years, per Statista, bringing in nearly $6.2 billion worth of sales in 2020 alone.
The third category, "variety," isn't quite as easy to figure out by looking at its name, but by process of elimination, you may be able to determine what goes in there. According to CompaniesHistory.com, items placed into this classification include party supplies, toys, greeting cards, and gifts, as well as "durable housewares."