You Should Never Put This Ingredient In Your Brownies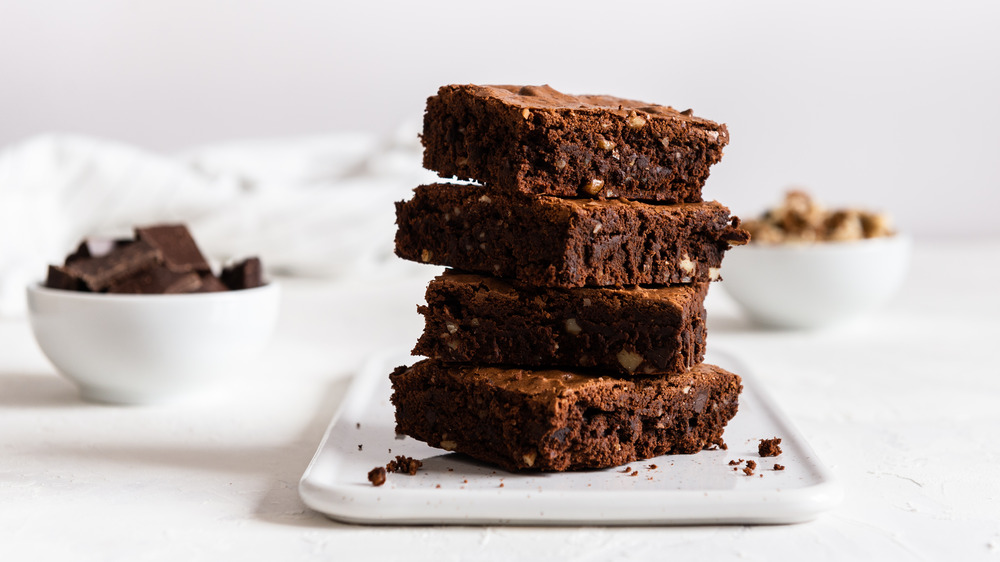 Shutterstock
The only thing better than having the smell of chocolatey brownies straight out of the oven wafting through your house is eating them. That gooey, fudgy, cake-like texture is dessert perfection. Add a scoop of your favorite vanilla ice cream and you've got the type of nirvana that satiates even the sweetest sweet tooth. 
Per the The Nibble, brownies became part of the United State's rich history during the early 20th century, with the first published recipe hitting the press in 1905. The sheet pan favorite quickly rose in popularity over the years with Statista reporting that in 2020, 166.8 million Americans were mixing up dry brownie mixes. There's just something about the taste and texture of brownies that can't be beat. Is it a cookie? Is it a cake? Honestly, we don't care. We just love to eat them.
But what makes brownies so darn good? According to America's Test Kitchen, there's a secret ingredient that will take your brownies to the next level of awesomeness — espresso powder. It doesn't take much of this caffeinated mix to really enhance the chocolatey flavor we know and love. However, the site notes that while espresso powder is the quiet superpower that ups the flavor of your brownie game, there is one ingredient you should never add to your brownies.
Ground coffee is a brownie buzz kill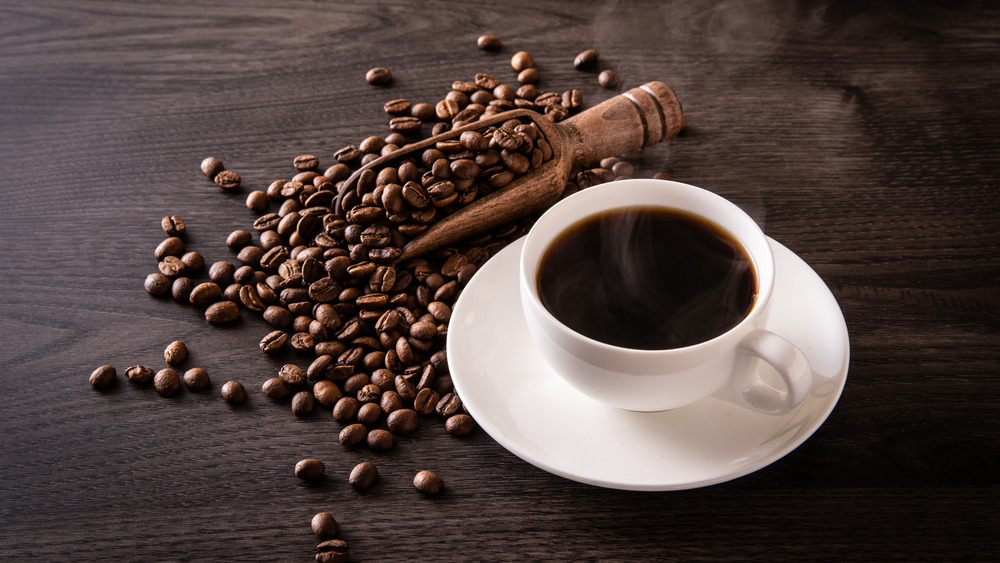 Shutterstock
First, it is important to point out that per the King Arthur Baking blog, espresso powder, in the minuscule amount that you will be using, does not add a coffee or mocha flavor to your baked goods, but rather adds intensity to your chocolate. That said, if you do not have espresso powder hiding in the dark corners of your pantry, do not try and use ground coffee. As America's Test Kitchen notes, substituting ground coffee for the espresso powder will not only kill your brownie buzz, it will upset the delicate anticipation of the first chocolatey bite.
Why doesn't ground coffee work? Because regular old coffee grounds will overwhelm the chocolate and leave you with brownies that not only taste like coffee, but make you feel like you have a mouth full of coffee dirt rather than lush, chewy chocolatey brownies. Instead, skip it and heed the advice of America's Test Kitchen, which suggests using a little instant coffee or even ground espresso beans if espresso powder is not readily available. 
But how much should you add? America's Test Kitchen says you can use the same amount as you would if you had espresso powder. It recommends just 1½ teaspoons per 9x13-inch pan batch. However, King Arthur Baking's blog says that if you use instant coffee in place of the espresso powder, you will want to use about 50 percent more, and there's a possibility that it could add a bitter taste to your brownies.