How Nelly Will Be Involved In This Upcoming Restaurant Recovery Episode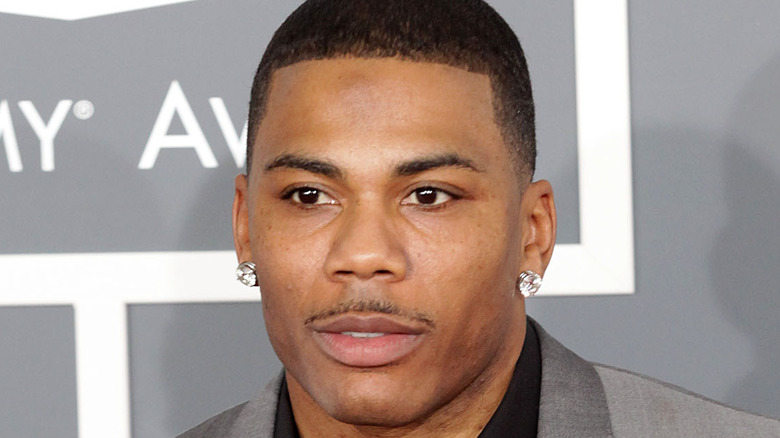 Shutterstock
Food Network's latest program, Restaurant Recovery, which premiered on Discovery+ on April 15, follows Todd Graves, the founder of Raising Cane's Chicken Fingers, as he travels to cities across the U.S. in an effort to lend a hand to restaurants that have either closed or are on the verge of closing due to the COVID-19 pandemic, according to a press release sent to Mashed. Apparently, Graves was motivated by his gratitude for the success his fast-food restaurants have enjoyed over the last year, thanks, at least in part, to their very active drive-thrus. (Drive-thrus have been game-changing in keeping the fast-food industry chugging along despite pandemic-related lockdowns.)
But Todd isn't working alone. He is joined at different points on his cross-country journey by various celebrities, including rappers Nelly and Snoop Dogg, actor Rob Schneider, football's Archie Manning, Roquan Smith, and Michael Thomas, the Rebirth Brass Band, La Mafia, and none other than Shaquille O'Neal. For example, in the first episode, Snoop joins Todd in L.A. to help out longtime local favorite, Chili John's. Here's everything you need to know about how Nelly will be involved in the second episode of Restaurant Recovery.
Nelly helps Todd Graves "keep the lights on" at a beloved St. Louis candy shop
For the second episode of Restaurant Recovery, which will be broadcast on April 22, host Todd Graves travels to St. Louis, Missouri, to consult with a 107-year-old candy shop and diner that has been "struggling to keep the lights on" throughout the COVID-19 pandemic, according to Food Network. That candy shop and diner is the beloved Crown Candy Kitchen, according to KMOX Radio St. Louis via Audacy. And what famous face would be better to provide the assist than St. Louis-born rapper Nelly? 
That's a rhetorical question, however, because, spoiler alert, it appears that Nelly made quite the good impression on Crown Candy Kitchen owner Andy Karandzieff, his wife Sherri, as well as the restaurant's staff, as indicated by photos that the rap star took with the evidently grateful St. Louis locals for Facebook. "Throughout the pandemic, the iconic north St. Louis restaurant was struggling like many local restaurants to adapt and survive," KMOX noted. "But they had a record-breaking week of sale leading up to Easter Sunday and seem to be getting back to normal.
Streaming exclusively on Discovery+, Restaurant Recovery premiered on April 15, with double episodes available each week. Viewers should expect to see a lot of familiar faces.