Here's How The Pioneer Woman Learned To Cook
Every cooking journey has a unique beginning. From what inspires us to set off on it in the first place, to the foods we learn to cook, no two paths to culinary excellence or contentment are the same. Ree Drummond, also known as The Pioneer Woman, is no different. It might surprise some readers to learn that Drummond went to the University of Southern California with an eye on a career in journalism, long before she ever cooked her first chicken fried steak meal for her family. In fact, Drummond revealed to the radio show on Kick 104's Caitlin, that the first meal she made for her husband was actually not one that he loved. Apparently, the "Marlboro Man," as Drummond affectionately refers to her hubby, isn't a fan of linguini with clam sauce.
Fast-forward to the present day, and it seems like she was able to leap over that hurdle and learn how to make the foods that her husband and kids love. But she may not have learned as quickly as she did if it had not been for two women in her life who served as her North Star and steered her in the proper direction to make her feasts fit for cowboys, as well as the couture crowd. Who influenced and taught Drummond the ropes in the kitchen? 
Drummond's mom and mother-in-law get the credit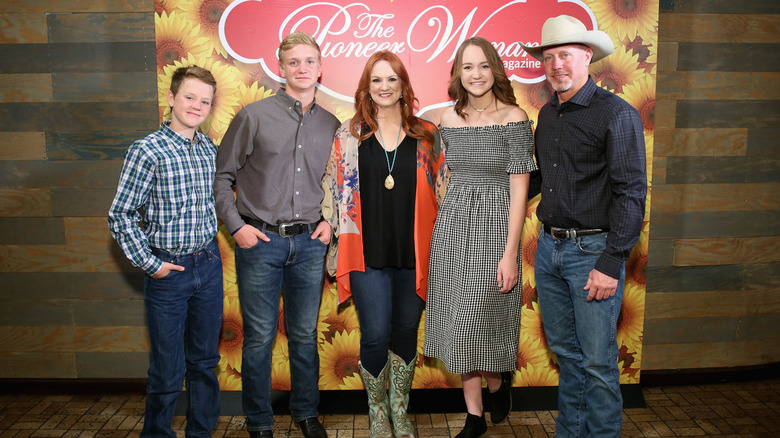 Monica Schipper/Getty Images
According to The Pioneer Woman website, Drummond owes her cooking prowess to her mom, Gerre, and her husband Ladd's mother, Nan. Drummond shared that her mom was an "elegant from scratch cook" and her late mother-in-law showed her the art of "cooking in bulk." In fact, the Food Network star told Parade in 2019, "I love to eat, and I always have. My sister and I are the same. As soon as we finish a meal, we start thinking about what the next one is going to be. My mom was a really great home cook, and my mother-in-law cooked for crowds of cowboys and visitors. They were my main cooking inspirations."
But Drummond has always had a taste for the culinary world. She revealed to Parade that she has always loved to cook, saying, "Fortunately, I love to cook. It's just something I'm comfortable doing. I can think when I cook. I can listen to a podcast when I cook." And that love for cooking won't end with The Pioneer Woman. Per her blog, Drummond is gifting the tradition to her own kids and has even taught her daughters, Paige and Alex, how to bake her famous chocolate sheet cake.