The Dried Pasta Brand Ina Garten Swears By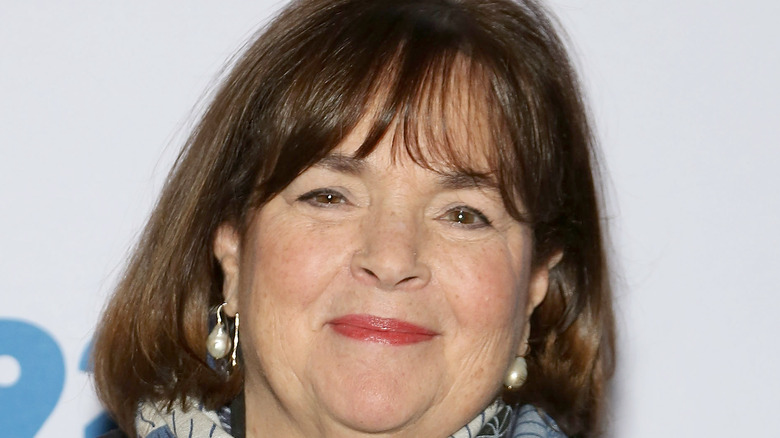 Manny Carabel/Getty Images
Americans love their pasta. It is a staple that graces the shelves of many pantries across the nation. Per Tastemade, on average, 20 pounds of pasta goes into the belly of every American on an annual basis, which collectively results in the consumption of 6 billion pounds of pasta. That's a lot of noodles. According to Food Info, pasta is a simple food compromised of simple ingredients — salt, water, flour, and egg. So what makes one type of dried pasta different from another?
Ask the experts at Italy Magazine, and they will tell you that the difference is really in the texture and taste of this Italian essential, as well as how the sauce clings to the pasta. But what kind of dried pasta is the best? It really depends on who you ask. 
Ina Garten, the host of Food Network's Barefoot Contessa, definitely has a preference when it comes to this ingredient. The celebrity chef and cookbook author revealed her go-to brand of dried pasta to Bon Appétit, and it might be worth picking up a package the next time you are at the grocery store and plan to make Garten's tagliarelle with truffle butter.  
Garten has two go-to dried pasta brands
Ina Garten shared with Bon Appétit that she actually has two types of go-to dried pasta. "I have basically two categories of pasta. I most often used De Cecco pasta, which I think is really good quality. I'll use any shape, like fusilli, penne, bow ties, whatever I'm in the mood for. But for a really luxurious dish, I love Cipriani Tagliarelle. It's basically linguini. It tastes like fresh pasta, but better," she says, adding that fresh pasta isn't something she's too fond of because of the doughiness.
If you want to cook like the Barefoot Contessa, but your grocery budget isn't quite there, don't feel bad. Cipriani dried pasta is a little on the pricy side. Per TODAY, this pasta can run you $8 a box compared to the $3 you would pay for De Cecco's pasta. With that said, Garten does note that she cooks with Cipriani pasta when she wants to make something a little more elegant and expensive. So save the Cipriani dried pasta when you are splurging on your loved ones and use De Cecco for your everyday meals coated in the chef's favorite pasta sauce. This way, you will be just like Garten — or at least you can pretend to be.