Costco's Frozen Tempura Shrimp Are Turning Heads
Costco has been on top of their seafood game this year. Back at the start of 2021, the big-box grocery retailer began selling already prepared, frozen flavored shrimp in the form of SeaPak's garlic butter shrimp, which to no surprise, was a big hit with Costco fans. Then in February, we reported that Costco was now offering ready-to-eat packaged shrimp scampi — another big win within the shrimp-loving community.
Shrimp-related foods are clearly a Costco crowd favorite, and it seems as though the message has been received because there's a new shrimp product in town: tempura shrimp, courtesy of Costco's home brand, Kirkland Signature. According to the Costco-themed Instagram account Costco Deals, 30-count boxes of frozen tempura shrimp are now available for only $12.49. That's $4 off the original price. The special pricing is part of Costco's monthly savings book, which offers new deals on Costco's featured products every month.
What's the best way to cook frozen tempura shrimp?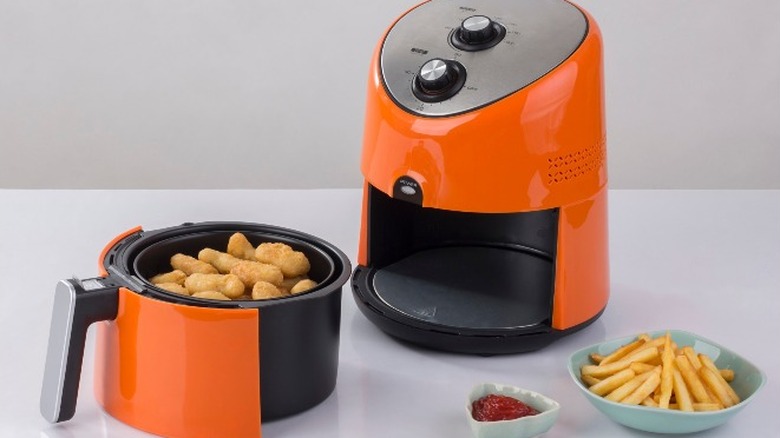 Shutterstock
The Costco Deals Instagram account's official recommendation in regards to the best way to cook Kirkland's frozen tempura shrimp is with an air fryer. The comments section is on fire in agreement, too, saying the taste and flavor the shrimp have after being in the air fryer is worthy of a chef's kiss.
One helpful follower even left a comment with instructions for how to make the shrimp: "just made some tonight In The air fryer on 400 high for 10-15 minutes straight from freezer. So Fire [fire emoji] !! So good." The person proceeded to praise the tempura shrimp, saying they turned out super crispy as if they were "freshly ordered at a restaurant."
Each box of tempura shrimp comes with a soy dipping sauce, which is getting arguably as much love as the shrimp. Since tempura shrimp isn't a full meal within itself, The Spruce Eats suggests serving it alongside fresh veggies like carrots and radishes, rice, or boiled soba noodles.
Kirkland Signature's 30-count box of frozen tempura shrimp is only on sale until May 9th, so be sure to stock up at your local chain before it's too late!