Costco Shoppers Are Psyched About This Shrimp Scampi
It seems the Costco deli never fails to deliver with their quick and delicious ready-to-eat meals, and it looks like they have another winner with their prepared shrimp scampi and pasta dish. Each package comes with fresh tail-off shrimp and a side of rich butter scampi sauce. The dish is served with fettuccine pasta and grape tomatoes, flavored with parmesan cheese and topped with fresh lemon wedges for a refreshing finish.
The Costco-themed Instagram account @thecostcoconnoisseur made a post asking their followers, "Who has spotted this new deli item at their Costco?? Shrimp Scampi with Fettuccini Pasta! We tried it and it's pretty good!" Many of their fellow Costco shoppers were delighted to see that the store had begun offering a new prepared meal, and quite a few were already fans of the prepared dish. Follower @barbaragamble replied: "We loved it! Will definitely buy again!" "Made tonight – was excellent!" @chalkboardposts agreed. Another person chimed in: "Haven't seen this yet but it looks good!"
Costco's shrimp scampi is available for $5.49 per pound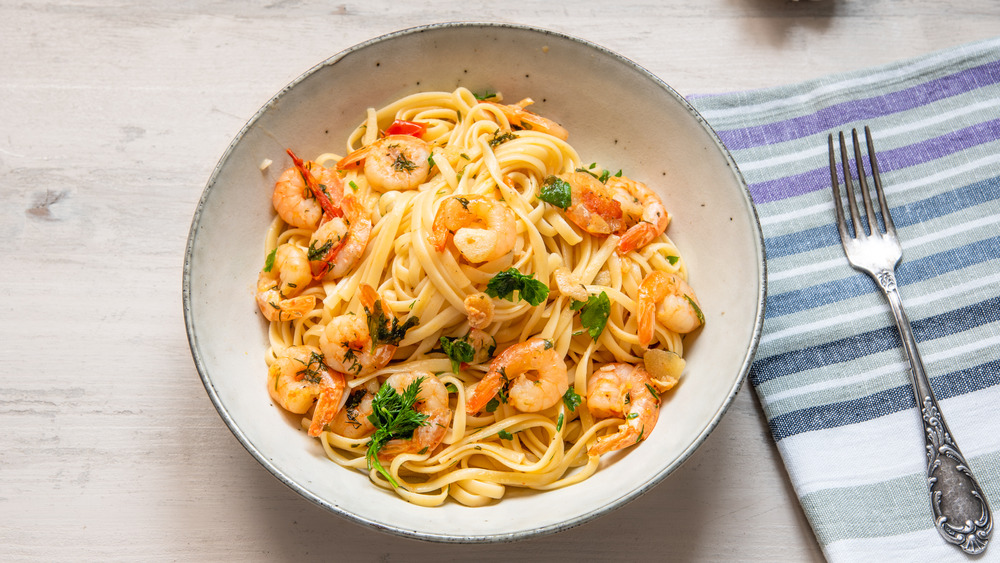 Shutterstock
However, some shoppers pointed out that, because it is priced per pound, the shrimp scampi can get a little costly. "$18 – could get take out from an italian restaurant for around the same," Instagram user @maybeenatty wrote. The meal is priced at $5.49 per pound, so a large portion can definitely add up quickly. Others noted that, while the flavor was good, large quantities of the food will not necessarily keep well. "Taste good. But the packaging could be better. Food could go bad quickly," @yajnpis93 warned, so any shoppers hoping to reheat the dish should keep the packaging in mind. 
Regardless, many Costco fans still seemed to think the hearty seafood meal was worth the price, like @costcoidahofinds, who posted: "I'm going to be on the lookout... yum!! Can't go wrong with most of the deli dinners." User @herocakepopsbynicole heartily concurred: "Omg I must search for this. Any shrimp and pasta combined is my fave!"