How Joe Bastianich Came Up With This Brutal MasterChef Pasta Challenge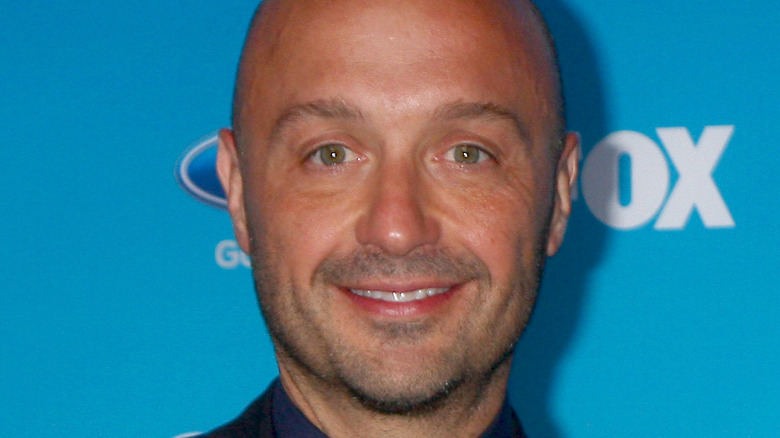 Shutterstock
We may receive a commission on purchases made from links.
Joe Bastianich was one of the original judges who helped to make "MasterChef" a hit when it debuted on Fox in 2010. As a judge, the successful restaurateur is known on the show for his no-nonsense, stern, stoicism. One outlet colorfully called him a "terrifying Italian-American restaurant mogul" (via Indulge Express), and while he is calmer than Gordon Ramsay, he's just as demanding.
After leaving the show in 2014, Bastianich returned to "MasterChef" in 2018 for the ninth season of the cooking competition. With four contestants left, he challenged the home cooks to create not one, but three types of pasta from scratch, all within a brutal one-hour time limit.
The pastas they were tasked with creating were: pappardelle capricciosa (wide pasta ribbons finished with San Marzano tomatoes, onions, and prosciutto); mezzaluna ravioli filled with braised Swiss chard, ricotta, and grana padano cheese in a brown butter and sage sauce; and garganelli, which resemble a folded penne, but with the ridges imprinted horizontally. It received a funghi trifolati sauce of mushrooms, garlic, thyme, and grana padano. The challenge was a personal one for Bastianich, he said, because his grandmother taught him the art of pasta making (via Parade).
Joe raised the bar
"Delicious, but not-so-easy," "MasterChef" judge and owner of more than 30 restaurants worldwide (via Parade magazine) told the final four contestants on "MasterChef" Season 9 as he issued his challenge of creating three pastas — pappardelle, mezzaluna ravioli, and garganelli — from scratch in one hour.
Bastianich spoke to Parade magazine about the difficulty of the challenge. Wouldn't one scratch pasta, with sauce, in an hour be enough of a challenge? "Do you think that's too much?," he said in the interview. "Every year the [talent] level gets higher, so all I could say is, Let's raise the bar." He added that pasta-making tests several skills including dexterity and cultural knowledge. It also reveals their ability to make the most basic and fundamental Italian food. "It's kind of like the entry-level dish," he explained.
Bastianich also explained why he wanted, on a personal level, to present the challenge of making these particular recipes. He said the garganelli with mushrooms is his grandmother's recipe. "In an Italian home, pasta's the first thing you see in the kitchen. My grandmother was making pasta all day." 
Looking for more Bastianich pasta recipes? Joe teamed up with his sister Tanya Bastianich Manuali for the cookbook "Healthy Pasta" (Knopf, 2015).