Why You Need To Start Using Brown Butter In Your Recipes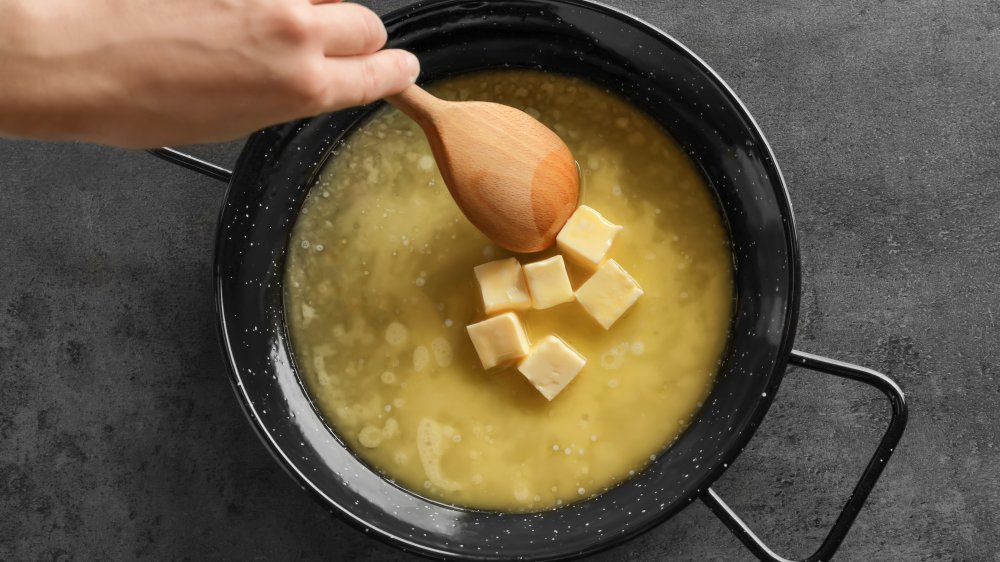 Shutterstock
Brown butter isn't a type of butter you buy at the store – like cultured, European, sweet, or salted – but a technique you can use with any variety of butter to add a nutty, caramelized flavor to foods. The ingredient is created using a process called the Maillard reaction, which (according to Serious Eats) is a chemical reaction that occurs when the sugars and proteins in foods react to heat, creating a darker color and a toasty flavor and aroma. This chemical reaction can be seen in all types of foods, like seared meat or roast vegetables, not just browned butter. The Kitchn states that when you brown butter, what you are really doing is toasting the milk solids present in butter. As butter heats up and melts, the milk solids separate from the fat and fall to the bottom, allowing them to brown.
To brown butter, simply melt it over medium heat, whisking as it starts to cook. Be sure to watch your butter carefully, as The Kitchn says that this whole process can take as little as five minutes! Once the reaction begins the butter will foam slightly, and then you will notice a nutty, caramel scent and a change in color from yellow to brown. When you get to this point, the brown butter is done and you should immediately remove it from the heat and transfer it to a container so the browning process stops and the butter does not burn.
Brown butter can replace regular butter in almost any recipe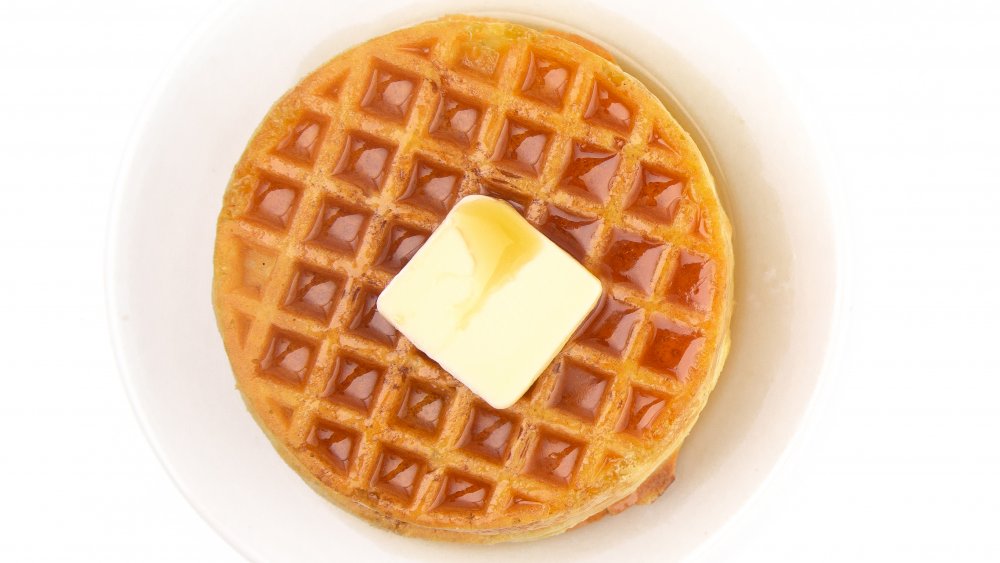 Shutterstock
Ready to take your meals to the next level by incorporating brown butter into your recipes? The ingredient can be used in almost any dish – from salads to pasta to dessert – by simply replacing the regular butter in a recipe with brown butter for a nuttier, richer flavor. There are also tons of recipes that call for brown butter directly that can satisfy any craving.
Let's start with the beginning of the day. Real Simple offers a recipe for brown butter waffles, which makes the breakfast food slightly more complex than your standard buttermilk or box mix. Looking for something a little healthier or have less of a sweet tooth first thing in the morning? This Food52 recipe for brown butter granola with honey and sumac is the perfect balance of sweet and savory. Use this granola to top yogurt or eat it plain on the go!
You can use brown butter in salads by making a brown butter vinaigrette like the one Food & Wine uses for their grilled carrot salad, or just drizzle the stuff over your favorite roast vegetables. Williams Sonoma suggests pairing brown butter with rosemary for potatoes, while PBS uses brown butter with sage on their roasted butternut squash.
You won't regret using brown butter in sweet or savory dishes
For main courses, we suggest using brown butter with sage in dishes like this brown butter gnocchi from the Food Network or trying the New York Times' incredibly simple pasta with brown butter and Parmesan. The ingredient also pairs amazingly with seafood! Test it out using Bon Appetit's recipe for scallops with herbed brown butter or this recipe for cod topped with a sauce made from brown butter and tomatoes by Saveur.
Brown butter and dessert are a match made in heaven, adding savory caramel notes to any recipe, and really elevating sweets. Use brown butter for shortbread in this Martha Stewart recipe, add brown butter to your classic cream cheese frosting with Fine Cooking's pumpkin layer cake for a super autumnal treat, or make ooey-gooey brownies with brown butter, like these ones by Handle the Heat. If you're short on time, you can even make box mix brownies with brown butter by simply swapping the regular butter the mix calls for with the browned version.