Marcella Hazan's Tomato Sauce With A Twist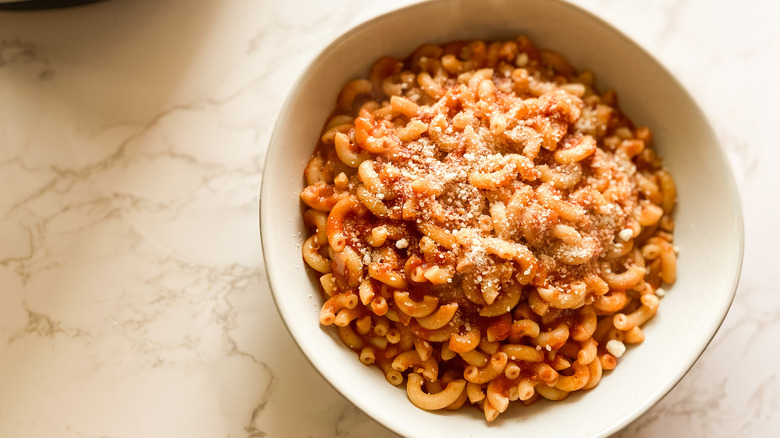 Kristen Carli/Mashed
What can you make with four ingredients, a pot on the simmer burner, and an hour's worth of time? It turns out, you can make a truly delectable classic pasta sauce when you follow Marcella Hazan's recipe. All it takes is a bit of stirring and a big appetite.
How can you make a nearly hands-off, four-ingredient tomato sauce recipe even sweeter of a deal? Cut the time down to just 15 minutes by using a little twist. We'll get to that soon enough. But first, lest you had any simmering doubts on this one, take it from recipe developer and registered dietician Kristen Carli of Camelback Nutrition & Wellness. She says, "I love this recipe! It is one of my favorites to make, because it is a very simple way to make homemade marinara ... I love this with garlic bread and Caesar salad."
You will appreciate the simplicity here and the fact that you may well have all the ingredients needed to make the sauce in your kitchen already. The real question is how often you're going to enjoy this from-scratch pasta sauce recipe that cooks up almost as fast as you can boil a pot of pasta. Care to venture a guess? If you said quite often, chances are, you guessed right.
Gather the ingredients for Marcella Hazan's tomato sauce with a twist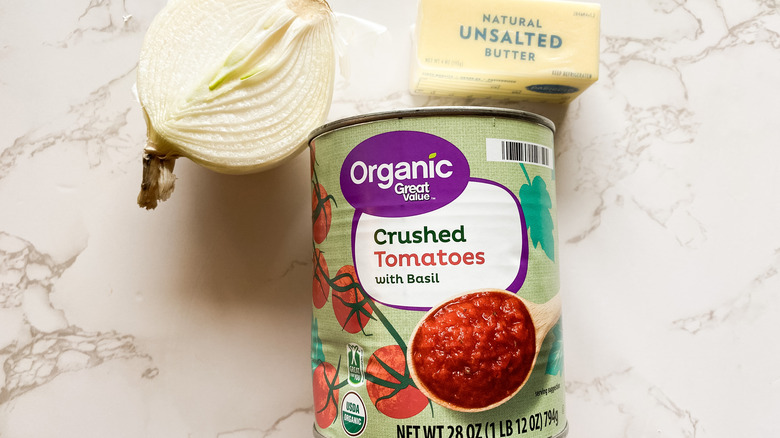 Kristen Carli/Mashed
There are seriously only four ingredients involved here, and they're nothing rare or wild, either. All the recipe calls for is a 28-ounce can of crushed tomatoes, half of a white onion, 5 tablespoons of unsalted butter, and 1 teaspoon of salt. And you don't even need to dice the onion up, at that.
As for the canned tomatoes are concerned, you can use the equivalent in fresh tomatoes if need be, just plan for a loaded 2 cups of chopped tomatoes plus water to help recreate the contents of the can.
Add all ingredients to your Instant Pot, then cook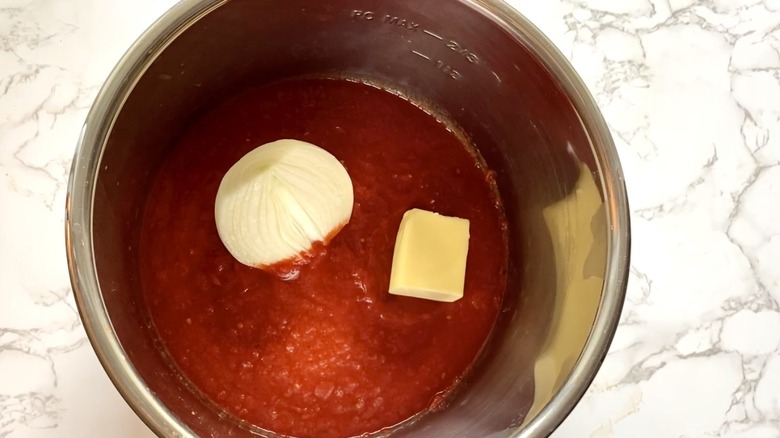 Kristen Carli/Mashed
Open up the lid of your trusty Instant Pot, then add the canned tomatoes with their liquid, the onion (again, not chopped, just halved and with the onion paper removed), and the 5 tablespoons of butter. Next, close the lid and place the valve on sealing, then pressure cook everything for 15 minutes. And ... you're pretty much done already.
Once 15 minutes have passed, allow the Instant Pot to naturally release, then remove the ½ onion and stir everything once or twice. Now, serve the sauce over your favorite pasta with Parmesan, and of course with garlic bread and salad on the side.
What did we change?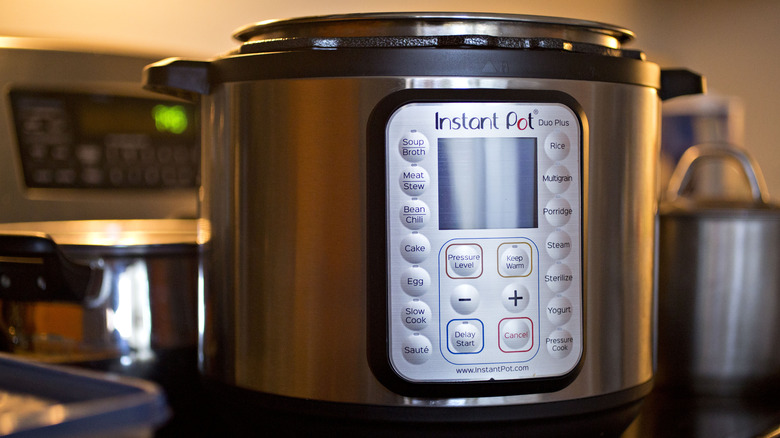 Bloomberg/Getty Images
What's the twist on a recipe that already involved little more than combining four ingredients and letting them slowly cook together? "The twist for this one is it is made in an Instant Pot instead of the stovetop," says Carli. And that little twist is why this approach to the sauce takes all of 15 minutes to cook, while Marcella Hazan's original recipe takes about an hour all told.
Assuming you have any sauce left after your quick, easy, and tasty dinner, Carli adds, "This will keep for up to five days in the fridge in an airtight container." And you can always freeze a batch, too.
Marcella Hazan's Tomato Sauce With A Twist
Marcella Hazan's tomato sauce with a twist tastes so delicious, and it's basically foolproof to make.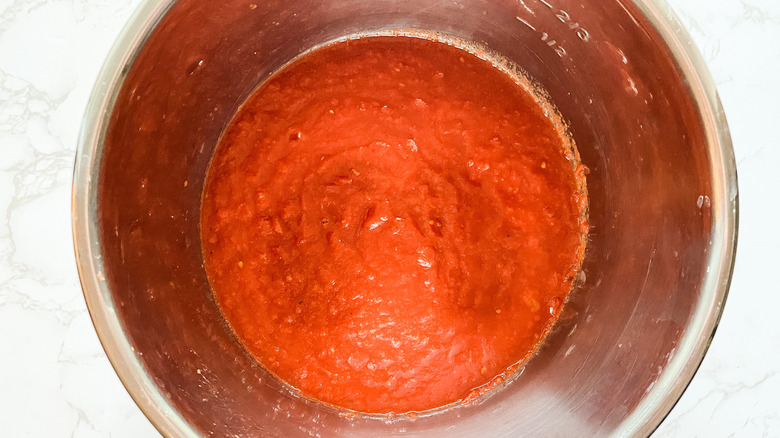 Ingredients
1 (28-ounce) can crushed tomatoes
½ white onion
5 tablespoons unsalted butter
1 teaspoon salt
Directions
In an Instant Pot, add tomatoes, onion, and butter.
Close lid and place the valve on sealing, then pressure cook for 15 minutes.
Allow Instant Pot to naturally release, then remove the ½ onion.
Serve with your favorite pasta with Parmesan.
Nutrition
| | |
| --- | --- |
| Calories per Serving | 131 |
| Total Fat | 10.0 g |
| Saturated Fat | 6.1 g |
| Trans Fat | 0.4 g |
| Cholesterol | 25.4 mg |
| | |
| --- | --- |
| Total Carbohydrates | 10.6 g |
| Dietary Fiber | 2.7 g |
| Total Sugars | 6.3 g |
| Sodium | 359.4 mg |
| Protein | 2.4 g |