Easy Toasted Tomato Sandwich Recipe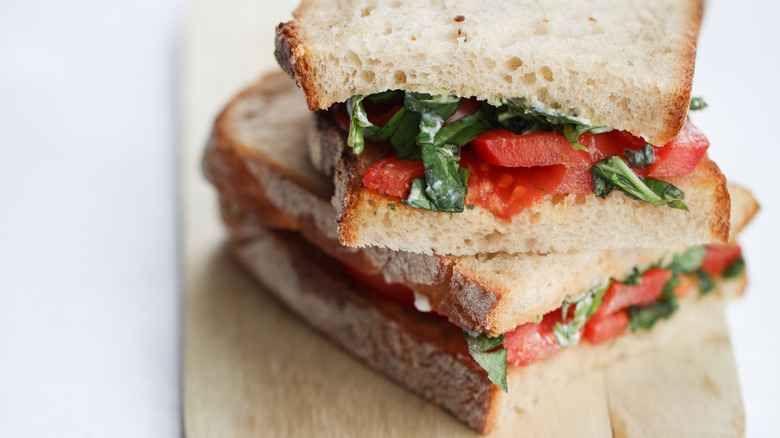 Susan Olayinka/Mashed
If you grew up reading "Harriet the Spy," you probably coveted young Harriet's favorite snack: a simple tomato sandwich that she somehow made sound like the best thing since ... well, since sliced bread. And guided by Susan Olayinka, the recipe developer behind The Flexible Fridge, you can create a tomato sandwich that Harriet would go gaga for, a sandwich whose deliciousness belies its simplicity.
"I just love tomatoes," says Olayinka, "and I love bread so this is the best recipe possible for myself!"
The secret to success, she says, is in relying on the ripest tomatoes you can find. "When you get tomatoes in season they are so delicious," she says, "and when they are vine-ripened they are so flavorful as well."
Ready to discover her recipe? You don't need to be a spy to figure it out. Just read on, and Olayinka will reveal all of her tips, tricks, and secrets for a successful sandwich.
Gather the ingredients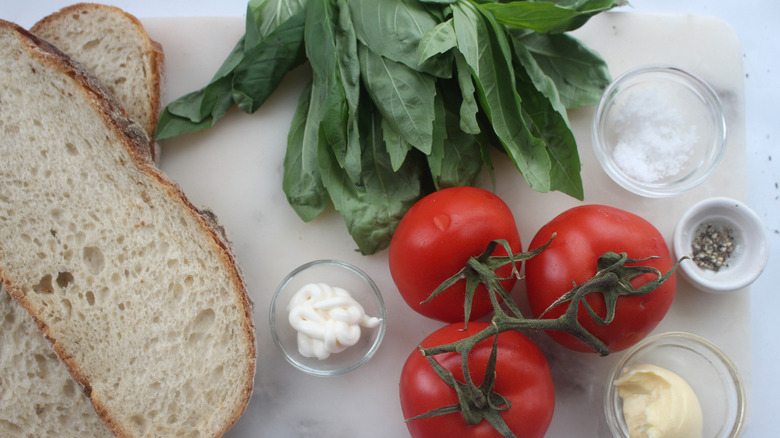 Susan Olayinka/Mashed
To make this easy toasted tomato sandwich, you need just 7 ingredients. Tomatoes, of course — Olayinka prefers vine-ripened for the best flavor. For the bread, she opts for sourdough, which is the perfect foil to the sweet tomato. A touch of basil, salt, and pepper round out the seasonings.
To make this sandwich, Olayinka relies on not one, but two sources of fat: butter and mayonnaise. The butter is spread over the bread before broiling it to lend flavor and texture. The mayonnaise, meanwhile, gives the sandwich "a nice creamy taste," according to Olayinka.
Butter the bread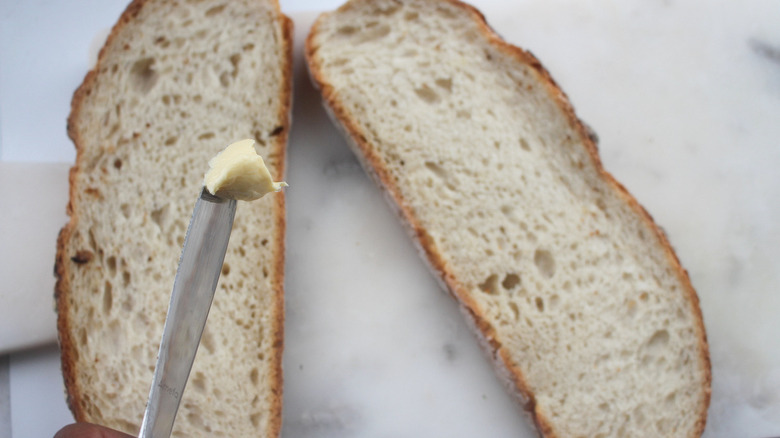 Susan Olayinka/Mashed
First up, preheat the broiler, and while it heats, turn your attention to the bread. Olayinka calls first for spreading it with butter on one side, which will help it toast up to a lovely golden brown in the broiler. 
To keep your bread from tearing, make sure you're working with room temperature butter. If you forgot to take it out of the fridge before beginning, no problem! Just place it in an oven-safe container like a ramekin and stick it in the preheating oven for a few seconds; this should soften it enough to make it easily spreadable and ready to use.
Broil the bread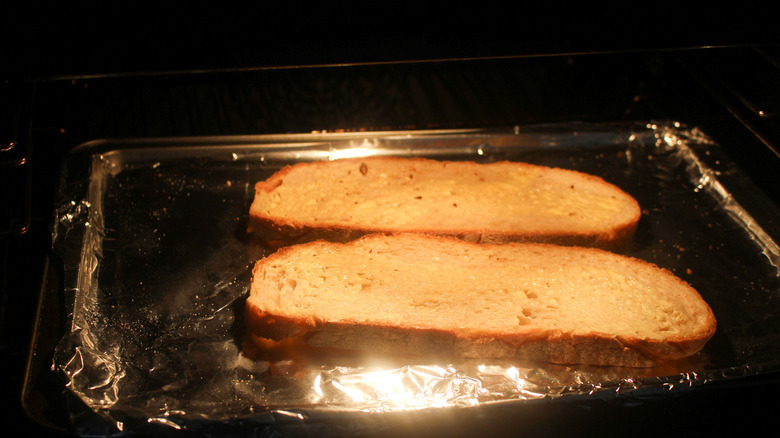 Susan Olayinka/Mashed
Once the bread is buttered, pop it under the broiler on a foil-lined baking sheet for a few seconds to toast. Toasting the bread, Olayinka says, "adds a nice texture compared to the soft tomatoes." Toast it for 40 to 50 seconds per side so that it emerges crispy and golden brown.
Another option is to broil the toast on just one side, offering a welcome distinction between the crunchy outside texture and the soft bread against the tomatoes. This technique is recommended by the pros over at Bon Appetit, who have no small amount of praise for the textural juxtaposition.
Slice the tomatoes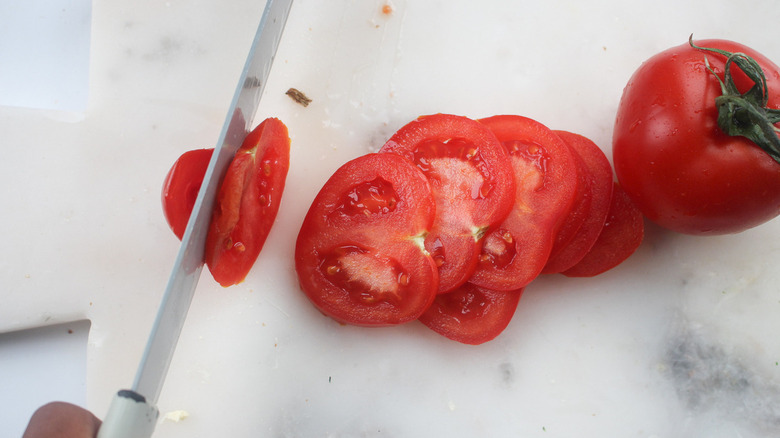 Susan Olayinka/Mashed
Next up, it's time to slice the tomatoes for the easy toasted tomato sandwich. Be sure to cut them into even slices, so that they are easy to arrange in an even layer on the bread.
Slicing tomatoes can wreck havoc on your chef's knife, so consider relying instead on a serrated knife like a bread knife or steak knife. The teeth will tear through the thick tomato skin, making it easier to get even slices (and less likely that the knife will slip and cut you!).
Assemble the easy toasted tomato sandwich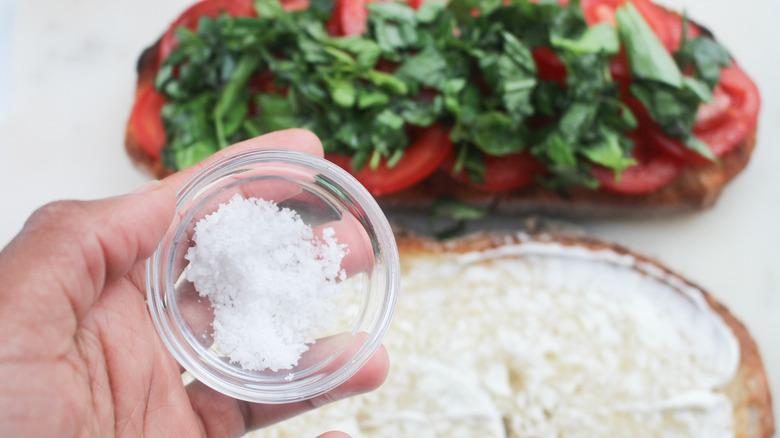 Susan Olayinka/Mashed
Last step? Assembly! 
Begin with a slice of sourdough toast, placing the toasted side face-down if you've only toasted one side. Spread it with mayonnaise, then top with the sliced tomato, basil, salt, and pepper. Spread the other slice with a touch more mayo (on the untoasted side, if you've only toasted one), and place on top. You're done! 
Slice the sandwich in half, and call your little spy to lunch. (Or, if you don't want to share, simply dispose of the evidence yourself. We won't tell!)
Easy Toasted Tomato Sandwich Recipe
An incredibly simple but absolutely delicious lunch with colorful, fresh tomatoes and basil -- you'll want to eat it everyday!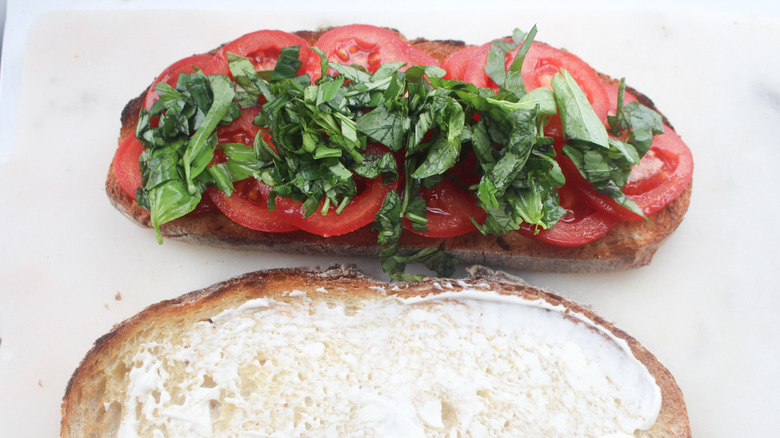 Ingredients
2 slices sourdough bread
1 tablespoon butter, softened
1 tomato
1 tablespoon mayonnaise
2 tablespoons fresh basil leaves, sliced
⅛ teaspoon salt
⅛ teaspoon pepper
Directions
Preheat the broiler to high heat.
Butter one side of each slice of sourdough bread. Place the bread on a baking sheet lined with tin foil under the broiler for 40-50 seconds on each side.
Slice the tomatoes into thin slices.
Spread the mayonnaise on the buttered side of each slice of bread. Arrange the sliced tomato, basil, salt, and pepper on one slice of the bread, and top with the other slice.
Halve the sandwich and enjoy.
Nutrition
| | |
| --- | --- |
| Calories per Serving | 164 |
| Total Fat | 4.9 g |
| Saturated Fat | 1.7 g |
| Trans Fat | 0.1 g |
| Cholesterol | 6.0 mg |
| | |
| --- | --- |
| Total Carbohydrates | 24.9 g |
| Dietary Fiber | 1.3 g |
| Total Sugars | 2.7 g |
| Sodium | 294.1 mg |
| Protein | 5.2 g |