Copycat Panera Bread Toasted Frontega Chicken Recipe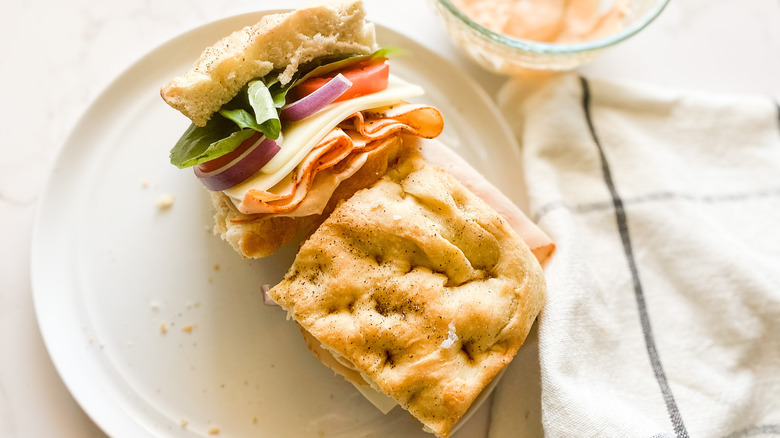 Kristen Carli/Mashed
It's hard to imagine how much work goes into the development of a menu item before a restaurant officially adds it to their offerings, and that's all the more true when considering the menu of a national chain. Countless hours of development, taste-testing, and refining must have gone into the Toasted Frontega Chicken sandwich from Panera, but once you have your ingredients gathered, you'll only need to put in about five minutes of work to assemble an excellent copycat sandwich at home. (okay, plus a couple of minutes more as you wait on the toaster.)
Chef, recipe developer, and registered dietician Kristen Carli says: "This is such a flavorful sandwich," adding: "I love to eat this with a side of fruit like grapes or with some chips." Just don't plan to prep the sandwich all that long before you are going to eat it. "This sandwich will taste fresh for about 30 minutes in the fridge," says Carli, but "after that, the bread will get soggy with the chipotle sauce."
Gather the ingredients for a copycat Panera Bread Toasted Frontega Chicken sandwich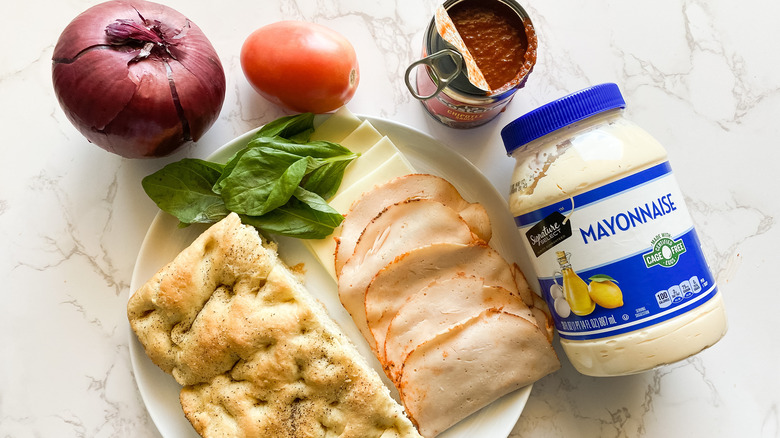 Kristen Carli/Mashed
For this copycat sandwich, you'll need mayo, chipotle sauce, sliced deli chicken, sliced mozzarella, sliced tomato, sliced red onion, basil leaves, and a third of a loaf of black pepper focaccia bread.
For the bread, you can buy it from the store, or better yet, use another great Mashed recipe and make your own focaccia bread. In this case, you'll just use black pepper instead of olives and feta. Granted, that will add a lot more time and effort, but the bread keeps well for a while and will only make the sandwich all the tastier.
Toast the bread and slice the veggies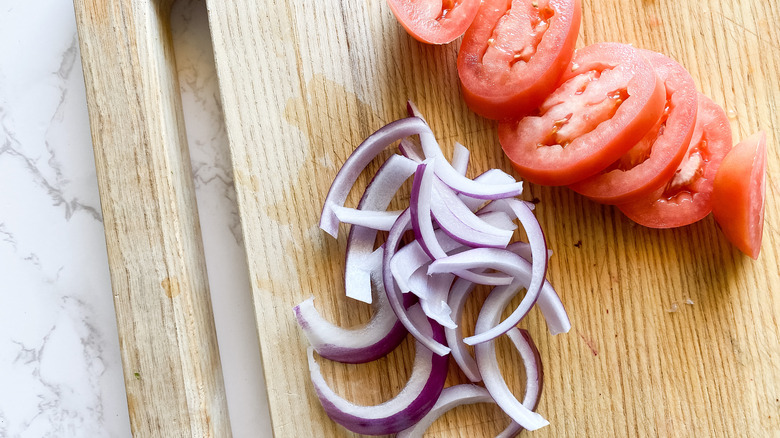 Kristen Carli/Mashed
Slice the focaccia bread lengthwise and then toast the slices of focaccia bread, making sure they only turn lightly toasted and golden, not brown and crunchy — over-toasting the bread is one of the only mistakes you can make here.
Meanwhile, slice the tomato into several thick discs, and slice the onion and separate it into multiple strips you will use when you assemble the sandwich. You can get out the cheese, chicken, mayo, chipotle sauce, and basil now, too, as you'll be moving on to said sandwich assembly within about a minute now.
Make the chipotle mayo and assemble the sandwich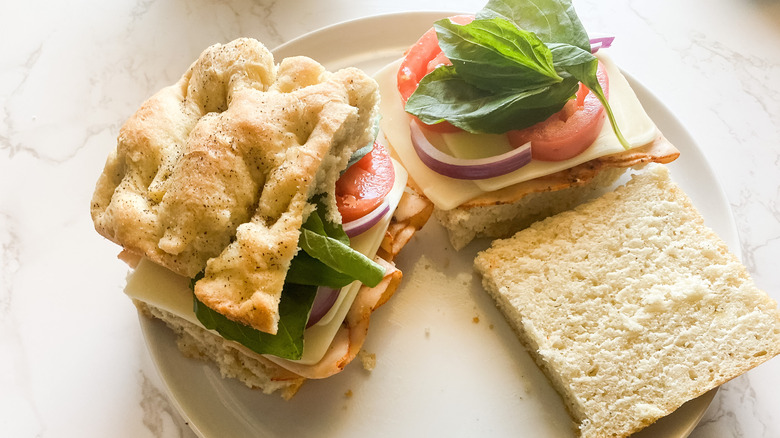 Kristen Carli/Mashed
In a small bowl, add the mayo and the chipotle sauce and stir to combine them fully. Now spread the chipotle mayo over the bottom half of the pieces of bread.
Top the coated bread bottoms with the sliced chicken, then the cheese, then tomato slices, red onion slices, and finally the basil. Now close up each sandwich and serve them, with or without sides, and enjoy them. And again, just don't wait too long. If need be, you can always prep all of the ingredients and store them separately, then assemble the sandwich right before you eat it.
Copycat Panera Bread Toasted Frontega Chicken Recipe
Once you have your ingredients gathered, you'll only need to put in about five minutes of work to assemble this excellent Panera Bread copycat sandwich at home.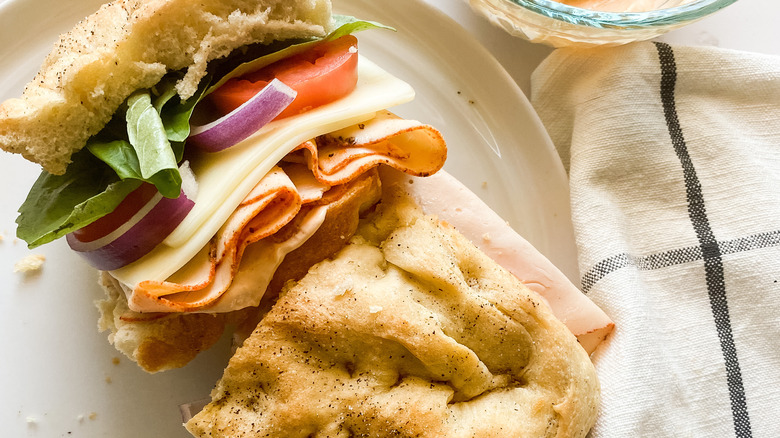 Ingredients
⅓ loaf black pepper focaccia bread
½ cup mayo
1 teaspoon chipotle sauce
6 slices deli chicken
4 slices mozzarella
1 tomato, sliced
¼ red onion, sliced
6 basil leaves
Directions
Slice focaccia bread lengthwise, then toast bread.
In a small bowl, add mayo and chipotle sauce, and stir to combine.
Spread chipotle mayo onto bottom half of toasted bread, then top with chicken, cheese, tomato slices, red onion slices, and basil.
Close the sandwich with the other piece of bread, then serve and enjoy.
Nutrition
| | |
| --- | --- |
| Calories per Serving | 230 |
| Total Fat | 18.7 g |
| Saturated Fat | 4.6 g |
| Trans Fat | 0.0 g |
| Cholesterol | 32.7 mg |
| | |
| --- | --- |
| Total Carbohydrates | 6.7 g |
| Dietary Fiber | 0.5 g |
| Total Sugars | 1.0 g |
| Sodium | 276.2 mg |
| Protein | 8.6 g |