Slow Cooker Chicken Noodle Soup Recipe That Requires Little Hands-On Time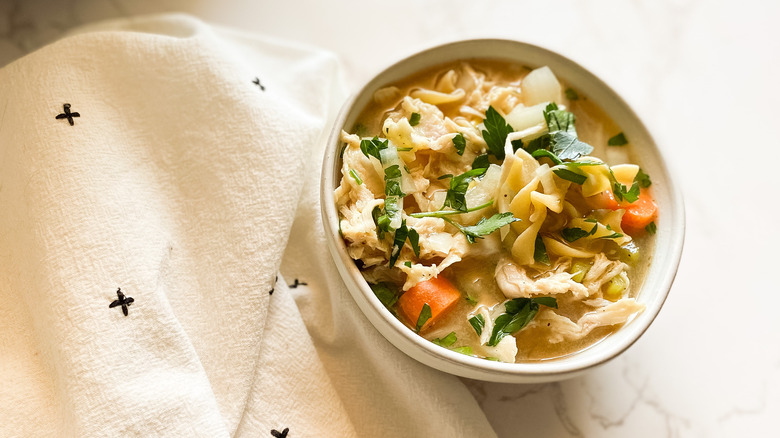 Kristen Carli/Mashed
If you only think of chicken noodle soup as a dish to be eaten when you're sick, you need to try this take on the stuff for one seriously eye-opening experience. As it happens, chicken noodle soup is even more of a delight when you're in good health. Why? Well, when you're sick, it's not like your sense of taste is all that good anyway — so who knows, maybe you've long loved the stuff and never even known it.
Beyond the surprisingly good taste, you'll also appreciate how easy this recipe is to complete. Chef, recipe developer, and registered dietician Kristen Carli says: "It's very easy to make this one because it is really just a pour-and-turn-on meal." She adds: "I love slow cookers for that reason — this makes a great weeknight meal. I would pair this with some sourdough bread for dipping."
All told, this soup requires very little hands-on time. Just pop it in the slow cooker during the day, and you'll have a delicious dinner waiting for you later.
Gather the ingredients for this slow cooker chicken noodle soup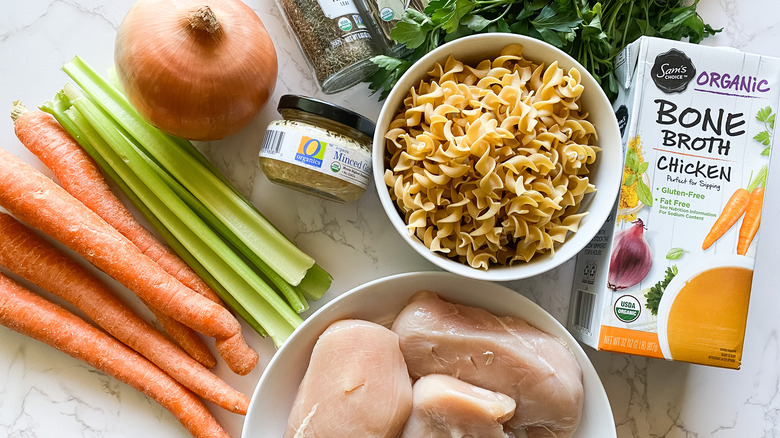 Kristen Carli/Mashed
Beyond the fact that, in theory, anyway, you'll be enjoying this chicken noodle soup when you're healthy and your taste buds are working properly, this soup will also far surpass the flavor of any canned version of the stuff thanks to the freshness of the ingredients.
You'll need a few boneless, skinless chicken breasts, diced yellow onion, sliced carrots, diced celery stalks, minced garlic, dried thyme, bay leaves, salt, pepper, chicken bone broth, egg noodles, and fresh chopped parsley for garnish.
And do get some hearty bread on the side for dipping, of course. Crackers just won't do your handiwork justice.
Is chicken noodle soup actually good for a cold?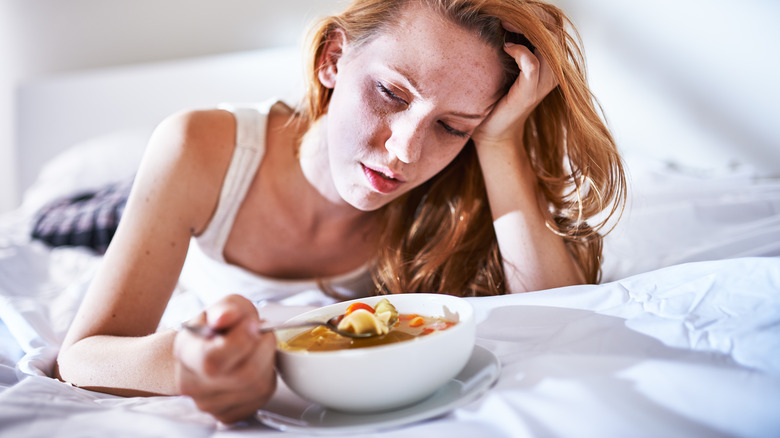 Shutterstock
Of course, you can serve this soup as comfort food to a person who's under the weather, too. And in fact, you should, because it turns out that chicken noodle soup really is good for you when you have a cold.
According to WebMD, chicken noodle soup can be hydrating thanks to its clear broth, and it can help open up nasal passages (especially when eaten good and warm), which promotes better breathing. The saltiness stimulates taste buds even when they are dulled by sickness, and then, of course, you have the protein from the chicken, a mix of veggies that offer vitamins and minerals, and some carbs from the noodles that will help make you feel full. 
Add your ingredients to the slow cooker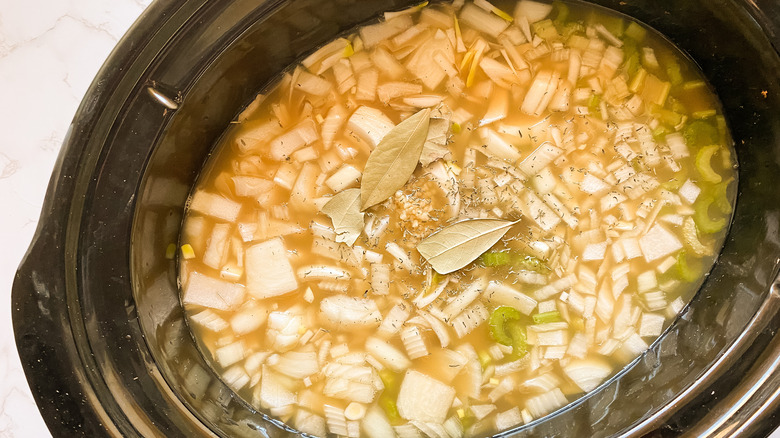 Kristen Carli/Mashed
In a large six-quart slow cooker, add the three chicken breasts, still whole (but do take the time to trim off any fat, gristle, or veiny bits), the diced onion, the carrots, celery, garlic, thyme, bay leaves, and the salt and pepper. Now cover the slow cooker and cook everything on high for six hours.
Most of your work is now already done! The most hands-on work with this one was washing and chopping those veggies. You can spend the next six hours doing whatever you want (or working), as dinner prep is almost finished.
Shred the chicken and add the noodles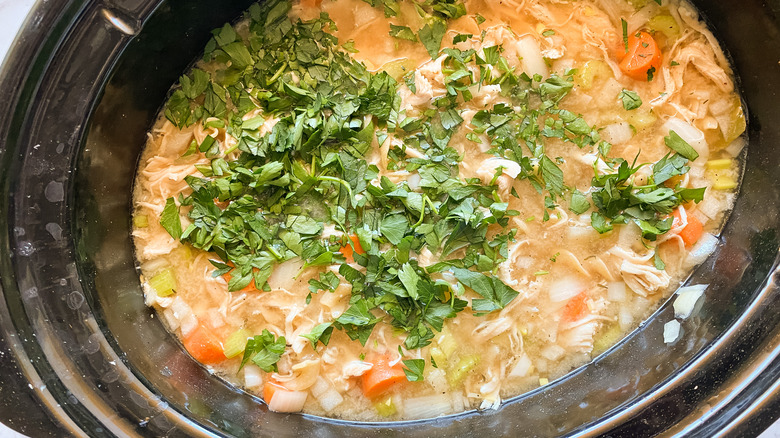 Kristen Carli/Mashed
Once the six hours of cooking have elapsed, remove the bay leaves from the slow cooker and discard them. Next, remove the chicken breasts and shred the meat with a pair forks (or with dedicated meat-shredding claws).
Now put the shredded chicken back into slow cooker, and then add the noodles. Stir to combine everything, and make sure the noodles are well-submerged. Then cover and cook the soup for an additional 15 minutes, add the parsley, stir to combine all ingredients once more, and serve your soup.
As for leftovers, there's a time limit there. "It does not freeze well," Carli says, "but is great when kept in the fridge in an airtight container for up to five days."
Slow Cooker Chicken Noodle Soup Recipe That Requires Little Hands-On Time
If you only think of chicken noodle soup as a dish to be eaten when you're sick, you need to try this take on the stuff for one seriously tasty experience.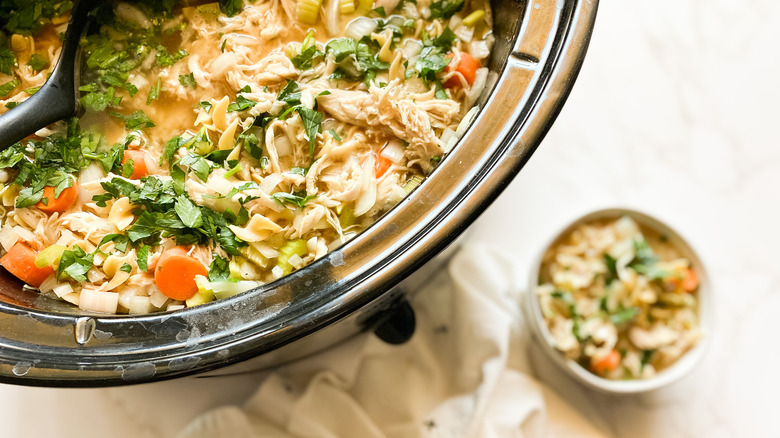 Ingredients
3 boneless skinless chicken breasts
1 yellow onion, diced
5 carrots, sliced
4 celery stalks, diced
1 teaspoon minced garlic
1 teaspoon dried thyme
3 bay leaves
2 teaspoons salt
1 teaspoon pepper
8 cups chicken bone broth
8 ounces egg noodles
¼ cup chopped parsley
Directions
In a large 6-quart slow cooker, add chicken, onion, carrots, celery, garlic, thyme, bay leaves, salt, and pepper.
Cook on high for 6 hours.
Remove the bay leaves and discard.
Remove the chicken breasts and shred with 2 forks.
Add shredded chicken back to slow cooker, then add noodles and stir to combine.
Cook for an additional 15 minutes, then add parsley and stir to combine.
Serve and enjoy!
Nutrition
| | |
| --- | --- |
| Calories per Serving | 262 |
| Total Fat | 4.2 g |
| Saturated Fat | 1.0 g |
| Trans Fat | 0.0 g |
| Cholesterol | 98.3 mg |
| | |
| --- | --- |
| Total Carbohydrates | 27.0 g |
| Dietary Fiber | 3.0 g |
| Total Sugars | 3.4 g |
| Sodium | 713.4 mg |
| Protein | 27.8 g |