Quick Chocolate Pastry Cream Recipe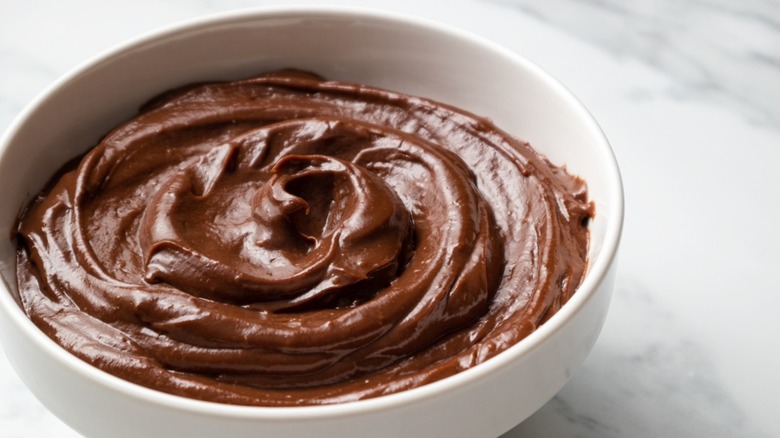 Mark Beahm/Mashed
Chocolate is alway in, no matter the season. Whether it's Christmas, Valentine's Day, a loved one's birthday, or any other occasion, the sweet candy is a go-to present that both kids and adults love. Although it already tastes good on its own, chocolate bars can also be made into other forms of delightful desserts, including chocolate pastry cream.
If you have a sweet tooth and haven't tried your hand at chocolate pastry cream yet, you absolutely must. But, don't buy it — make it from scratch! Recipe developer Mark Beahm of The Sunday Baker came up with a simple step-by-step guide on how to prepare this tasty dessert right at home. Rest assured, you don't have to be a pro chef in order to make this delightful recipe. It's super easy and quick to prepare!
Keep in mind that this recipe doesn't actually take 2 hours and 15 minutes of hands-on prep time. It's only 15 minutes to prepare, and the finished product has a chill time of 2 hours. In addition, the cook time is about two minutes. That being said, it is better to make this dessert earlier in the day or a night before. "Chocolate pastry cream can be used in anything that you would normally use regular pastry cream," says Beahm. "It's great for filling choux buns, éclairs, and doughnuts. You can use this as the filling for a chocolate cream pie or make a chocolate tart. It's also delicious on its own as chocolate pudding."
Gather the ingredients to prepare chocolate pastry cream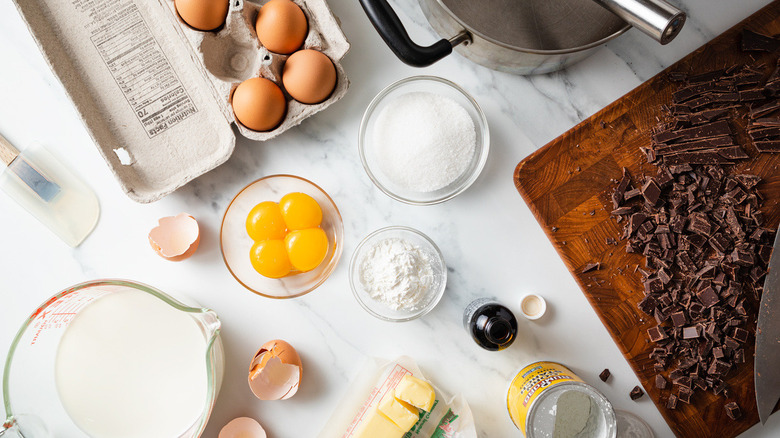 Mark Beahm/Mashed
Measure and arrange the ingredients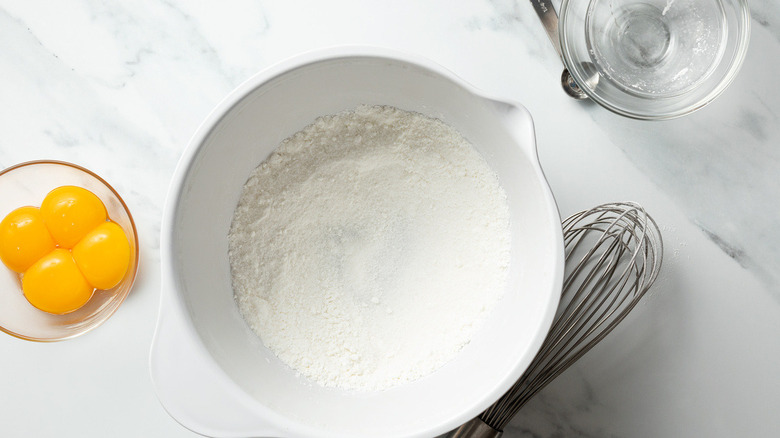 Mark Beahm/Mashed
Before you start making the chocolate pastry cream, it's a good idea to measure your ingredients and arrange them in small bowls or plates. Line the ingredients up on the kitchen counter for easy access, which will make things much easier while you're in the cooking process.
Mix the ingredients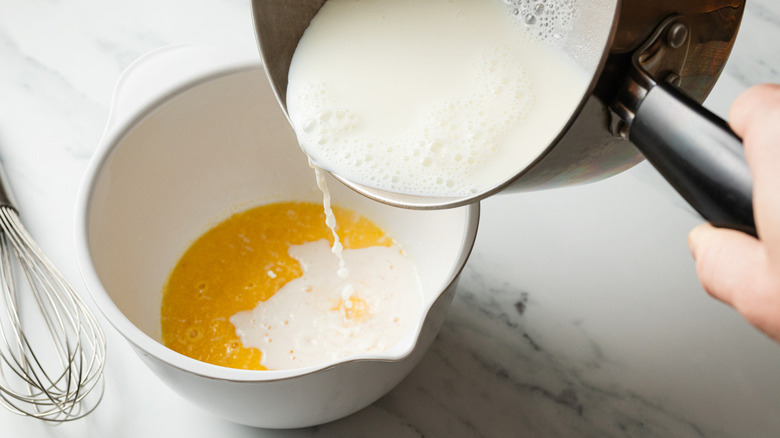 Mark Beahm/Mashed
In a mixing bowl, combine the dry ingredients: the sugar, cornstarch, and salt. Whisk thoroughly, and set aside. Next, separate the egg yolks from the egg whites, and place them in two small bowls. You can then set aside the egg whites — you will not need them in this recipe. 
Next, go back to your dry ingredients mixture, and add the egg yolks. Mix for 1 minute, or until pale and smooth. When you're done, set the mixture aside.
Heat up the milk, then add it to the egg mixture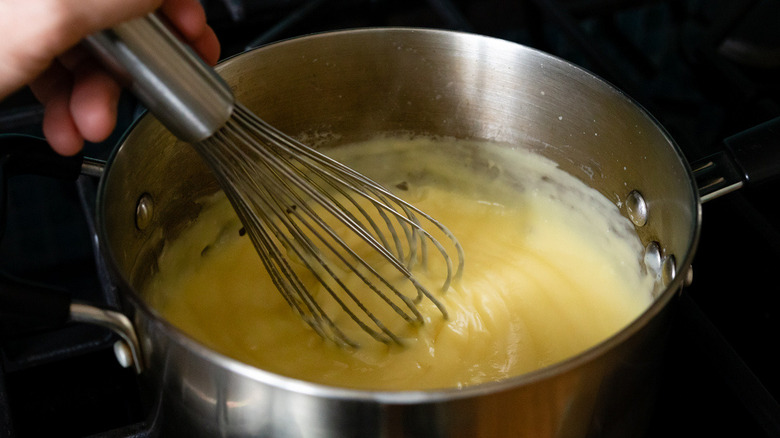 Mark Beahm/Mashed
Pour the milk into a saucepan, and bring it to a simmer over medium heat. Make sure the heat is not too hot, or your milk will have curdles. Once it reaches a simmer, you can then take the milk off the heat, and slowly pour it into the yolk mixture, whisking constantly. Adding the milk will temper the yolks. 
When done, transfer the softened mixture to the saucepan, and cook over medium heat until it starts to bubble. Don't forget to whisk constantly to avoid burning the bottom, and cook for another minute.
Add the chopped chocolate to the pastry cream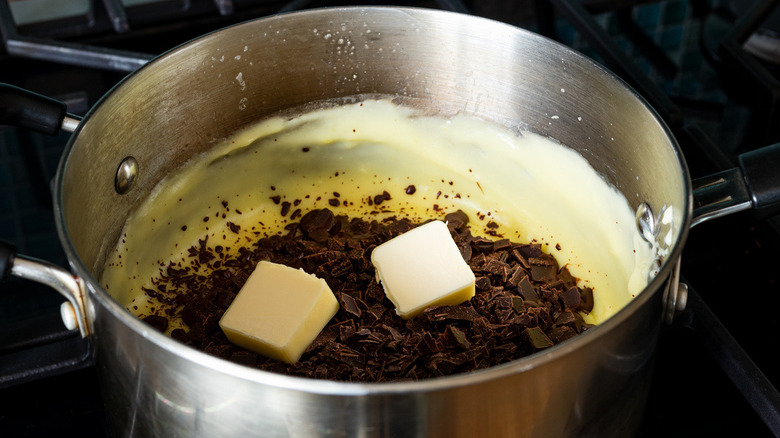 Mark Beahm/Mashed
Now, it's time to add the chocolate. Take your pastry cream off the heat, and add in the chopped dark chocolate. Mix well, then add the butter and vanilla extract. Whisk until the butter melts. 
Next, grab a bowl, and pour the pastry cream into a fine-mesh strainer to get rid of any unmelted ingredients. Cover the bowl with plastic wrap, and refrigerate for two hours. After those two hours are up, you can enjoy the chocolate pastry cream however you'd like — whether enjoying spoonfuls of it by itself or adding it to a homemade doughnut.
Quick Chocolate Pastry Cream Recipe
This chocolate pastry cream is great for filling choux buns, éclairs, and doughnuts. You can also enjoy it on its own as a chocolate pudding.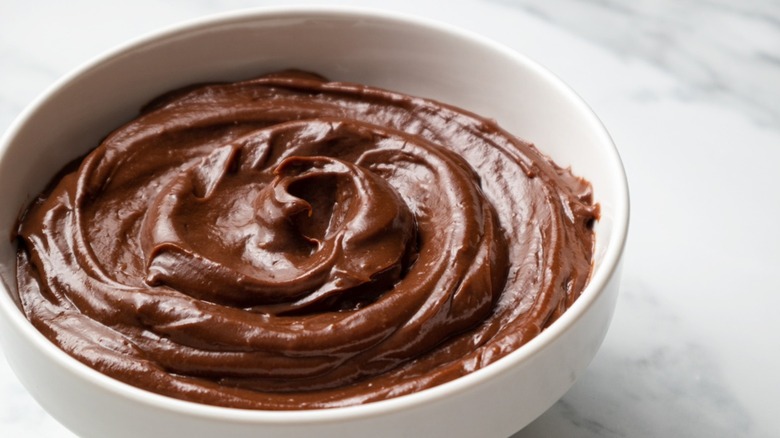 Ingredients
½ cup granulated sugar
3 tablespoons cornstarch
¼ teaspoon salt
yolks from 4 large eggs
2 cups whole milk
4 ounces dark chocolate, finely chopped
2 tablespoons unsalted butter
1 teaspoon vanilla extract
Directions
Whisk together the sugar, cornstarch, and salt in a mixing bowl.
Whisk in the egg yolks, and mix until pale and smooth, about 1 minute.
Bring the milk to a simmer in a saucepan over medium heat.
Take the milk off the heat. Slowly pour half of the hot milk into the yolk mixture a splash at a time, whisking constantly. This tempers the egg yolks.
Transfer the mixture back into the saucepan, and cook over medium heat until it begins to bubble, whisking constantly. Then, continue to cook for 1 more minute.
Remove the pastry cream from the heat. Whisk in the finely chopped chocolate, unsalted butter, and vanilla extract until melted and completely incorporated.
Pour the pastry cream through a fine-mesh strainer into a bowl, and cover with plastic wrap directly on the surface of the pastry cream. Refrigerate until cool, about 2 hours.
Nutrition
| | |
| --- | --- |
| Calories per Serving | 652 |
| Total Fat | 35.4 g |
| Saturated Fat | 19.2 g |
| Trans Fat | 0.3 g |
| Cholesterol | 285.8 mg |
| | |
| --- | --- |
| Total Carbohydrates | 66.4 g |
| Dietary Fiber | 4.2 g |
| Total Sugars | 51.0 g |
| Sodium | 368.2 mg |
| Protein | 16.5 g |