Crock Pot Baked Ziti Recipe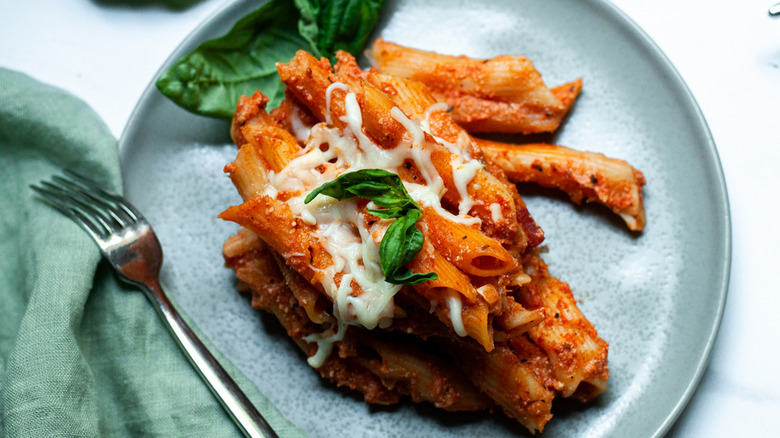 Christina Musgrave/Mashed
If you don't put baked ziti in the oven, is it still really baked ziti? Christina Musgrave, the recipe developer behind Tasting with Tina, certainly thinks so — and she's created this easy slow cooker baked ziti to prove it.
"I wanted to create a slow cooker version of an Italian American favorite recipe," she says of her inspiration. And she succeeded with a hearty, comfort food dish that has all of the key components of traditional baked ziti, at a fraction of the time and effort. When compared to baked versions of the dish, Musgrave says, "The pasta is a little softer, but you still get the crisp cheese on the top."
Musgrave prepares her version with penne rigate — all the better for capturing all of the delicious sauce and cheese — but you could also opt for smooth ziti or pretty much any preferred short pasta shape.
Gather the ingredients to prepare this easy slow cooker baked ziti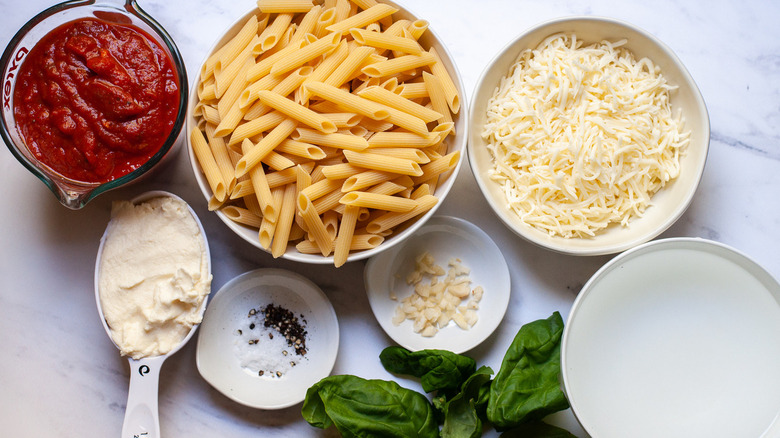 Christina Musgrave/Mashed
To whip up this easy slow cooker baked ziti, you'll need the pasta and sauce of your choice. Musgrave says that any tomato sauce will work, so get creative!
Next, you'll add creamy ricotta cheese, which will make the final dish silky, smooth, and rich, then mozzarella. Some of the mozzarella will combine with the pasta for its two-hour cook, and the rest is saved to sprinkle over the top before serving. Water will help the pasta become tender in the slow cooker. Season with salt, pepper, and garlic, and grab some fresh basil to garnish, and you're ready to go. You can also have grated Parmesan cheese and red pepper flakes available for anyone who enjoys sprinkling either on top of their dish.
Combine the ingredients in the slow cooker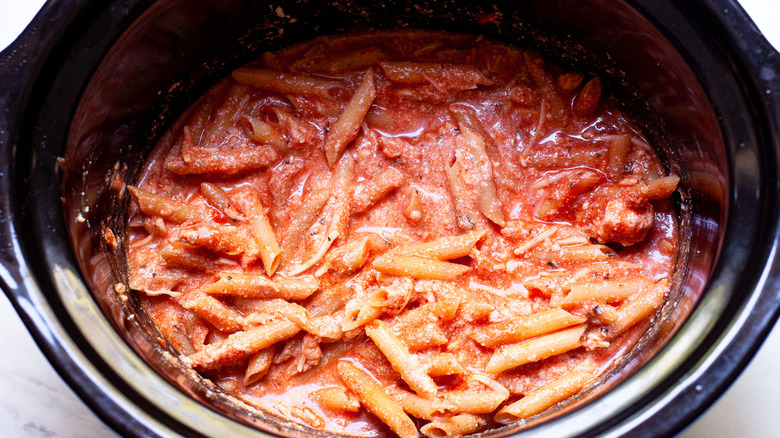 Christina Musgrave/Mashed
Making this easy slow cooker baked ziti really couldn't be simpler or quicker. All you need to do is combine the pasta, tomato sauce, water, ricotta, salt, pepper, and garlic in the slow cooker. Then, you add half of the mozzarella, and stir to combine.
Once all the ingredients are in the slow cooker, you can cover it, set it, and forget it. You can literally walk away for two hours and let the pasta cook on the low setting, absorbing all of those delicious flavors. What could be simpler?
While your slow cooker is doing the rest of the cooking, you can consider getting some garlic bread ready along with a tossed green salad. And don't forget to pull out a bottle of red wine for the spectacular meal you will be serving very soon.
Add the cheese to the slow cooker baked ziti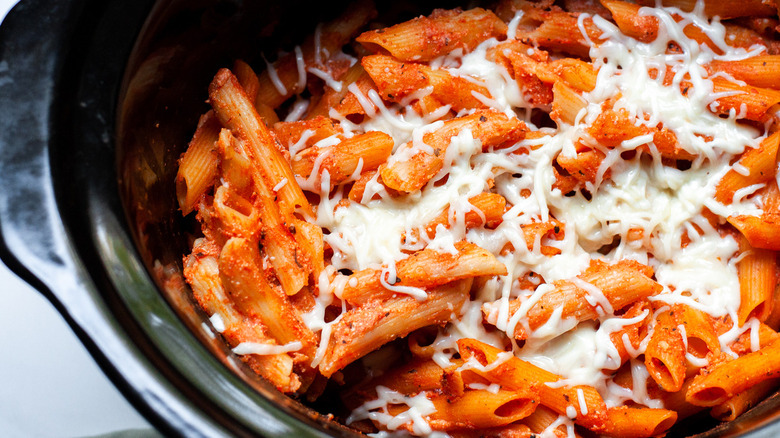 Christina Musgrave/Mashed
After two hours, you'll enjoy a delicious aroma in the kitchen, which is the best part of this slow cooker meal, aside from eating it! First, open the slow cooker, and sprinkle the reserved mozzarella over the top of the pasta. Then, cover the slow cooker once more just for a few minutes, allowing the mozzarella to melt into the gooey cheese topping everyone loves and looks forward to.
That's it! Serve the pasta with a garnish of fresh basil, and, if anyone would like, some freshly grated Parmesan or a pinch of red pepper flakes make a great topping to have handy. No one needs to know just how easy this Italian-American comfort food classic was to make, so accept all of the compliments that you receive, sit back, pour your wine, and enjoy your delightful and yummy dinner.
Crock Pot Baked Ziti Recipe
If you've never prepared baked ziti in a slow cooker before, this recipe will be a real treat.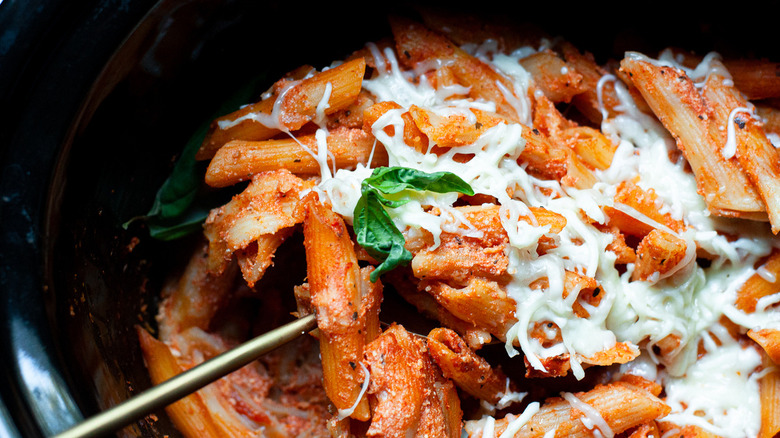 Ingredients
1 (1-pound) box penne or other short pasta
1 (28-ounce) jar tomato sauce
2 cups water
1 cup ricotta cheese
½ teaspoon salt
½ teaspoon black pepper
2 cloves garlic, minced
2 cups mozzarella cheese, divided
Optional Ingredients
fresh basil, for garnish
grated Parmesan cheese, for serving
red pepper flakes, for serving
Directions
Combine the penne, tomato sauce, water, ricotta cheese, salt, pepper, minced garlic, and 1 cup of mozzarella cheese in the slow cooker.
Stir the ingredients well. Cover and cook on low for 2 hours.
When the pasta is cooked, top with the remaining 1 cup of mozzarella cheese. Cover, and let melt.
Serve with fresh basil, Parmesan cheese, and/or red pepper flakes.
Nutrition
| | |
| --- | --- |
| Calories per Serving | 496 |
| Total Fat | 21.2 g |
| Saturated Fat | 12.9 g |
| Trans Fat | 0.0 g |
| Cholesterol | 73.6 mg |
| | |
| --- | --- |
| Total Carbohydrates | 50.5 g |
| Dietary Fiber | 3.4 g |
| Total Sugars | 5.8 g |
| Sodium | 963.6 mg |
| Protein | 26.2 g |