Baked Ziti Recipe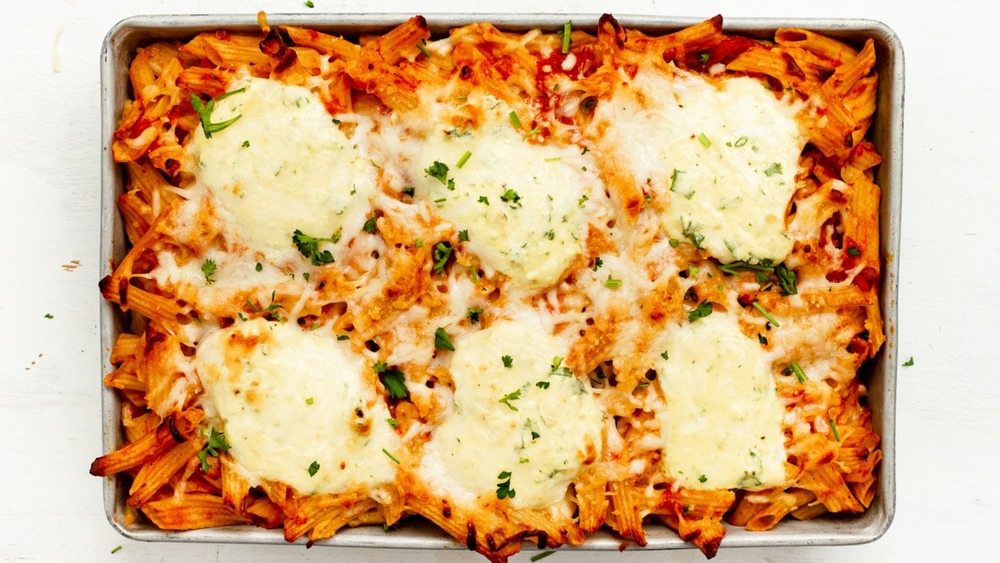 Sher Castellano/Mashed
Baked ziti, or ziti al forno, is a dish that has a surprisingly noble pedigree. According to Garubbo Guide, baked pasta dates back to the late Middle Ages and Renaissance and was a dish served at banquets. It eventually moved from palaces to paesani, particularly in Sicily and Campania. These just so happen to be the two regions of Italy best known for one major export: Italian-Americans, without whom our country's cuisine would be much the poorer.
It was one (fictional) Italian family who really put baked ziti on the U.S. culinary map –- of course we're talking about The Sopranos. From the very first episode where AJ greeted the news that Nonna Livia would not be attending his birthday party with "so what, no f***ing ziti now?" to Carmela's taking over as ziti baker-in-chief (and Father Phil's subsequently developing a "jones" for her baked ziti, since jonesing was something one did in the '90s), it was all about the ziti. 
The one drawback with making baked ziti the Sopranos way is that it might take all day — as a writer with The Baltimore Sun found out, the "Sunday gravy" (spaghetti sauce) alone can take most of the afternoon to make. Sher Castellano came up with a recipe for us that, while classic in taste, takes under an hour from start to finish. This will leave you plenty of time for binge-watching the show that Rolling Stone calls the best of all time.
You'll need a good marinara for the baked ziti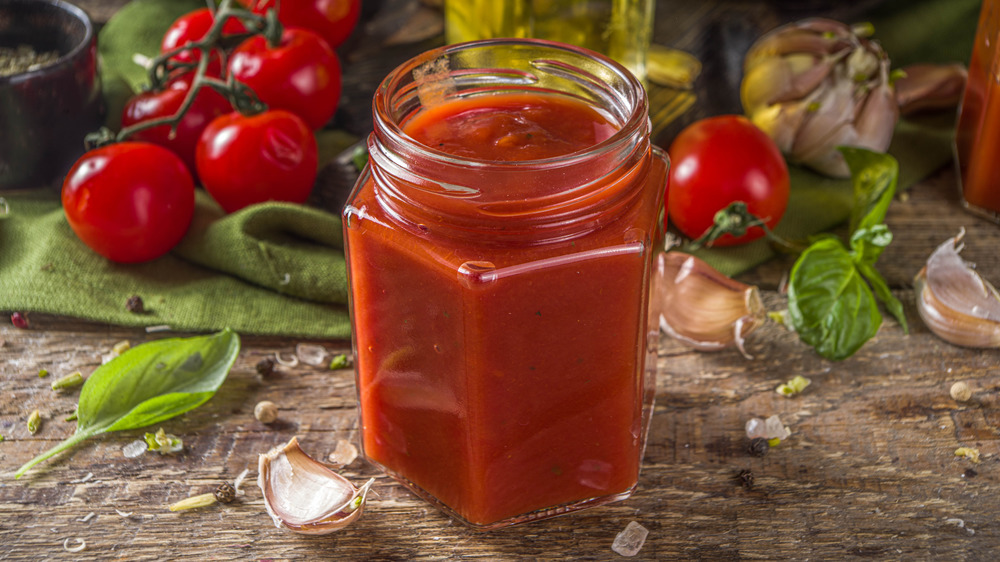 Shutterstock
The foundation of this pasta dish is a good marinara sauce, although Carmela Soprano also used a ragu, or meat-based sauce (Bolognese may be the best-known type of type of ragu). She favored making her ziti with meatballs (served on the side), although the ziti she took to daughter Meadow's dorm at Columbia was accompanied by sweet Italian sausage instead (via Loves Food, Loves to Eat). If you are making your own sauce (or, as she'd call it, gravy), this is one step you can do ahead of time as it lends itself well to being either canned or frozen. You can go for a slow-simmered sauce that takes all day to cook (maybe use your slow cooker so you don't have to stand over the stove the whole time), or you could try this tasty roasted garlic marinara that only takes 15 minutes to throw together.
Of course, if you really want to save on time and effort, you can use store-bought spaghetti sauce (it would give Carmela agita to think of this, but she doesn't have to know). Castellano recommends Rao's marinara, saying "In my opinion, it is by far the best jarred sauce available." If you can't find it in your supermarket, however, Newman's Own is one of the better varieties that's readily available in most grocery stores.
Cook the pasta for your baked ziti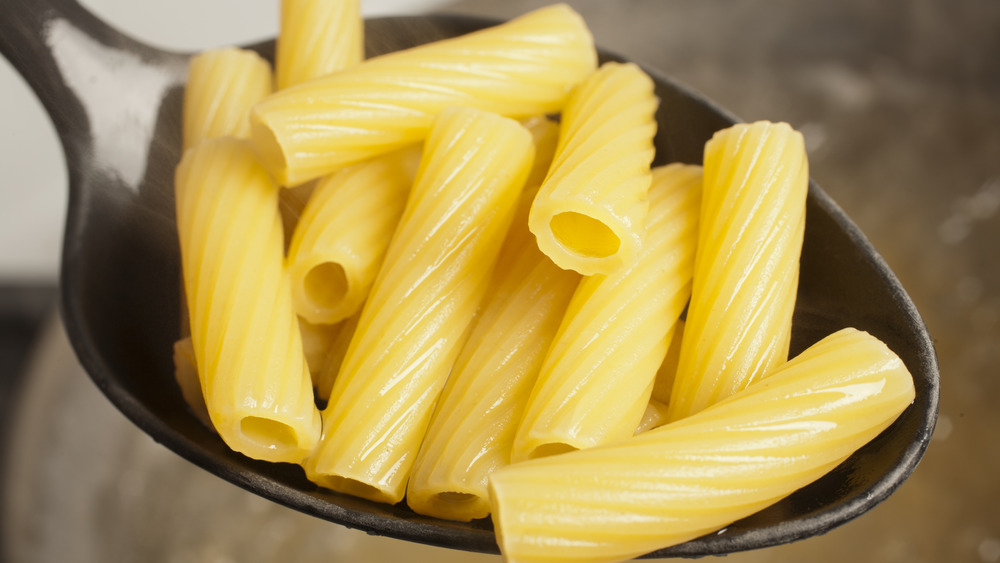 Shutterstock
Castellano tells us that with this dish, "The idea is to use a tubular pasta." She tells us that "while ziti is traditional, penne is a good substitution and more widely available," and adds that "rigatoni is also an option." Oh, and in case you were wondering what the difference is between these three types of pasta, ziti has straight-cut ends, while penne is cut on the diagonal, and rigatoni is like ziti's shorter, fatter brother. If you were to use any other type of chunky, bite-sized pasta like say, farfalle (bowtie pasta), at that point you probably couldn't get away with calling your dish baked "ziti." Penne and rigatoni, however, are close enough that few people will really know the difference, especially under the sauce and cheese.
Anyway, in order to cook your pasta of choice, first fill a large (4+ quart) saucepan with water and add salt. Wondering how much salt to add to your pasta water? Castellano calls for "a generous amount of salt" (Gimme Some Oven suggests using one tablespoon of salt for 4 quarts of water). Add in the pasta, and cook until it's just al dente, meaning still slightly chewy. 
Remember, the pasta will cook (and soften) even more as it bakes. As soon as it's done, drain the pasta, rinse it, and add it back to the pan. Add the marinara sauce to the pasta, stir until well-combined, and then set aside for now.
Mix up the baked ziti's herbed ricotta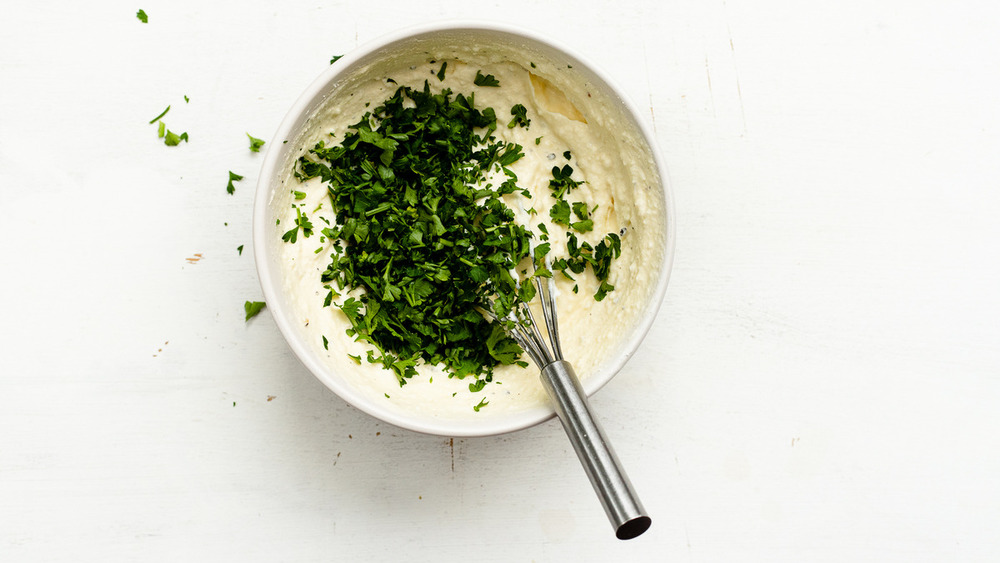 Sher Castellano/Mashed
Baked ziti is made with three different types of cheese, but you'll be using just two of them here. You're going to start with a good ricotta (pronounced reh-GOAT in Italian-Americanese), although you can use either the whole milk or skimmed milk kind in this dish. Don't use cottage cheese in place of the ricotta, though. While they are somewhat similar in appearance, the taste and texture are quite different and baked ziti made with cottage cheese is likely to be too bland and not nearly as rich and creamy as one made with ricotta.
Whisk the ricotta with the egg. Castellano tells us "the egg is used as a binding agent [and] holds the cheese mixture together," but if you are allergic to eggs or just don't have any on hand, you can always leave it out. Castellano assures us that "the texture of the ricotta cheese would be a bit more loose, but the taste would be the same." Once you've beaten the ricotta, with or without egg, mix in the salt, pepper, minced parsley and Parmesan. While fresh Parmesan is great if you're willing to grate, it's perfectly fine to go with the pre-grated kind. In fact, Castellano recommends doing so. She holds the line on the parsley, however, saying "fresh only," no dried.
Assemble the baked ziti casserole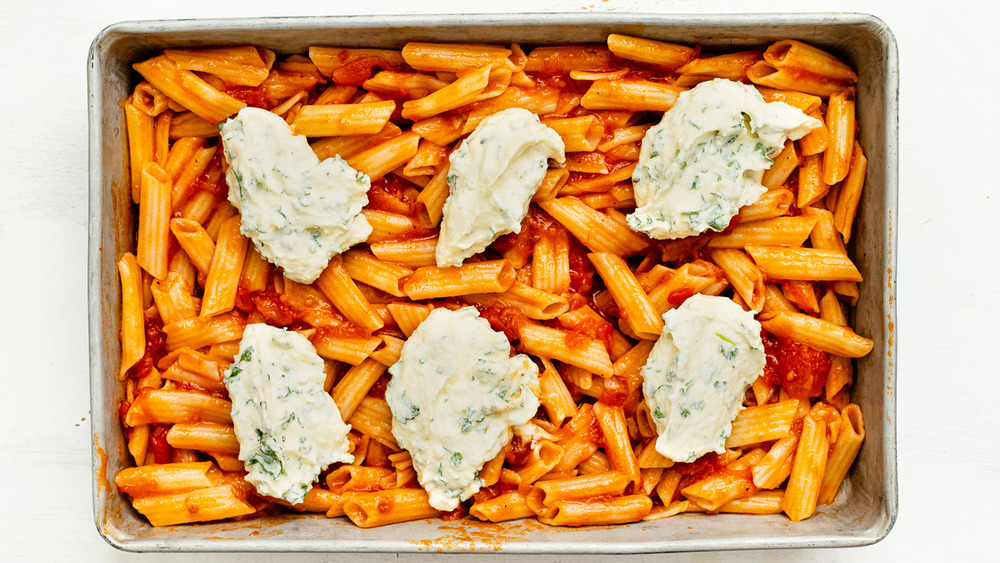 Sher Castellano/Mashed
And now, back to the pasta, which has just been sitting there chilling (or at least cooling) in the sauce. Spoon half of the ziti (or the penne) into a 9 x 13 baking dish –- you may be glad to know that Castellano says you don't have to grease the pan first. Spread the pasta out to cover the bottom of the pan, then spoon six dollops of ricotta cheese on top. Castellano says the ricotta won't spread out while cooking, and while she prefers her ziti more condensed, she does suggest "you could spread it out with a offset spatula if you preferred it that way."
Sprinkle the pasta and the ricotta with half the shredded mutzadell, uh, mozzarella. Now take the rest of the pasta and spoon that over the top of the cheese, so as to make a second layer. Again, do the bit with the ricotta blobs, and once more finish up with a blanket of shredded mozzarella.
Bake and serve the baked ziti dish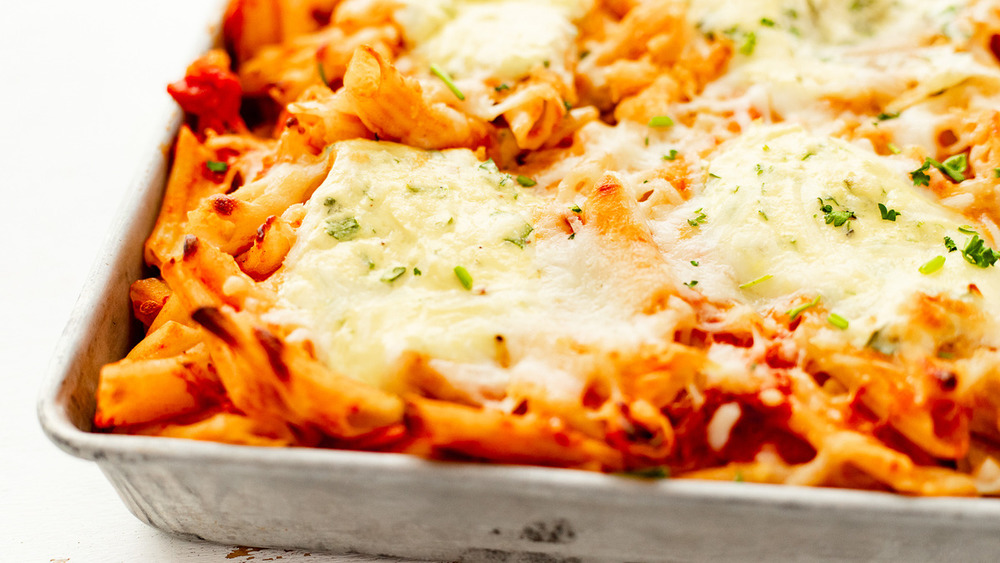 Sher Castellano/Mashed
Okay, it's now time for the last step, the baking of the pasta. At some point in the previous proceedings, it is to be hoped that you found the time to preheat the oven, but if not, do it now. Maybe pour a nice glass of Chianti while you wait. Once the oven is preheated, pop in the pasta, then bake for 30 minutes or until the cheese is nice and bubbly. Once it's done, let the baked ziti cool for ten minutes before serving so you don't suffer any painful cheese-related mouth burns. As a side dish, Castellone suggests "a vibrant green salad," and you couldn't go wrong with some nice cannolis for dessert since these insanely delicious pastries are also tubular in shape and filled with ricotta.
Should you have leftovers, Castellano says these can be stored in an airtight container for up to three days in the refrigerator. Of course, baked ziti can be made well in advance and kept in the freezer in case you need to stock up on ready-to-eat-meals in advance of a vacation or an unfortunate event such as the one that befell the late Karen Baccalieri. As Karen might (or might not) have been pleased to find out, a good baked ziti can still taste fresh and yummy long after you're gone. But why wait? It's much more fun to eat it up yourself while you're still around to enjoy it, so mangia! Mangia!
Baked Ziti Recipe
Baked ziti was a favorite on The Sopranos and now your family can enjoy this Italian comfort food. Plus, the cheesy casserole comes together in under an hour.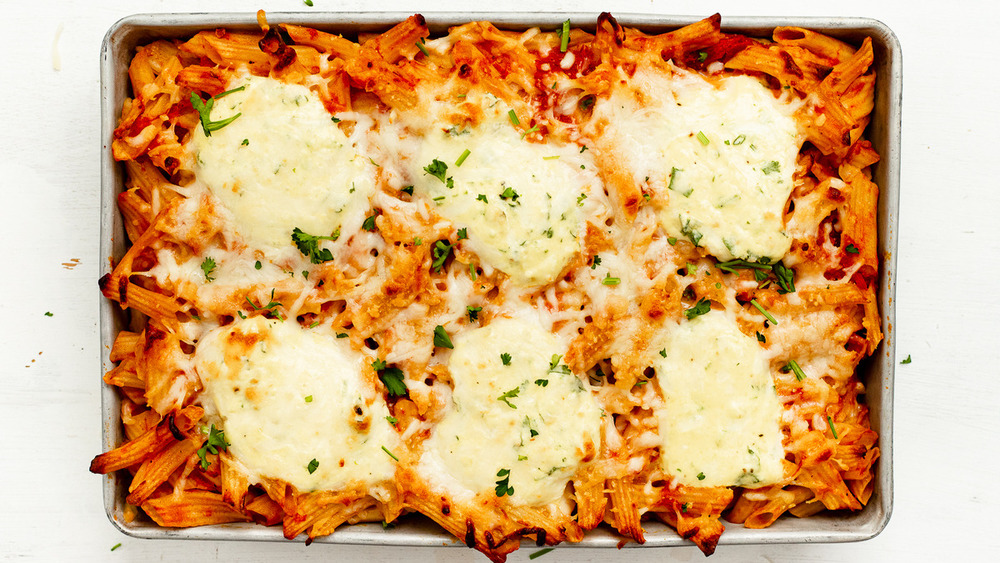 Ingredients
1 pound ziti (or penne)
3 cups marinara sauce
1 large egg
1 cup ricotta (whole or part skim)
¼ cup grated Parmesan cheese
¼ teaspoon fine sea salt
¼ teaspoon black pepper
½ cup fresh parsley, minced
1 cup shredded mozzarella cheese
Directions
Fill a large sauce pan with water and a generous amount of salt. Bring it to a boil and cook the pasta according to the package's al dente directions.
Drain the pasta, rinse and add it back to the pan.
Add the sauce to the pasta, stir to combine well, and set aside.
In a small mixing bowl whisk together the egg, ricotta, Parmesan cheese, salt, pepper and parsley.
Spoon half the pasta into the bottom of a 9 x 13" baking dish. Then spoon 6 dollops of the ricotta mixture onto the pasta. Sprinkle half of the mozzarella over the pasta and repeat all steps to make a second layer.
Bake the pasta uncovered for 30 minutes at 400 degrees or until the cheese is bubbly.
Allow to cool for 10 minutes before enjoying.
Nutrition
| | |
| --- | --- |
| Calories per Serving | 445 |
| Total Fat | 16.2 g |
| Saturated Fat | 8.9 g |
| Trans Fat | 0.0 g |
| Cholesterol | 73.1 mg |
| | |
| --- | --- |
| Total Carbohydrates | 52.0 g |
| Dietary Fiber | 3.7 g |
| Total Sugars | 7.5 g |
| Sodium | 749.8 mg |
| Protein | 21.9 g |