Chick-Fil-A Fans Need To Know About This Sandwich Conspiracy Theory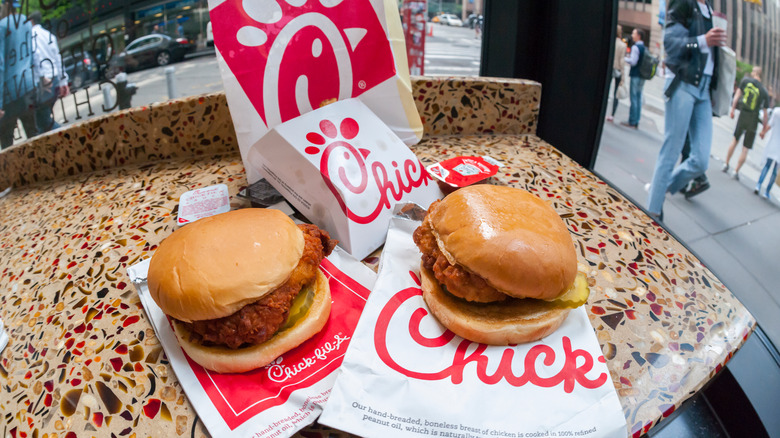 Shutterstock
The Chick-fil-A sandwich is one of the OG menu items at the fast food chain — and one of the most popular. It boasts a crispy yet juicy fried chicken patty sandwiched between a fluffy buttered bun and topped with tangy pickle slices. According to Chick-fil-A, its iconic sandwich started with a tray of boneless chicken that was too big for an airline to use in its in-flight meals. It was handed off to Cathy Truett (the founder of Chick-fil-A) who turned it into the delicious drive-thru order so many of us know and love.
Since the chicken sandwich hit restaurants across the country over 50 years ago in 1964, customers have come up with plenty of questions and thoughts surrounding it, from what the secret recipe is to whether or not there are variations from the kept-under-wraps secret menu. But there's a recent conspiracy theory circulating on Reddit that really has fans concerned. Here's what you need to know.
The Chick-fil-A sandwich may be getting smaller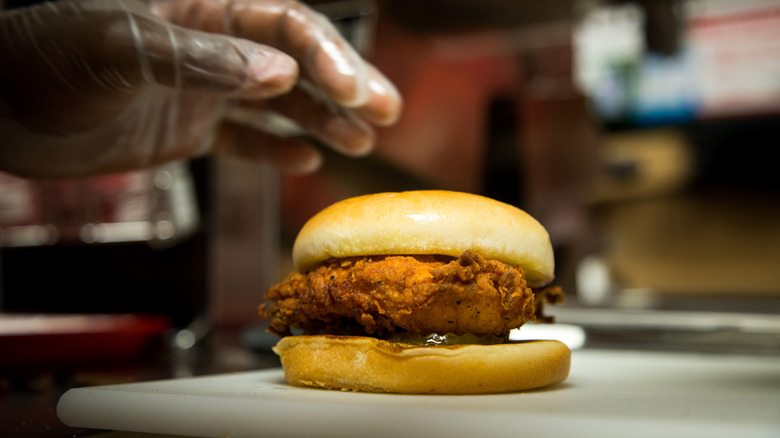 Bloomberg/Getty Images
One of the best things about Chick-fil-A is its consistency — you know that you'll get the same flavorful fried chicken and crispy waffles no matter which restaurant you go to. But according to one Reddit user, that consistency no longer applies to the chicken sandwich. After he had a hunch that the chicken sandwiches at his local Chick-fil-A were feeling thinner and thinner by the day, he started collecting daily data on the exact weight of the patties. Much to his surprise, it seems that the sandwich is in fact shrinking — and diners may in fact be getting ripped off. 
He reports that none of the 40 sandwiches he ordered weighed the advertised 115 grams. Instead, they averaged a mere 96 grams. And he's not the only one who's noticed this — other Redditors chimed in that they've also experienced what appear to be smaller-than-usual sandwiches. One possible explanation? A Chick-fil-A employee said that sometimes, they use leftover breakfast filets (which are smaller) in the chicken sandwiches so they don't go to waste.