Every Home Bar Needs These Spirits, According To Ina Garten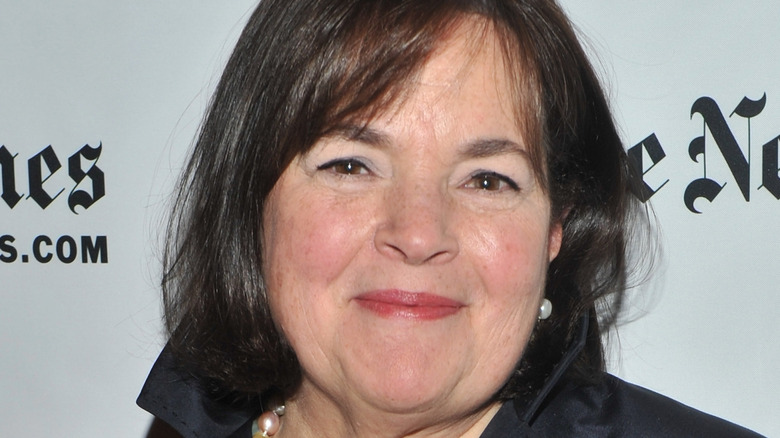 Stephen Lovekin/Getty Images
Ina Garten knows her liquor. You already know that if you follow the cook on Instagram, where she broke the internet at the beginning of the pandemic with a giant quarantine cosmopolitan containing an entire bottle of Grey Goose. "Mmm, delicious," she laughed as she brought the oversize martini glass to her lips with both hands. The video, while "slightly unhinged" (via Grub Street), brought smiles to weary lockdownees' faces and taught them a fundamental life skill: how to make the favorite cocktail of the "Sex and the City" cast.
Garten isn't only partial to vodka cocktails. On her website, where you can also find her cosmopolitan recipe, the Barefoot Contessa answers fans' questions about anything from recipe mishaps to kitchen renovations. When Darian Longmire of Chicago asked, "What kind of beverage[s] and spirits are essential for stocking a home mini bar?" Ina delivered with a thorough list of libations for all kinds of company.
How to stock your bar for cocktails worthy of the Barefoot Contessa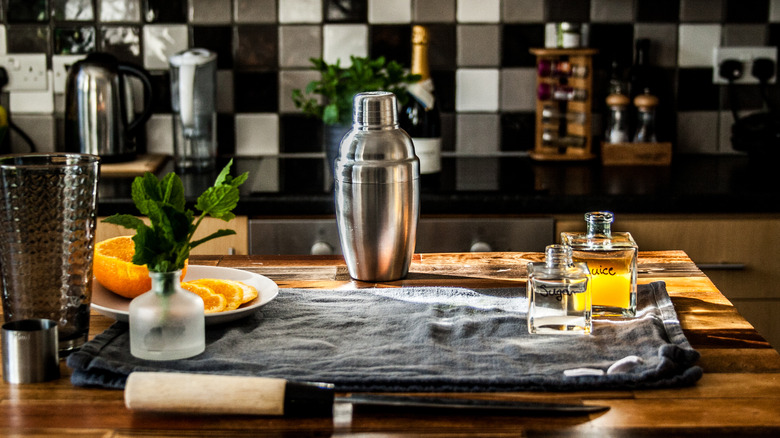 Shutterstock
So what kinds of liquor does the Barefoot Contessa keep on hand? "I usually have Scotch, vodka, bourbon, and gin. ... For mixed drinks, I would stock tonic, club soda, and ginger ale," Garten advised on her Ask Ina page. Do this, and you'll be able to whip up well drinks at your guests' request, like vodka sodas, gin and tonics, and scotch on the rocks. With just a few more ingredients, you'll also be ready to make a few of Garten's signature cocktail recipes. Her pomegranate gimlet mixes pomegranate and lime juices with gin, her hot apple cider is spiked with "good" bourbon, and her extra citrusy vodka Collins has both lemon and limoncello.
For nights when you need an accompaniment to dinner but liquor feels a bit much, "it's always good to have a red and white wine on hand," Garten continued. When building your bar selection, start with Garten's first few suggestions, then continue to acquire other spirits as you muster up more mixology skills. "If you have room for more, add what you think your friends like to drink: rum, tequila, etc.," Garten added. And if you need snacks with those drinks, Garten's website has recipes for fig and goat cheese toasts, chipotle and rosemary roasted nuts, and more.