Yoplait Is Bringing Back This Colorful '90s Lunchbox Treat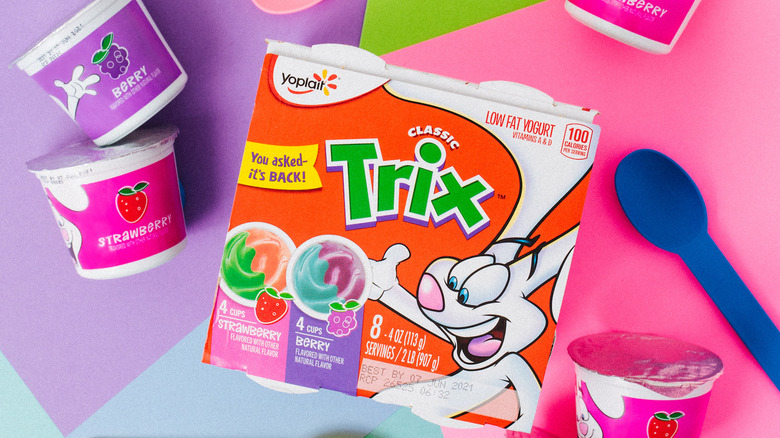 Courtesy Yoplait
The silly little rabbit is back! Yoplait announced this week on Instagram that it's resurrecting the eternal '90s favorite Trix Yogurt. After five long years since it was discontinued in 2016 (according to Best Products), the colorful, fruit-flavored yogurt based off the popular cereal has now returned to store shelves. It's currently available at Walmart and SuperValu stores nationwide with an eight-count pack running about $4.
Before making the announcement, Yoplait initially teased the product's return a week prior on social media with a photo of six colorful spoons, filled with yogurt, and mysteriously captioned it, "Guess who's back."
As Pop Sugar pointed out, Trix connoisseurs may notice some small adjustments in the new offerings. While the original yogurt came in a number of whimsical flavors (including Cotton Candy, Strawberry Banana Bash, and Raspberry Rainbow), the re-release has been pared down to just two: strawberry and berry. Flavors aside, the updated Trix Yogurt maintains the iconic two-color "swirl" — one of the product's original selling points (and, increasingly, a popular internet meme). 
Trix Yogurt is back by popular demand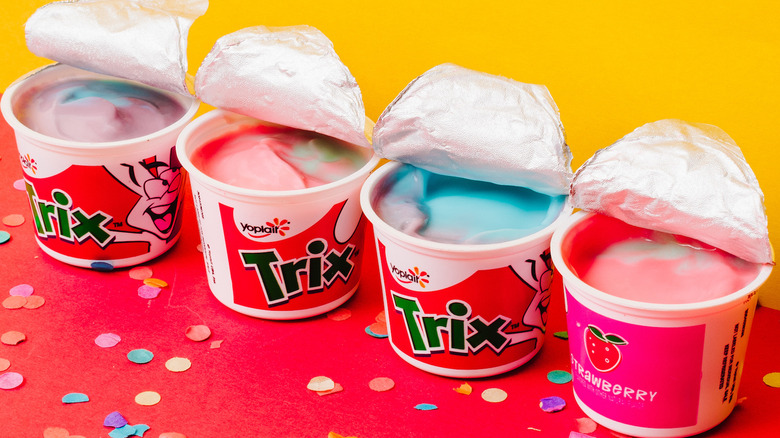 Courtesy Yoplait
What could have possibly prompted Yoplait to bring Trix Yogurt back from the dustbin? Soon after retiring the line in 2016, Yoplait began to receive petitions — on multiple platforms — imploring for the brand to return the cult favorite to store shelves. There's a whole thread about it on Twitter if you have some time to kill. While Yoplait gave boilerplate responses to most of the requests, things began to heat up in 2019 when a Trix fan published a demand to "Bring Back Trix Yogurt" on Change.org. The page currently has just under ten thousand signatures — but it was enough for the company to pay attention.
In the end, Yoplait heard the people and now Trix Yogurt is back for the foreseeable future. So all you '90s kids (and, presumably, current kids) can once again enjoy this lunchbox staple. Though we doubt anyone will be up for trading it.