California Pizza Kitchen Invented This Type Of Pizza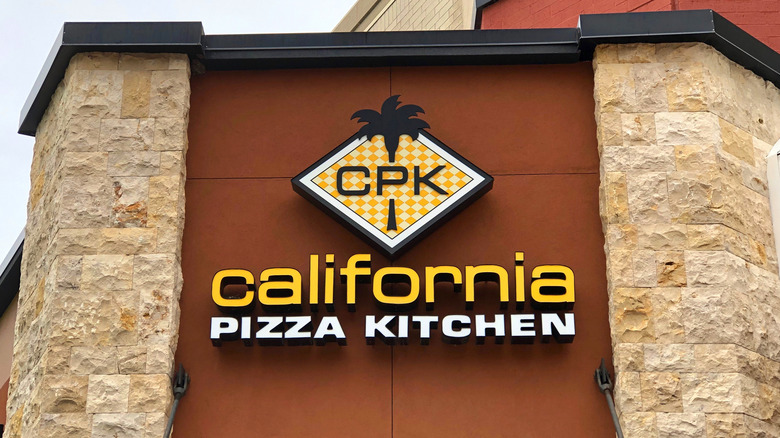 Shutterstock
Barbecue sauce tastes great on pretty much everything it touches — burgers, fries, Italian beef sandwiches, fried chicken wings, you name it. It offers a sweet, sticky, zesty spice that adds a bright and exciting flair to any dish, including pizza! Barbecue chicken has become a popular variety of pizza, with eaters relishing its unique diversion from traditional tomato sauce. And this type of 'za was invented by a national chain many of us know and love.
It's true: California Pizza Kitchen was the first restaurant to ever add barbecue pizza to its menu. Since its introduction in 1985, it has remained the most popular CPK item (via PopSugar). Founder Ed LaDou developed the barbecue chicken pizza for the restaurant's menu when he was working as a pizza chef for the world-renowned Wolfgang Puck at Spago, a chic restaurant in Beverly Hills, Los Angeles. LaDou always had a knack for combining fun, unique, and flavorful ingredients to create out-of-this-world pizzas that customers love to this day (via the Los Angeles Times).
What makes California Pizza Kitchen's barbecue pizza so special?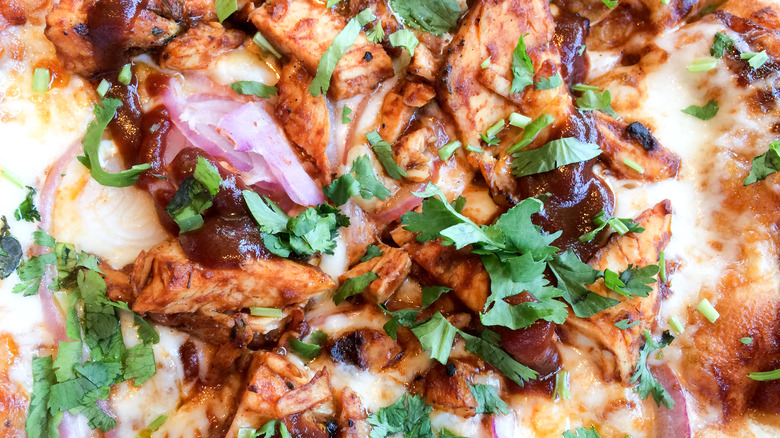 Shutterstock
Perhaps what makes California Pizza Kitchen's famous barbecue pizza so wonderful is that, over the years, its recipe has not veered far at all from the original. That's when you know a menu item is good! It's made with a base of hand-tossed dough and creamy shredded mozzarella and topped with an artful drizzle of zippy barbecue sauce, smoked Gouda cheese, crispy red onions, and fresh cilantro, according to the restaurant's website. You can even add Neuske's applewood smoked bacon or fresh pineapple bits for an extra savory or fruity kick. Yum! Today, many pizzerias offer barbecue chicken as an option.
LaDou sadly passed away on December 27, 2007 of cancer. His obituary in the Los Angeles Times states, "LaDou was an instrumental figure in a distinctly Californian phenomenon: the revolution that gave the world such innovative creations as the barbecue chicken pizza, pizza with breast of duck and hoisin sauce, pizza with marinated shrimp." Next time you enjoy a slice of barbecue chicken pizza, whether homemade or at CPK, send some thanks up to the legendary pizza innovator.