Easy Slow Cooker Taco Soup Recipe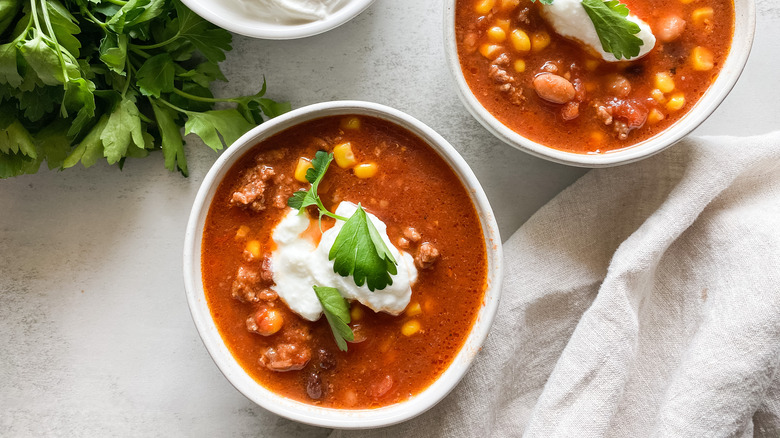 Kristen Carli/Mashed
Who knew that most of the same ingredients that usually serve as your favorite taco fillings also make for one delicious, hearty soup? Well, to name one person, there's recipe developer and private practice registered dietician Kristen Carli of Camelback Nutrition & Wellness. She created this scrumptious taco-inspired slow cooker dish. You'll be among the believers, too, once you make a batch for yourself. And you'll be pleasantly surprised by how easy it is to prepare said batch of soup. "Because it is a crockpot meal, it is very straightforward," says Carli. As a matter of fact, most of the work here involves opening cans and a bit of stirring, followed by some patience as you wait for the slow cooker to work its magic.
As for how best to serve this soup, that's really a matter of personal preference. A decent-sized bowl makes a perfect lunch as-is, or maybe with a bit of added toppings. "It would delicious with tortilla strips on top for some crunch. It would even be great with tortillas for dipping," Carli suggests. You can also serve a smaller bowl as a side for a dinner or even with a Mexican or Southwestern-style breakfast.
And if you made more soup than you need, that's no problem. "[This soup stores well] in an airtight container in the fridge for up to three days, [and] it will reheat well in the microwave," Carli says. This recipe makes for the best leftovers. Consider your next meal prep handled.
First, let's give a shoutout to the healthy beans used in this recipe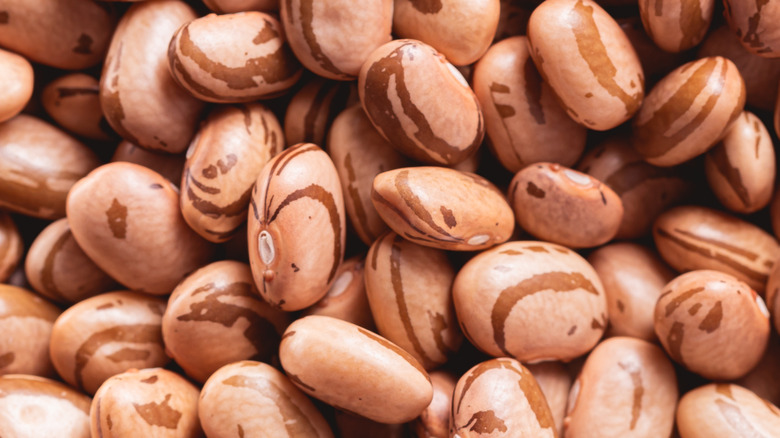 Shutterstock
Beans are such a common ingredient that we often take for granted. What we should be doing is showing them some gratitude. The two types of beans used in this slow cooker soup — pinto beans and black beans — are nutritional powerhouses.
According to Healthline, 1 cup of pinto beans delivers 15.4 grams of protein, 15.4 grams of fiber, 74% of your recommended folate needs, 29% of your recommended copper intake, and lots of thiamine. In addition, black beans have 15.2 grams of protein and 15 grabs of fiber per cup, as well as 30% of your recommended dietary intake of magnesium, and 20% of your recommended iron intake. Black beans can decrease the chance of your blood sugar going up after you eat, too.
Gather the ingredients to prepare this easy slow cooker taco soup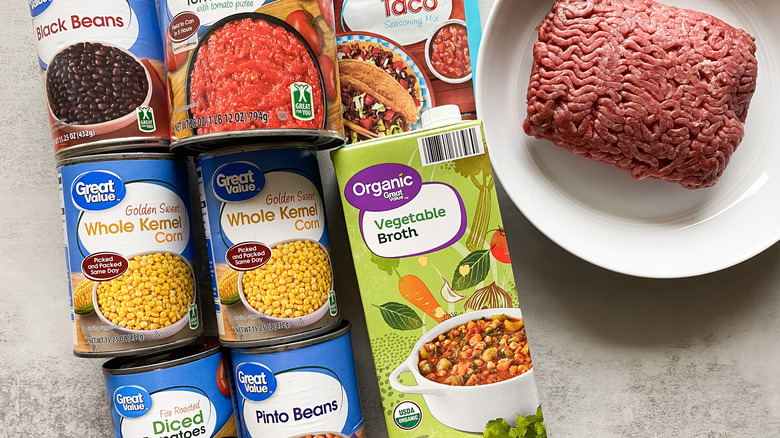 Kristen Carli/Mashed
Now that we've established the amazing benefits of the beans in this soup, let's talk about everything else that goes into the slow cooker. All told, you'll need a pound of ground beef, a packet of taco seasoning, lots of canned corn (frozen corn is a fine substitute), a can black beans (drained), a can of pinto beans (drained), a can of fire roasted tomatoes (not drained), a can of crushed tomatoes (not drained), and vegetable broth, in addition to freshly chopped cilantro and sour cream for serving. Talk about fridge, freezer, and shelf stable ingredients, right?
Break up ground beef, then add all ingredients to the slow cooker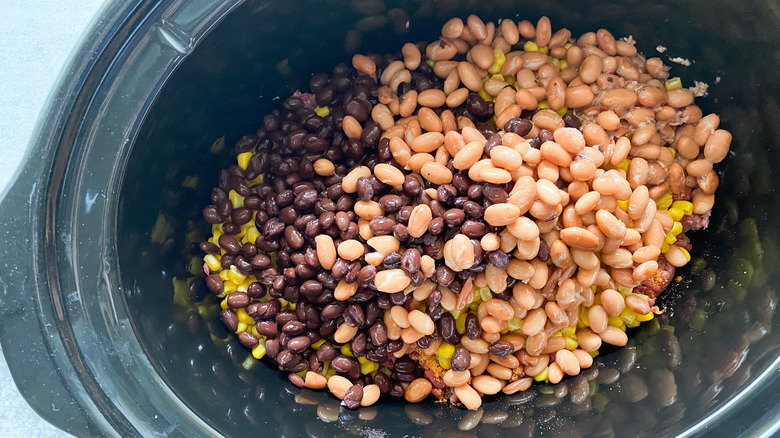 Kristen Carli/Mashed
First things first: Go ahead and open up all the cans, and drain and rinse the beans and the corn. Then, set them aside. Next, plug in the slow cooker so it begins to heat up. (Note that your slow cooker should have at least a 6-quart capacity for this recipe.)
In the insert of said slow cooker, add the ground beef, breaking up any larger clumps of the meat with a wooden spoon or silicone spatula. Once the meat is evenly broken up into bits, sprinkle the taco seasoning over the beef. Now, add the corn, black beans, pinto beans, fire roasted tomatoes, crushed tomatoes, and vegetable broth, and stir to combine everything well.
Slow cook the soup for four hours, then enjoy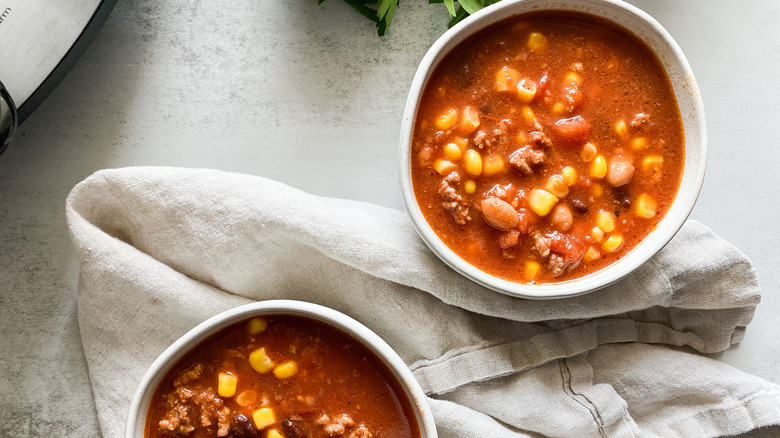 Kristen Carli/Mashed
Once all of the ingredients are well combined, thanks to a minute or so spent stirring, go ahead and place the lid on top of the slow cooker. Now, let it cook on that high setting for a full four hours. Yes, the house will smell amazing very soon, FYI. "Be sure to cook on high for at least four hours to ensure the beef is cooked," Carli says.
When the time is up, take off the top, and stir everything again. Then, serve out bowls of this delicious soup topped off with a hearty dollop of sour cream and some freshly chopped cilantro.
Easy Slow Cooker Taco Soup Recipe
Taco lovers, rejoice! This easy slow cooker taco soup is a tasty, hearty twist on your favorite dish.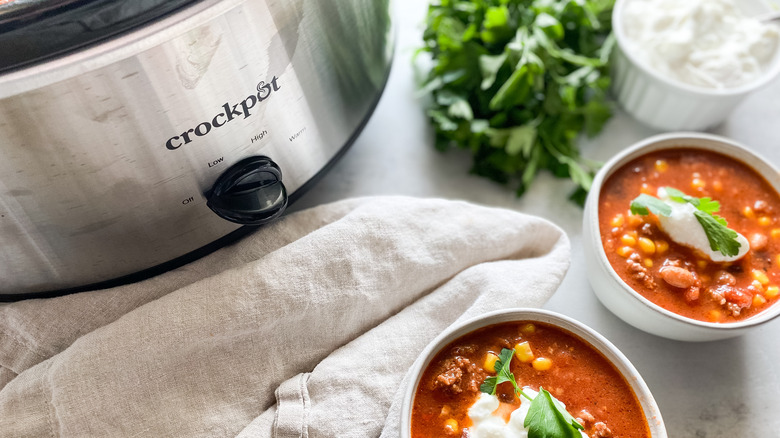 Ingredients
1 pound ground beef
1 packet taco seasoning
2 (15-ounce) cans of corn, drained
1 (15-ounce) can black beans, drained
1 (15-ounce) can pinto beans, drained
1 (14 ½-ounce) can fire roasted tomatoes
1 (28-ounce) can crushed tomatoes
2 cups vegetable broth
cilantro, for serving
sour cream, for serving
Directions
In a 6-quart slow cooker, break up the ground beef with a wooden spoon.
Sprinkle taco seasoning over the beef, then add the corn, black beans, pinto beans, fire roasted tomatoes, crushed tomatoes, and vegetable broth, and stir to combine.
Place the lid on top of the slow cooker, and cook on high for 4 hours.
Serve in bowls with sour cream and cilantro garnish.
Nutrition
| | |
| --- | --- |
| Calories per Serving | 374 |
| Total Fat | 14.3 g |
| Saturated Fat | 4.9 g |
| Trans Fat | 0.7 g |
| Cholesterol | 41.2 mg |
| | |
| --- | --- |
| Total Carbohydrates | 45.1 g |
| Dietary Fiber | 12.0 g |
| Total Sugars | 8.8 g |
| Sodium | 688.5 mg |
| Protein | 21.3 g |