Quick Baked Eggs In A Basket Recipe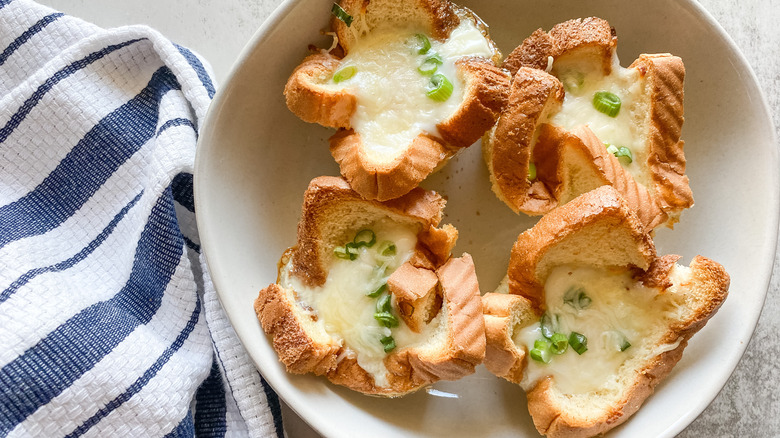 Kristen Carli/Mashed
Have you been looking for a new breakfast recipe that will knock the socks off of your guests or family? If so, we have you covered with an easy and delicious dish that tastes great and gets major bonus points for presentation. When most people think of bread and egg dishes, they likely picture a breakfast casserole. Well, this recipe for baked eggs in a basket takes the elements of a breakfast casserole, but places the ingredients in little individual servings, making it easy for a quick bite or an on-the-go treat.
Recipe developer and private practice registered dietician Kristen Carli is the mastermind behind this simple, drool-worthy breakfast that has all the ingredients you need to get energized in the morning. She loves this recipe because of its ease, and we truly could not agree more. "I'm always on the hunt for prepped breakfast options to make mornings easier," Carli says. Who doesn't love an easy and delicious breakfast?
Gather the ingredients to prepare baked eggs in a basket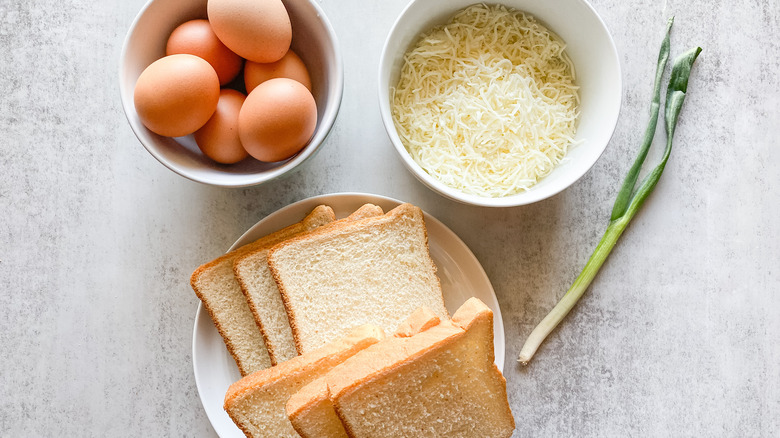 Kristen Carli/Mashed
This recipe is simple and requires minimal ingredients. You'll need a few slices of bread. Carli recommends white bread. "This is best with classic white bread," she says. "You need a bread that has a lot of flexibility to fit into the muffin tins." You'll also need mozzarella cheese, but can sub for a different cheese. "You can sub any cheese. I personally love the stretchy ooey gooey nature of mozzarella, but feta would be delightful as well," Cali shares. To complete this breakfast treat, you'll need eggs, green onion, salt, and pepper. That's literally it!
Preheat the oven, and prep the muffin tin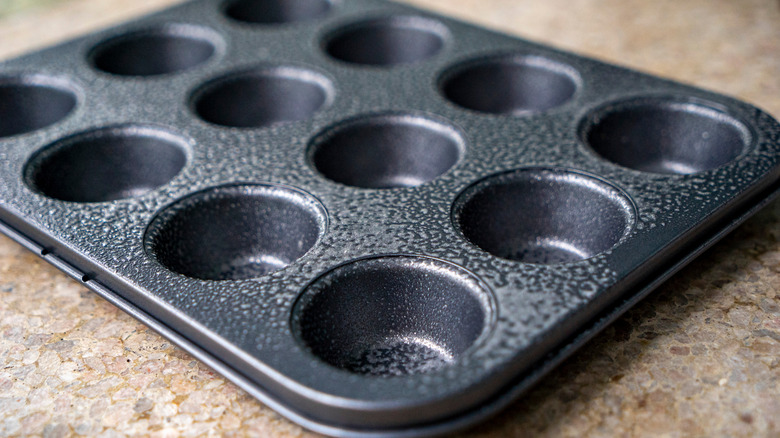 Shutterstock
Now it's time to prep your oven for cooking while also prepping your eggs in a basket. Turn the oven to 350 F, and let it preheat. In the meantime, grab a muffin tin and the nonstick cooking spray. Generously spray each muffin tin to prevent anything from sticking. Note that spray is better to use than muffin liners. "Muffin liners might prevent the bread from fitting," Carli says. "These have virtually no mess if you are sure to spray with nonstick cooking spray."
Place the bread into muffin tins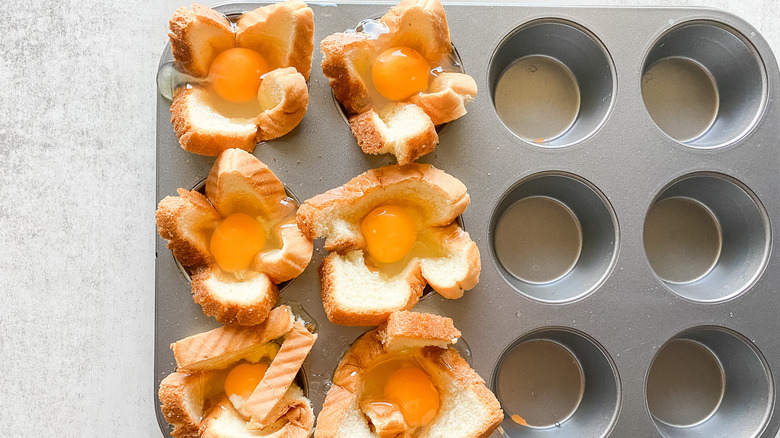 Kristen Carli/Mashed
Once you spray the inserts well, you can add the base to your muffin tin. Tuck a piece of bread in each cup, just like the picture shows. As mentioned before, white bread is best. Then, you'll want to crack one egg over each of the muffin tin carefully. It's okay if a little bit of the egg spills out of the cups, so try not to worry about it too much.
Fill the rest of the cups with bread, egg, and cheese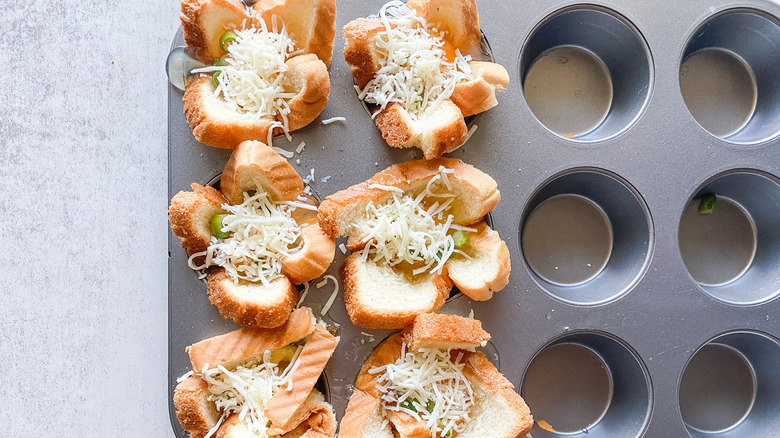 Kristen Carli/Mashed
Once you have your bread base and your egg on top, you're ready for the next step in the process. Grab the salt and pepper, and sprinkle a little bit over the top of each cup. After that, take about a tablespoon of mozzarella cheese, and scoop it into each cup. You can also add sausage or bacon if you're looking for something a little more filling. After the cheese, you'll add your last topping — a few green onion slices. Now, these babies are ready to bake, and you're almost done!
Bake the eggs in a basket, and then enjoy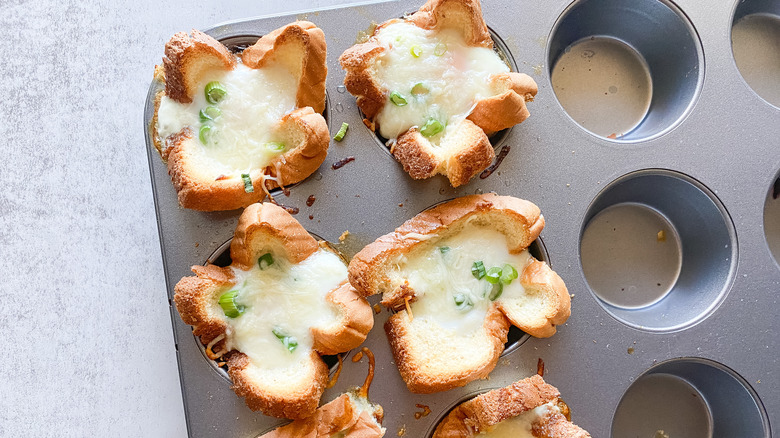 Kristen Carli/Mashed
Pop the muffin tin in the oven once it's fully heated to 350 F. Set your timer for 15 minutes, and then remove the baked eggs in a basket to cool off a bit before serving. These will pair well with any breakfast food and would probably taste great with a side of hash browns. If you have any leftovers, they can be kept in the fridge for about three days as long as they're stored in an airtight container. Congratulations on making what's sure to be a new star in your breakfast rotation!
Quick Baked Eggs In A Basket Recipe
This recipe for baked eggs in a basket is absolutely perfect for a quick breakfast bite.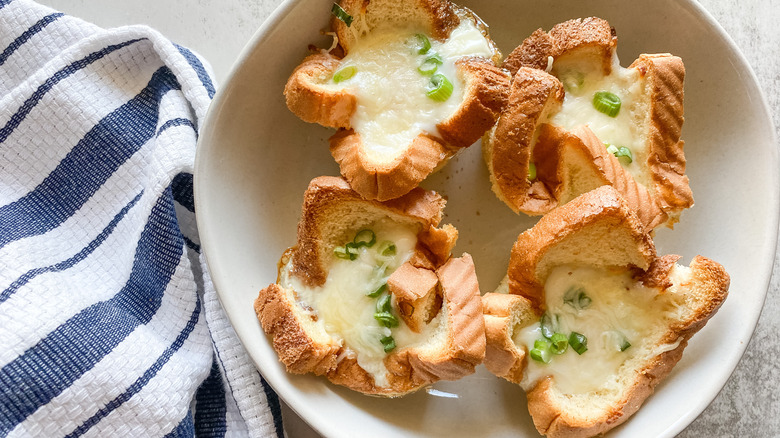 Ingredients
6 slices of white bread
6 eggs
½ teaspoon salt
¼ teaspoon pepper
½ cup shredded mozzarella cheese
1 green onion, sliced
Directions
Preheat oven to 350 F. Spray a muffin tin with nonstick cooking spray.
Carefully place pieces of bread into the muffin tin slots.
Carefully crack an egg in each bread cup. (Note that it's okay if a little spills out.)
Sprinkle each egg cup with salt and pepper. Top with about 1 tablespoon of shredded mozzarella cheese and a few green onion slices.
Bake for 15 minutes.
Serve, and enjoy!
Nutrition
| | |
| --- | --- |
| Calories per Serving | 418 |
| Total Fat | 20.7 g |
| Saturated Fat | 9.9 g |
| Trans Fat | 0.0 g |
| Cholesterol | 358.5 mg |
| | |
| --- | --- |
| Total Carbohydrates | 30.4 g |
| Dietary Fiber | 2.5 g |
| Total Sugars | 4.3 g |
| Sodium | 725.1 mg |
| Protein | 26.5 g |