Duff Goldman On Why We'll Never See A Return Of Ace Of Cakes - Exclusive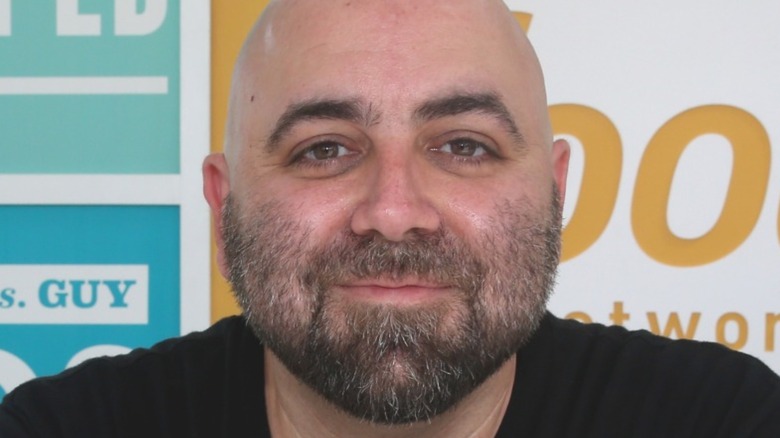 Aaron Davidson/Getty Images
If you know the name Duff Goldman, chances are it's because you watched "Ace of Cakes." The show (which ran for 10 seasons on the Food Network, according to IMDb) launched Goldman to culinary stardom and introduced food lovers everywhere into the world of extreme cake decorating. Since "Ace of Cakes" went off the air in 2011, the pastry chef has gone on to appear in a slate of baking shows (like the popular culinary competition, "Kids Baking Championship," which sees Goldman mentoring young bakers hoping to win big), while continuing to grow Charm City Cakes, the Baltimore-based bake shop where "Ace of Cakes" was born (via Charm City Cakes). 
Those of us who couldn't get enough of watching Duff Goldman and the personality-filled Charm City team craft inspired, seemingly impossible cake masterpieces from dream to reality have been left to wonder if the show would ever consider a comeback. So during an exclusive interview with Mashed, we had to ask Goldman if he thinks we might one day see the return of the introductory show. Unfortunately for hopeful fans, the star baker made it clear that an "Ace of Cakes" reunion is not a likely possibility — but his sentimental reasoning might surprise you.
Ace of Cakes can't be recreated, according to Duff Goldman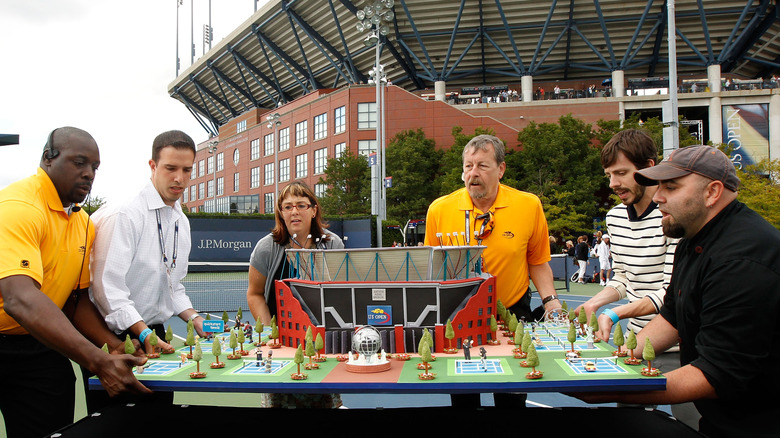 Mike Stobe/Getty Images
If you ask Duff Goldman, the magic of "Ace of Cakes" came from the inexperience of the chef and his team — and after many successful years in food TV, that's not something he feels he can authentically embody anymore. Goldman told Mashed, "The thing about 'Ace of Cakes' was, I didn't know what I was doing, right? I'd never worked in a cake shop before." That's true for the entire Charm City team. He added that "nobody was a cake decorator. Everybody came from art school and we had no idea what we were doing. So things were falling apart all the time, breaking all the time, because we were learning ... everything we were doing on that show, we were just making it up."
He's got a good point. A big part of the thrill of "Ace of Cakes" was watching Goldman and his team race against the clock to build eye-popping, larger-than-life creations, despite all the things that could — and did — go wrong. "People got to watch us figure out how to run a business, how to decorate a cake, how to deliver a cake, how to make a TV show," says Goldman. When "Ace of Cakes" fans tuned in, they could expect to reliably see the bakers puzzle out creative answers to the most unique problems. Whether it be a structural issue we totally saw coming or something more complicated and unforeseen, the surprising challenges and team's innovative, artistic solutions kept people coming back for more.
Now that Goldman is a certified expert in all things cake, he says it would be pretty much impossible to bring back the same "Ace of Cakes" we all knew and loved. "It was a very special time and place that I'm just not sure we can ever really recreate."
Duff Goldman says Buddy vs Duff is the next best thing to Ace of Cakes
Duff Goldman certainly looks back on his "Ace of Cakes" days with a lot of fondness, telling Mashed, "It was just an incredible group of people doing really interesting things, and basically inventing a new industry ... and we're all still really close. We all still hang out." But if those hangouts involve cake, it's probably only to be consumed among friends, and not likely to be televised.
For fans of the show who absolutely need some "Ace of Cakes" energy in their life, Goldman suggests checking out "Buddy vs Duff," which features Goldman competing against baker Buddy Valastro of "Cake Boss" fame to be declared the "undisputed king of cake." "We make incredible stuff on that show and it's a lot of the same people," Goldman says, adding "I think that 'Buddy vs Duff' is probably the closest in energy you're going to get from 'Ace of Cakes,' because we're always under the gun, right? We're always racing against the clock and we're doing stuff that we don't know how to do. And because the cakes on 'Buddy vs Duff' are so big and crazy that we're trying things that may or may not work."
While you're binge-watching, be sure to check out Goldman's latest project, "Duff's Happy Fun Bake Time," available to stream now on discovery+.