This Big Change Is Coming To KFC's Packaging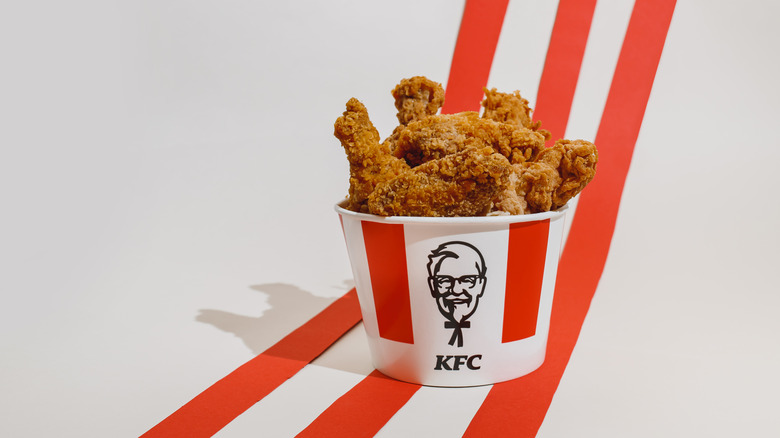 Shutterstock
Half the fun of fast food is the packaging — but half the fun of fast food packaging is watching it evolve. According to CNN, KFC will be updating its entire packaging suite, just in time for the summer. The makeover, which doubles down on the minimalist layout of the KFC bucket, aims for a "more modern take" on the brand's current look, per the chain. Redesigned items include the chicken bucket, sandwich wrappers, meal boxes, and cups, all of which are now plain white and branded with the KFC triple red stripe. Naturally, Colonel Sanders' face will still be on each package.
The move comes at a time when other major fast food chains are rethinking their packaging. Burger King took the redesign plunge early in 2021, introducing a new color scheme to its stores — as well as retiring its iconic "blue stripe" logo and replacing it with a retro, flat-design version (via Nation's Restaurant News). McDonald's, similarly, debuted new packaging in late 2020 with a modern feel. KFC is in the midst of a brand-wide redesign campaign, having introduced new restaurant layouts in 2020 (which deemphasize in-store dining, per CNN), as well as developing and promoting its popular chicken sandwich.
KFC is bringing back "Finger Lickin' Good"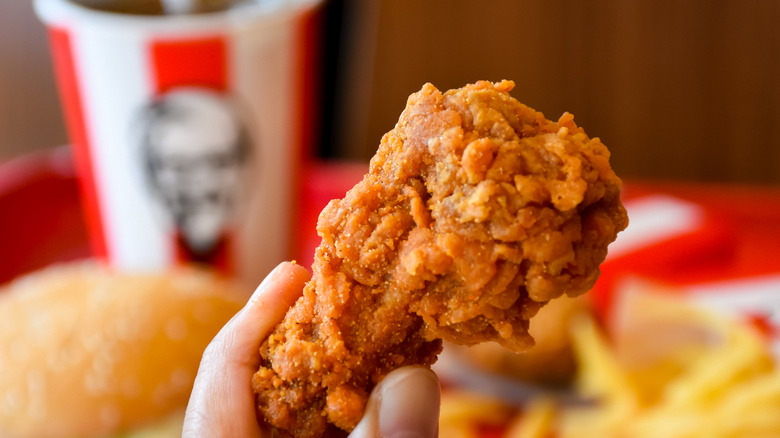 Shutterstock
The new KFC packaging is made of Sustainable Forestry Initiative and Forest Stewardship Council-approved recyclable materials, CNN reports. Key visual features include the iconic Colonel Sanders logo, a new set of reheating instructions, and a brief description of the history of KFC's signature fried chicken. The reheating advice comes in response to a developing consumer trend of bulk fast-food purchases. Fast food customers seeking to limit their exposure to COVID have taken to buying extra food and reheating it at home — a behavior that developed during the pandemic and remains common today, according to a recent report from Yum Brands.
Notably, however, KFC has finally restored its "Finger Lickin' Good" slogan to its chicken buckets, marking the end of an almost year-long disappearance. As reported by the BBC, the brand temporarily removed the phrase from its packaging in August 2020, amidst concerns about the spread of COVID. KFC committed to bringing the slogan back, however, "when the time [was] right." Now, it would seem, is that time.