Homemade Italian Meatballs Recipe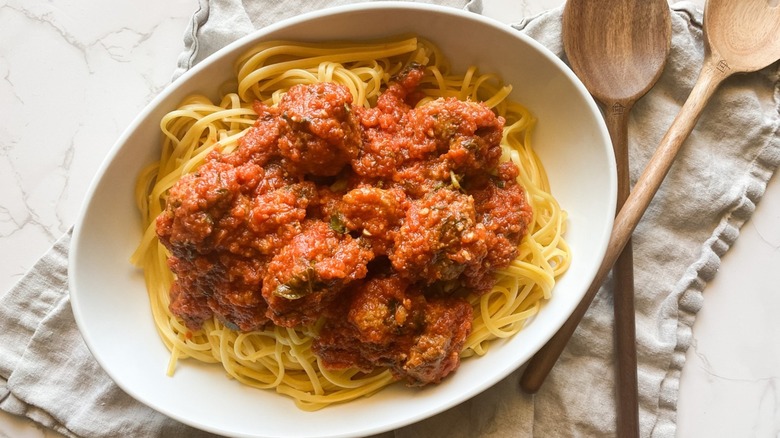 Kristen Carli/Mashed
Pasta is one of the staple foods in Italian cuisine, as it's just so versatile and satisfying. You can pair your choice of pasta with different kinds of sauces and meat.
Meatballs on top of pasta are a favorite among many as they are savory and practically a meal on their own. While they're available in many Italian restaurants, you can also make this coveted dish at home — and it will taste just as good, if not better. Recipe creator and registered dietician Kristen Carli of Camelback Nutrition & Wellness made a simple step-by-step guide that anyone can follow.
"This is my Italian uncle's famous recipe," says Carli. "I used to eat this every Sunday night with family." Considering how delicious this dish is, you would want to have it weekly too. The meatballs will take about 15 minutes to prepare, but they will take two hours to cook. That said, it's best to plan ahead of time and complete the ingredients a day or so before you prepare the whole meal. Now, let's get started on your new favorite Italian meatballs!
Gather your ingredients for this scrumptious dish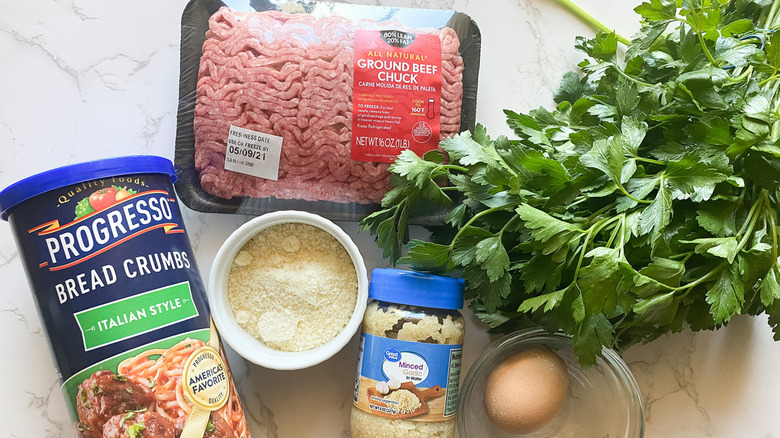 Kristen Carli/Mashed
To make the Italian meatballs, you will, of course, need ground beef. The other ingredients needed are Progresso Italian style breadcrumbs, grated Parmesan cheese, two eggs, garlic, parsley, salt, pepper, marinara sauce, and linguine noodles. If you lack some of the items, you can easily scout them at your local grocery stores. While recipe creator and dietician Kristen Carli uses a specific brand of breadcrumbs, it doesn't mean you can't use other brands. According to Carli, her uncle "recommends to use the Progresso Italian style breadcrumbs." She also notes that she likes it "because of the parsley in the mix."
Prepare and measure the ingredients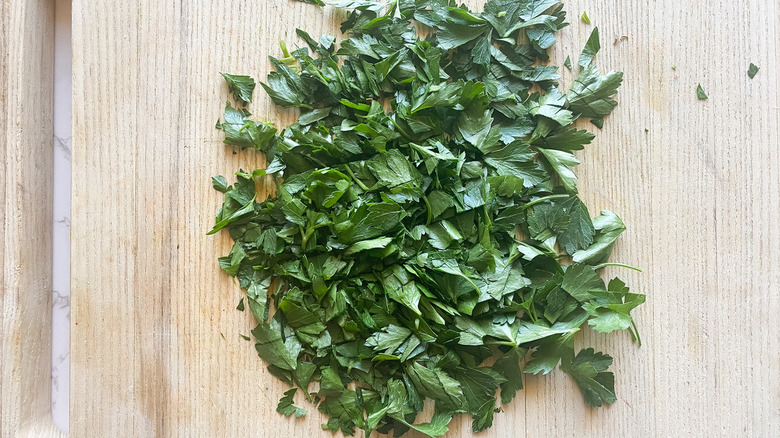 Kristen Carli/Mashed
It's best to slice the vegetables and measure the ingredients before you start with the preparation for your meat balls. This way, you don't have to worry about them when handling the beef. You'll also prevent spillage, and you will have the right amount of ingredients — not too much and too little. Place each ingredient on small plates or bowls and gather them on your kitchen counter for easy access. As for the meat, make sure it is thawed out, so it's easier for mixing.
Combine the ingredients and form them into meatballs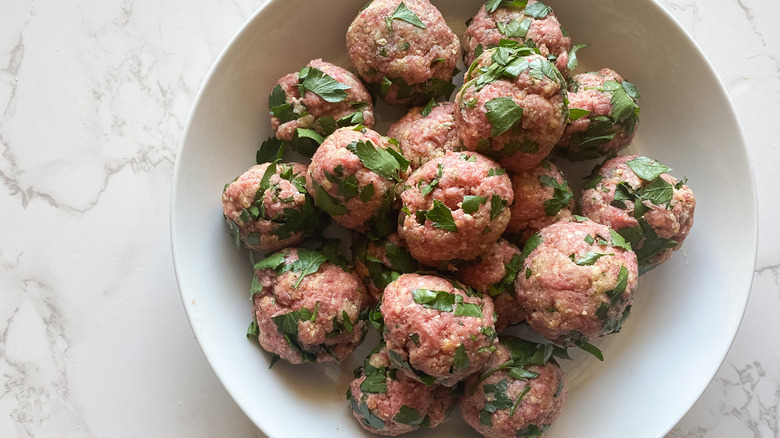 Kristen Carli/Mashed
When your ingredients are set, you're now ready to start. Place the ground beef in a large bowl, and then add breadcrumbs, parmesan cheese, eggs, garlic, parsley, salt, and pepper. Combine everything thoroughly using your hands. When the mixture is ready, form the meat into meatballs. While recipe creator Kristen Carli has made 15 to 18 meatballs out of her recipe, you can also tweak the size and make them bigger or smaller, depending on your preference. As a result, you will have more or less than the expected amount of pieces. Place the meatballs on a large tray and set them aside.
Prepare the sauce and cook the meatballs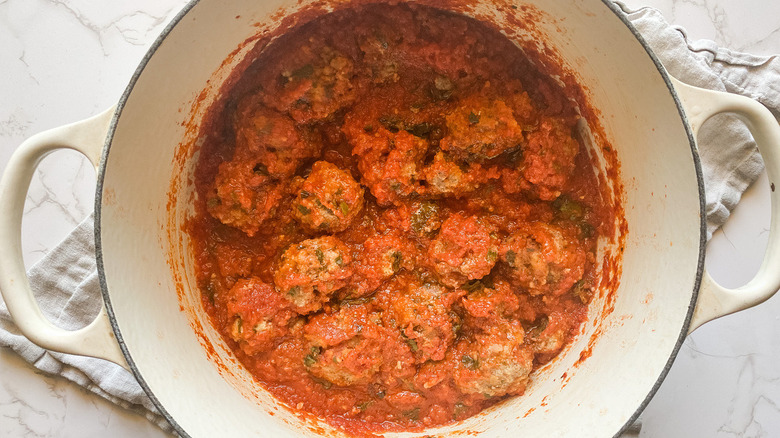 Kristen Carli/Mashed
Now that your meatballs are ready, you can proceed with the sauce. Grab a large stock pot and pour in your favorite marinara sauce. Next, add the meatballs to the liquid. Before cooking, make sure that the meatballs are all covered in the sauce. Turn on the heat and bring the pot to a boil. When it's boiling, lower the heat and let the meatballs simmer for at least two hours. You can also cook your linguine noodles while waiting for your meatballs to cook. When everything is ready, serve the meatballs over the noodles and enjoy!
Homemade Italian Meatballs Recipe
These classic Italian meatballs with marinara sauce are simmered to perfection for a hearty meal that will become your family's new favorite.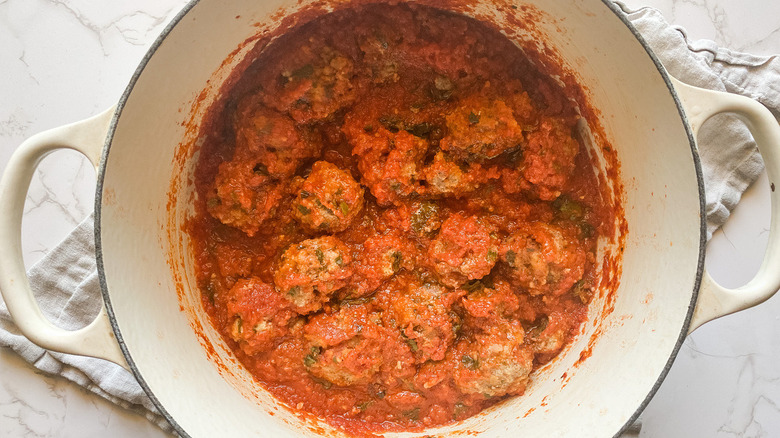 Ingredients
1 pound ground beef
1 cup Progresso Italian style breadcrumbs
¾ cup grated parmesan cheese
2 eggs
1 tablespoon minced garlic
½ cup Italian parsley, coarsely chopped
½ teaspoon salt
1 teaspoon pepper
24 ounces marinara sauce
1 pound linguine noodles
Directions
Combine beef, breadcrumbs, cheese, eggs, garlic, parsley, salt, and pepper into a large bowl.
Using your hands, mix ingredients together.
Roll into about 15 to 18 meatballs.
In a large stock pot, add your favorite marinara sauce.
Place meatballs in the sauce, making sure that they are all submerged in the liquid.
Bring the pot to a boil. Lower to a simmer for at least 2 hours.
Serve over noodles.
Nutrition
| | |
| --- | --- |
| Calories per Serving | 523 |
| Total Fat | 18.8 g |
| Saturated Fat | 7.4 g |
| Trans Fat | 0.7 g |
| Cholesterol | 91.4 mg |
| | |
| --- | --- |
| Total Carbohydrates | 59.8 g |
| Dietary Fiber | 4.2 g |
| Total Sugars | 7.2 g |
| Sodium | 705.4 mg |
| Protein | 26.7 g |