Spicy Blue Cheese Burger Recipe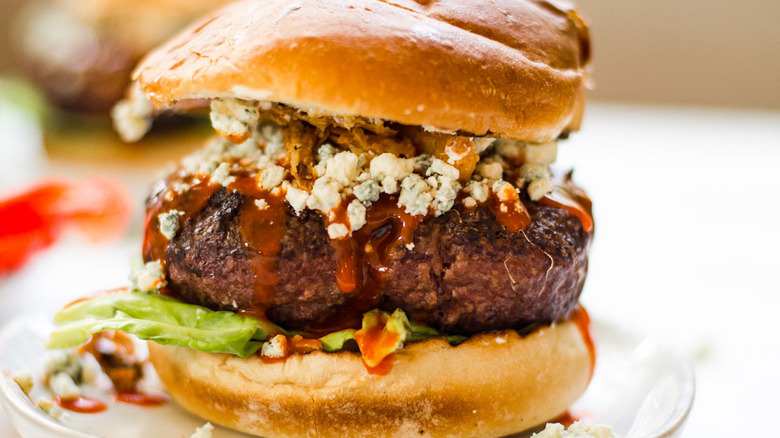 Using the soft, crumbly texture of blue cheese for a new take on the iconic American classic, the hamburger, is an avenue that has been taken all across the country. Blue cheese offers an excellent contrast to ground beef, and burgers are the perfect opportunity to taste this delicious combination that provides a nice kick to a hearty burger patty.
Recipe creator and culinary expert Mackenzie Ryan, the creator behind Food Above Gold, crafted her own take on a burger that mixes blue cheese and American beef with some classic sauces for a great summertime meal everyone will love. This burger recipe actually works with several delicious cheeses, from Stilton to Gorgonzola, each creating a flavor profile for different palates. And the sauces, buffalo (Frank's Red Hot in this case) and Worcestershire, will take any type of burger over the top.
Preparation time for this blue cheese burger recipe is just five minutes, and cook time is 20 minutes on the grill. The ingredients aren't difficult to find at your local grocery store, and you have lots of flexibility with your toppings and sides, making this a simple and flexible meal that can be made in a pinch. Now, let's get to making these tasty burgers.
Gather your blue cheese burger ingredients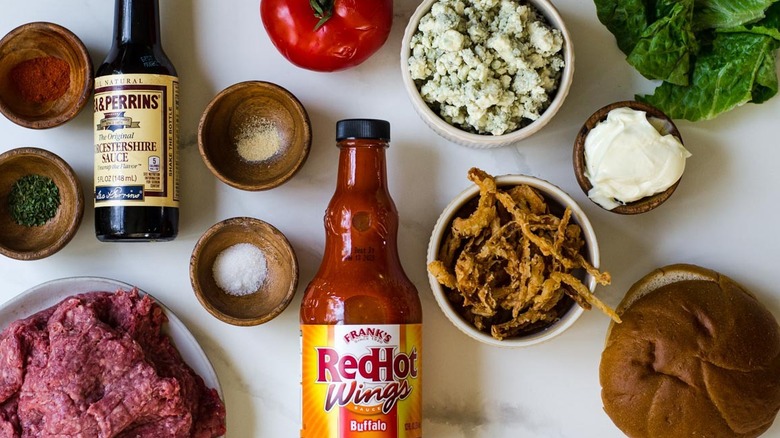 You will need one and a half pounds of 80% fat ground beef, one teaspoon paprika, three-fourths of a teaspoon salt, three-fourths of a teaspoon dried parsley, half a teaspoon of dried onion, a quarter teaspoon of dried garlic, three-fourths of a teaspoon of Worcestershire sauce, fresh ground pepper to taste, half a cup of buffalo sauce (plus more if desired), one cup blue cheese crumbles, and four hamburger buns. As for additional toppings, you can use your choice of mayonnaise, whole grain mustard, lettuce, tomato, and friend onions. 
When it comes to the type of blue cheese you want in your burger, there are a few options recipe creator Mackenzie Ryan recommends for different flavor profiles.
"In ranking order, I like Stilton when I'm in a strong blue cheese mood, Gorgonzola for a more balanced profile, or Cambozola when I want something a bit creamier," Ryan says. "If I wanted to pick out a brand-specific cheese, I would always recommend Oregon Blue from Rogue Creamery. It's a Roquefort-style blue cheese that is just phenomenal. They also have a smoky version that is fantastic."
Make your burger patties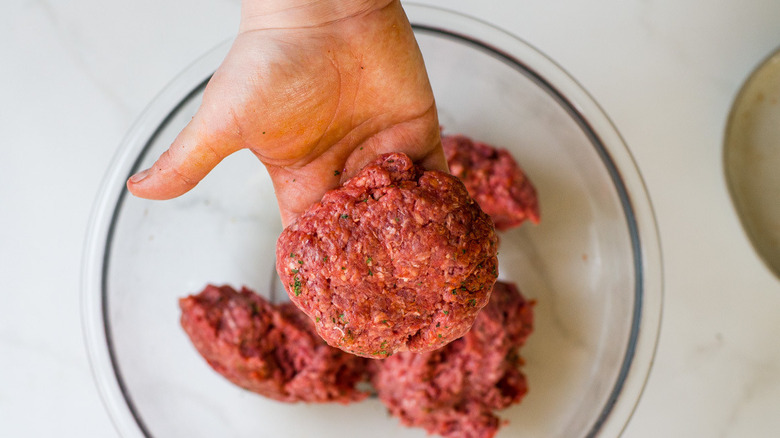 Start by preheating your grill to 450 degrees Fahrenheit so it's ready for your patties once they're fully formed. Now, grab a bowl and add your ground beef, dried parsley, dried onion, dried garlic, paprika, salt, and Worcestershire sauce. Mix all of these ingredients together, and then, add the fresh ground pepper to your lining. After you're done mixing, break the resulting burger mixture into four equal pieces. Gently form each piece into a patty and then set the patties aside.
Grill your burger patties and buns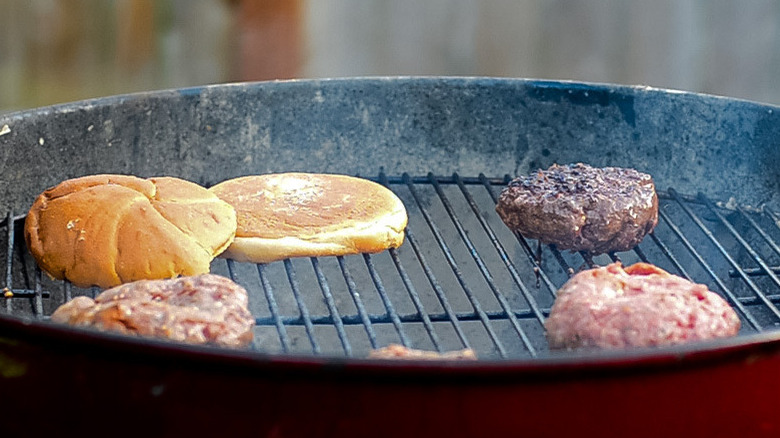 Gently place your burger patties onto the grill using a spatula and let them cook for four to five minutes. Flip them over and cook the other side of your patties until they reach your desired internal temperature (use a meat thermometer for extra safety). 
The juicier you like your beef, the more rare you'll want to cook your patties. At the juiciest end of the spectrum, rare is an internal temperature of 120 to 125 degrees Fahrenheit, while medium rare is 130 to 135 degrees Fahrenheit, medium is 140 to 145 degrees Fahrenheit, medium well is 150 to 155 degrees Fahrenheit, and well done is 160 degrees Fahrenheit (via What's Cooking America).  Once your patties are optimal temperature, remove them from the grill and let them cool for three to five minutes.
While your four patties are cooling, throw your four burger buns (eight pieces total) onto the grill. Toast them from one to two-and-a-half minutes on each side or until they reach the desired crispiness. Once your buns are ready, add some mayonnaise if you'd like.
Assemble your blue cheese burgers
Place your bottom buns onto a plate and add your burger patties. 
Start by pouring two tablespoons of buffalo sauce on top of each of your four patties. Vegetarians and vegans can swap in vegetarian patties and their meatless buffalo sauce of choice, or they can swap it out for any type of hot sauce — jalapeño, habanero, ghost pepper — whatever they'd like.
Now, add a cup of blue cheese crumbles onto each patty.  From here, you can throw on any additional toppings of your choice: whole grain mustard, lettuce, tomato, fried onions. Although the latter topping is listed as optional, recipe creator Mackenzie Ryan does "highly recommend" them given the unique pairing they make with this recipe.
"The sweetness of the onion strings is a great way to balance the acidity of the buffalo sauce and the pungent cheese," Ryan said.
Serve your blue cheese burgers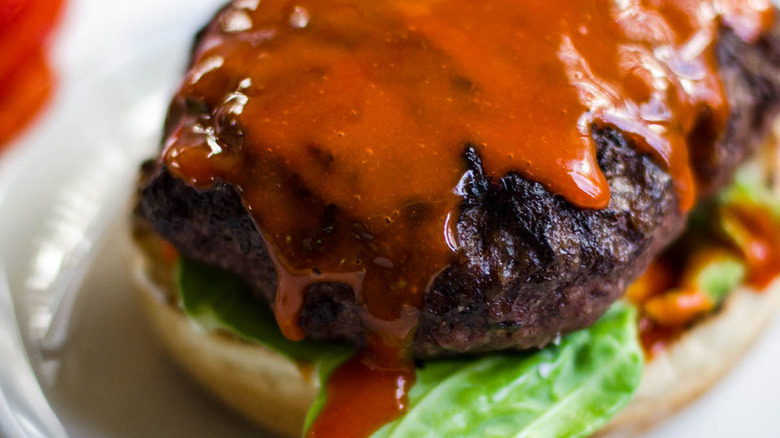 The final step is serving your blue cheese burgers with your choice of sides. French fries and onion rings are the obvious staples, but there are plenty of other combinations that work particularly well with this recipe.
"If you want something fried, I recommend fried green beans, fried pickles, mac and cheese balls, or mozzarella sticks. For something else, potato salad, roasted tomatoes, zucchini chips, or a grilled potato," recipe creator Mackenzie Ryan said.
Spicy Blue Cheese Burger Recipe
A blue cheese burger with Frank's Red Hot Buffalo and Worcestershire sauces will be a hit at the summer barbecue. Modify with Silton or Gorgonzola if desired.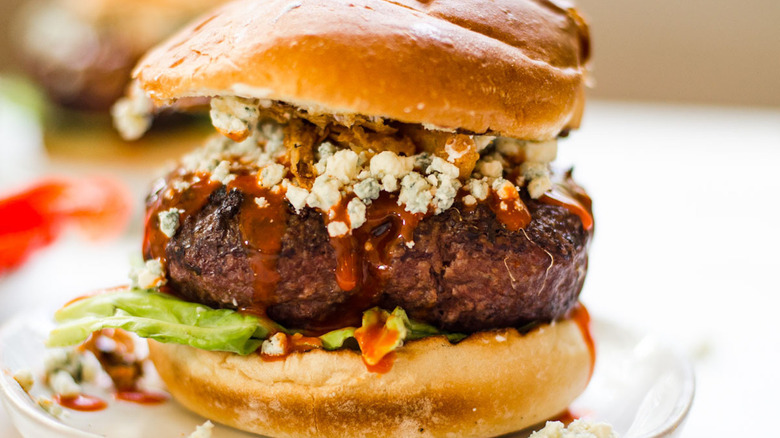 Ingredients
1 ½ pounds 80/20 ground beef
1 teaspoon paprika
¾ teaspoon salt
¾ teaspoon dried parsley
½ teaspoon dried onion
¼ teaspoon dried garlic
¾ teaspoons Worcestershire sauce
4 hamburger buns
½ cup Frank's Red Hot buffalo sauce
1 cup blue cheese crumbles
Optional Ingredients
Fresh ground pepper, to taste
Mayonnaise
Whole grain mustard
Lettuce
Tomato
Fried onions
Directions
Preheat the grill to 450 degrees Fahrenheit.
Combine ground beef, paprika, salt, dried parsley, dried onion, dried garlic, and Worcestershire sauce. Also add fresh ground pepper to taste.
Mix the blend together with your hands and break it into 4 equal pieces.
Gently form the burger mixture into patties and set aside.
Grill your 4 patties for 4 to 5 minutes.
Flip the patties over and cook on the other side until your desired internal temperature is reached.
Remove the 4 burgers from the grill and let them cool for 3 to 5 minutes.
Toast the 4 buns as your burgers cool and then coat them with mayonnaise if desired.
Place each burger on top of the bottom bun, pour 2 tablespoons of buffalo sauce on top of each burger, and top each with ¼ cup of blue cheese crumbles.
Add any additional toppings and serve.
Nutrition
| | |
| --- | --- |
| Calories per Serving | 688 |
| Total Fat | 46.9 g |
| Saturated Fat | 20.2 g |
| Trans Fat | 2.0 g |
| Cholesterol | 148.9 mg |
| | |
| --- | --- |
| Total Carbohydrates | 22.6 g |
| Dietary Fiber | 1.1 g |
| Total Sugars | 3.0 g |
| Sodium | 766.5 mg |
| Protein | 41.3 g |