Classic Falafel Sandwich Recipe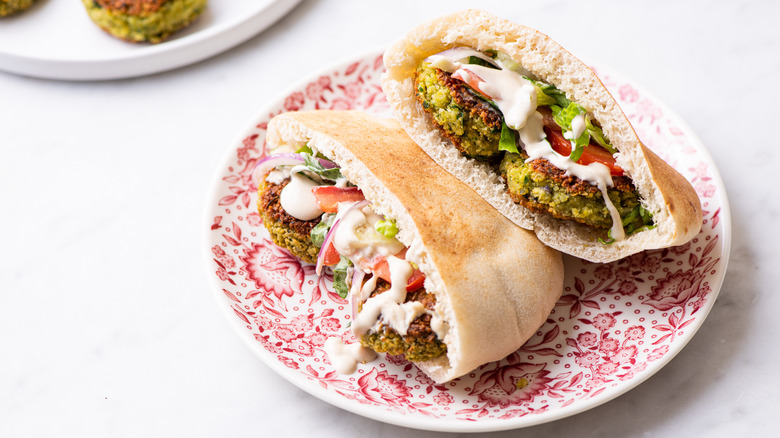 Alexandra Shytsman/Mashed
The falafel is a classic Middle Eastern food that's made of chickpeas, fresh herbs, spices, onion, and garlic, all ground up, formed into patties or balls, and usually deep-fried. Falafel can be enjoyed in many ways, such as atop a salad with hummus or tucked into a pita as a sandwich. A sandwich made with the crunchy patties, lettuce, tomatoes, and creamy tahini sauce, all piled into a soft pita bread is pretty hard to beat. It makes the ultimate on-the-go lunch or late-night snack when you're out at the bars with friends.
Whether you love falafel or have yet to try it, we have a scrumptious sandwich recipe you need to try, brought to you by recipe developer Alexandra Shytsman of The New Baguette. The great news is that falafel is relatively simple to make at home, although it does require some planning in advance (to soak the chickpeas), as well as having a food processor handy. Our version is a slightly healthier take on the classic since the patties are baked. Baking falafel requires way less oil than deep-frying but does not sacrifice the flavor or texture.
Gather your ingredients to prepare this falafel sandwich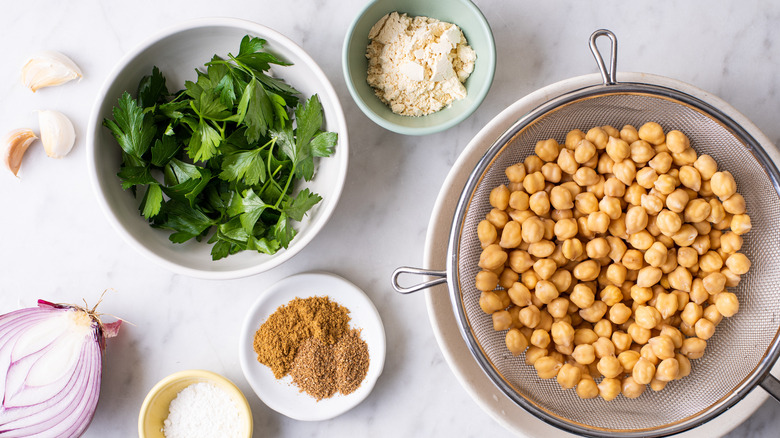 Alexandra Shytsman/Mashed
Making falafel from scratch starts by soaking dried chickpeas. Because these chickpeas are not pre-cooked, soaking is necessary to soften them enough to be ground up. The day before you want to make falafel, place your chickpeas in a large bowl, and cover them with a few inches of water. Let the mixture stand at room temperature for at least 12 hours, or up to 24. (There are some recipes that call for canned chickpeas, which is not the authentic technique and results in mushy falafel. But, it is faster.)
Once your chickpeas are softened, gather the other ingredients — garlic, onion, fresh herbs, and spices — and get your food processor ready.
Grind up the falafel mixture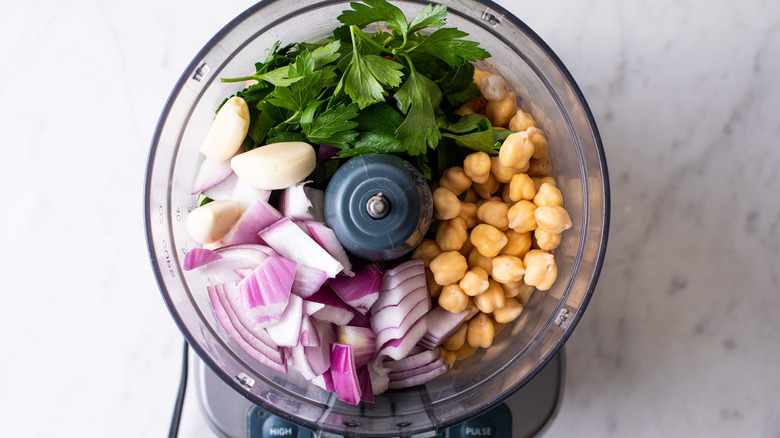 Alexandra Shytsman/Mashed
To start, rinse the chickpeas and drain them really well to avoid adding any extra moisture to the mixture. Transfer them to a food processor, then add the onion, garlic, and herbs, and grind everything until it is the texture of a coarse meal.
You can use a white or red onion when making falafel, as well as parsley or cilantro, or a mixture of both. The fresh herbs give falafel its signature green hue and verdant flavor.
Next, transfer the mixture to a large bowl, and stir in the spices, baking powder, and chickpea flour. The baking powder makes the falafel light and fluffy, while the chickpea flour helps bind everything together. When the mixture is ready, place it in the fridge for at least 30 minutes. This will ensure the falafel patties keep their shape during cooking.
Bake the falafel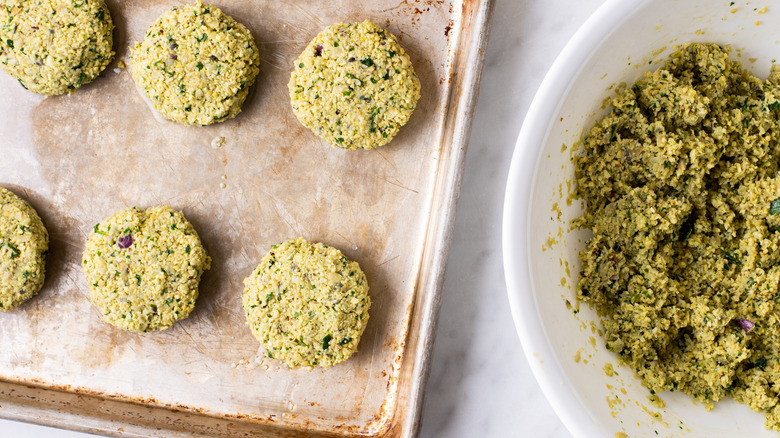 Alexandra Shytsman/Mashed
To cook the falafel patties, preheat your oven to 450 F. Pour enough oil into a rimmed baking sheet to evenly coat the bottom. Using your hands, form the mixture into small patties. (If the patties are not holding their shape well, toss in a few more tablespoons of chickpea flour to bring the mixture together.) Then, bake the falafel for 20 to 25 minutes, flipping them once halfway through until they're crunchy and golden brown on both sides. Alternatively, you can pan-fry the falafel in a non-stick skillet over medium heat for four to five minutes per side.
Make the tahini sauce, then assemble the falafel sandwiches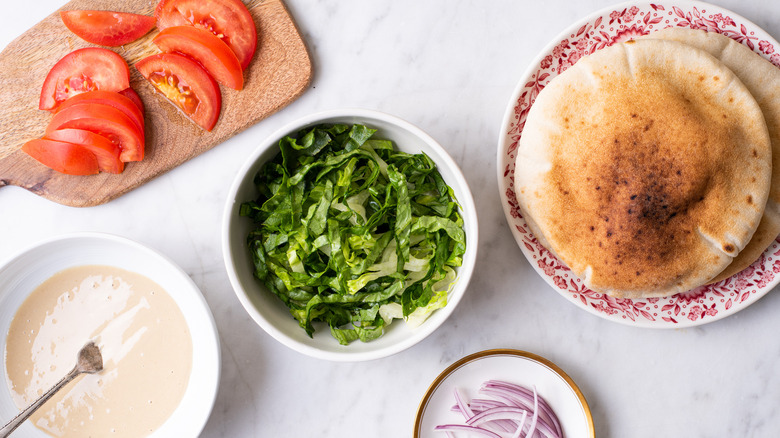 Alexandra Shytsman/Mashed
While the falafel cooks, gather the remaining sandwich ingredients — the lettuce, tomatoes, onions, tahini, and pita bread. To make the tahini sauce, whisk some lemon juice, water, and salt into the tahini, until it reaches a pourable consistency and has a bright, tangy flavor.
Last but not least, assemble the sandwiches by tucking a few falafel patties with some vegetables into pita pockets, and drizzling everything with the sauce. Alternatively, you can do away with the pita bread and make a salad instead. If you choose to go this route, combine the vegetables in a bowl, top with the falafel, and drizzle with the tahini sauce.
Classic Falafel Sandwich Recipe
This falafel sandwich with homemade tahini makes the ultimate on-the-go lunch or late-night treat.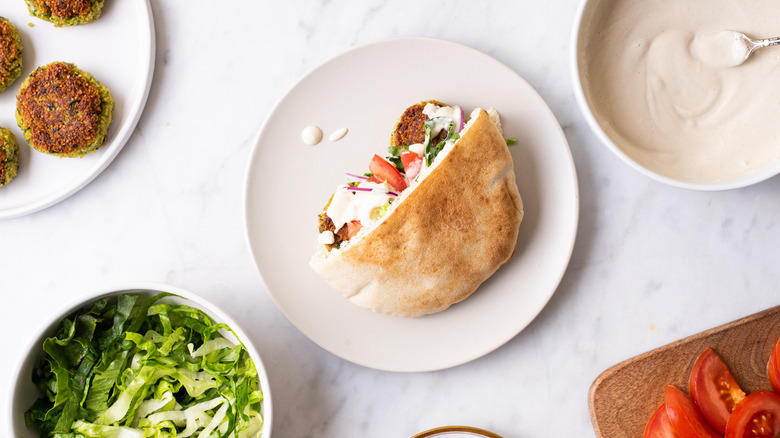 Ingredients
1 cup dried chickpeas, soaked for 12 to 24 hours and drained well
3 cloves of garlic, peeled
1 ½ cups parsley or cilantro leaves, or a mix of both
1 small white or red onion, cut into 1-inch chunks
¼ cup chickpea flour
2 teaspoons baking powder
1 teaspoon ground coriander
1 teaspoon ground cumin
1 teaspoon fine sea salt, divided
freshly ground black pepper, to taste
3 tablespoons oil, for cooking
⅓ cup well-stirred tahini
1 to 2 tablespoons fresh lemon juice
4 pitas, halved and lightly toasted
1 cup shredded romaine lettuce
1 vine tomato, thinly sliced
Optional Ingredients
sliced onion for sandwich
Directions
In a food processor, combine the drained chickpeas, garlic, herbs, and onion. Puree these ingredients, stopping to scrape down the sides as needed, until everything is broken down.
Transfer the mixture to a large bowl, and sprinkle in the chickpea flour, baking powder, ground coriander, cumin, ¾ teaspoon sea salt, and freshly ground black pepper. Using a spatula, toss to combine everything evenly. Chill the mixture in the fridge for at least 30 minutes.
Meanwhile, preheat the oven to 450 F.
When ready to bake the falafel, pour enough oil in a large rimmed baking sheet to coat the bottom. Using your hands, form the falafel mixture into about 14 patties, about 2 inches in diameter, and arrange in the baking sheet in a single layer, spacing the patties at least an inch apart. (If the patties aren't holding together well, mix a few tablespoons more chickpea flour into the dough.)
Bake until the falafels are golden brown on the bottom, 12 to 14 minutes. Then, gently flip with a spatula, and bake for about 10 minutes more.
Meanwhile, make the tahini sauce. In a small bowl, combine the tahini and lemon juice with about 2 tablespoons of water and the remaining ¼ teaspoon of salt. Whisk until the sauce is smooth. Then, gradually whisk in 2 to 4 tablespoons more water, until the sauce has a pourable consistency. Taste and adjust the seasonings, if needed.
To assemble the sandwiches, tuck the falafel, along with some romaine lettuce, tomato, onion, and sauce into each pita half. Serve immediately.
Nutrition
| | |
| --- | --- |
| Calories per Serving | 289 |
| Total Fat | 13.1 g |
| Saturated Fat | 1.4 g |
| Trans Fat | 0.0 g |
| Cholesterol | 0.0 mg |
| | |
| --- | --- |
| Total Carbohydrates | 35.8 g |
| Dietary Fiber | 6.9 g |
| Total Sugars | 4.5 g |
| Sodium | 260.4 mg |
| Protein | 10.4 g |