Quick Baked Halibut Filet Recipe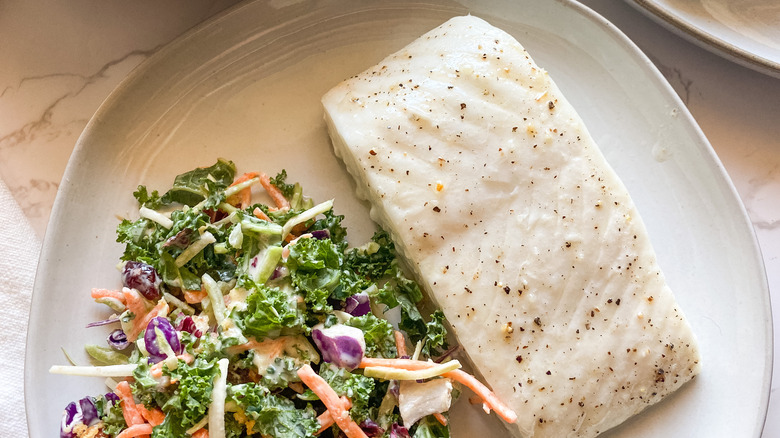 Kristen Carli/Mashed
Baked halibut checks all the boxes you want checked as a cook. It's highly nutritious, it tastes great, and it's surprisingly easy to prepare. Chef, recipe developer, and registered dietician Kristen Carli says: "This one is super easy — just be sure not to overcook it, or the fish will be dry." And considering it cooks up in just about 12 minutes, it won't be too hard for you to keep tabs on things while your fish is baking.
Add the mere five minutes it takes to prep this fish filet before it bakes, and you'll see that you have one easy and efficient meal on your hands here. Or the entree part of it, at any rate: To build out a meal around this tasty fish filet, Carli says: "I love fresh fish with a bright and lemony salad. It makes for the perfect summer meal."
Best to plan to enjoy that meal right away, for the record, as the leftovers won't be nearly so good. "It will keep in the fridge for up to one day in an airtight container," Carli says, "but it's most delicious when fresh." Given how quickly the fish is prepped and cooked, making it fresh really isn't much of an ask, though.
Gather the ingredients for this baked halibut filet recipe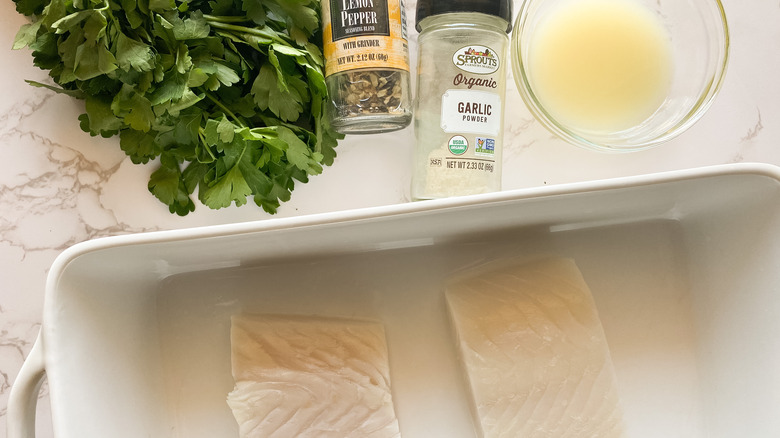 Kristen Carli/Mashed
Obviously, the fish itself is the main event here. You should try to get a one-pound cut of halibut and then cut that into two even filets. Beyond the fish, you're really just working with a few basic ingredients that add flavor. Those are olive oil, salt, black pepper, garlic powder, lemon juice, and freshly chopped parsley, for serving the fish.
Pairing this fish with a nice crunchy salad is always a good idea, keeping the lemon flavor profile Carli mentions in mind. If you want to add in a good starchy element, it's hard to beat mashed potatoes or roasted fingerling potatoes when you are serving halibut.
Prepare the fish for baking
Kristen Carli/Mashed
First things first: Preheat your oven to a toasty 425 degrees Fahrenheit. Next, in a small bowl, combine the olive oil, salt, pepper, garlic powder, and lemon juice, and whisk them together vigorously.
Now check to make sure your filets don't have skin left on them and that they are about even in size, or else plan to remove the smaller filet from the oven first. Then place the two pieces of fish in baking dish and brush them generously with the spice, lemon, and olive oil mixture, making sure to get some of the liquid underneath the filets.
Time to bake the filets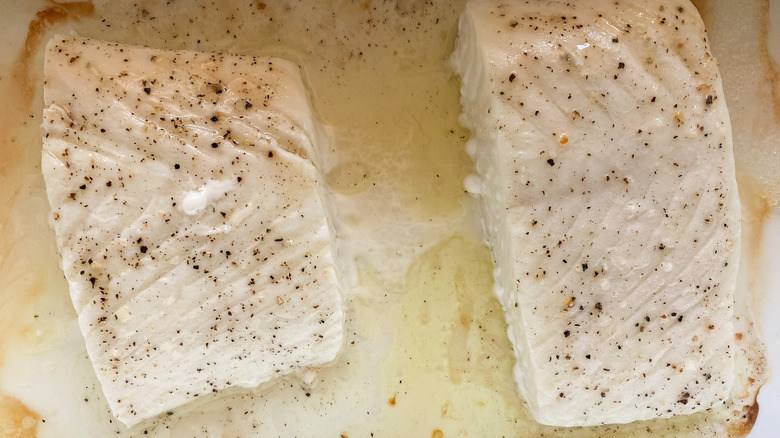 Kristen Carli/Mashed
Once the filets are prepared and well-coated in lemon, oil, and spicy goodness, pop the baking dish into the preheated oven and bake the fish at 425 degrees for 12 minutes. Start keeping a close eye at 10 minutes, and if it looks like the filets are already done, by all means get them out of there and check. You can slice into one and make sure it's opaque all the way through, or better yet, use a meat thermometer. 
The ideal internal temperature for baked halibut is 145 degrees, so keep that in mind if you do decide to use the meat thermometer. You may want to take it out a little bit before it reads 145 degrees since the fish will continue cooking even after you take it out of the oven.
The health benefits of halibut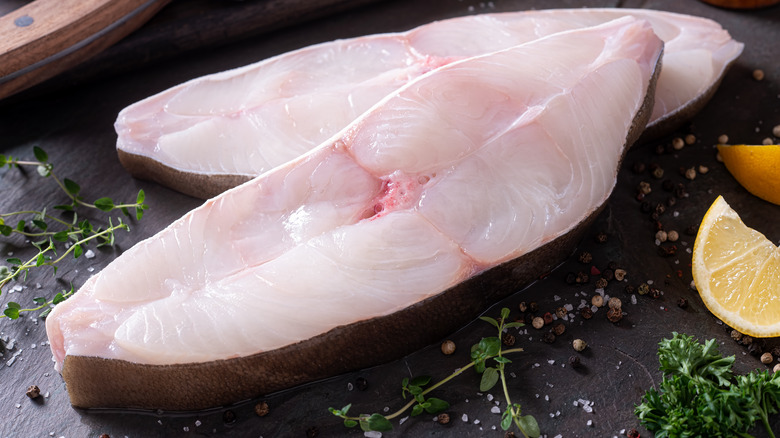 Shutterstock
"Halibut is a very healthy protein choice as it is low in total fat," says Kristen Carli, adding: "It is also very nutrient-dense, containing high amounts of B vitamins and niacin." 
To add to that, this fish is also a great source of phosphorous and magnesium and contains lots of omega-3 fatty acids, which are great for the heart and can help reduce bad cholesterol and increase good cholesterol (via Healthline). Consuming this fish may also help your body fight inflammation, thanks in large part to the selenium it delivers.
Quick Baked Halibut Filet Recipe
Baked halibut checks all the boxes you want checked as a cook. It's highly nutritious, it tastes great, and it's surprisingly easy to prepare.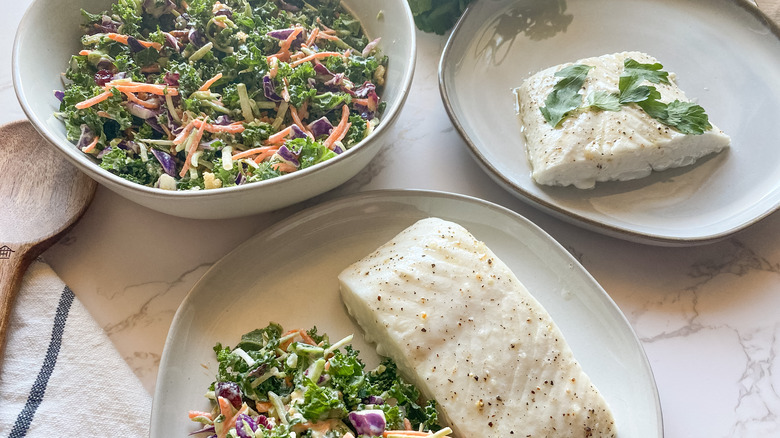 Ingredients
2 tablespoons olive oil
½ teaspoon salt
¼ teaspoon pepper
½ teaspoon garlic powder
1 tablespoon lemon juice
1 pound halibut, cut into 2 filets
Parsley, for serving
Directions
Preheat oven to 425 degrees Fahrenheit.
In a small bowl, combine olive oil, salt, pepper, garlic powder, and lemon juice.
Place fish in baking dish and brush with lemon olive oil mixture.
Bake for 12 minutes or until fish is opaque throughout.
Serve and enjoy.
Nutrition
| | |
| --- | --- |
| Calories per Serving | 332 |
| Total Fat | 16.6 g |
| Saturated Fat | 2.5 g |
| Trans Fat | 0.0 g |
| Cholesterol | 111.1 mg |
| | |
| --- | --- |
| Total Carbohydrates | 1.5 g |
| Dietary Fiber | 0.3 g |
| Total Sugars | 0.2 g |
| Sodium | 585.0 mg |
| Protein | 42.4 g |