The Popular Seafood Dish Red Lobster Invented
Bloomberg/Getty Images
If you're craving a quality seafood dinner but don't feel like dressing to the nines or breaking the bank, Red Lobster has your back. The restaurant chain has been serving delicious comfort foods to hungry customers of all walks of life for nearly a century. Over the years, Red Lobster has broken boundaries not only by creating new dishes that have become American staples, but also by welcoming people of all socioeconomic statuses to its tables. And the decades-long history of Red Lobster is as rich as its appetizing fare — in fact, the seafood chain is to thank for a classic American seafood dish.
Back in 1938, a 19-year-old Bill Darden founded his first restaurant in Waycross, Georgia, according to The Balance Small Business. The eatery was a small lunch counter named The Green Frog, which prided itself on its "service with a hop." After a successful run with his first luncheonette, Darden decided to expand his hotel restaurateur resume by purchasing a number of eateries all over the southeastern U.S., including a handful of Howard Johnson's franchise locations and Gary's Duck Inn in Orlando, Florida. Finally, in 1968, Darden founded his own seafood kitchen in Lakeland, Florida — a town 35 miles east of Tampa — and named it the Red Lobster Inn. Soon after, the "Inn" was dropped from the name, becoming known simply as Red Lobster.
Red Lobster has come a long way from those early days — and the chain's Cheddar Bay Biscuits aren't its only claim to fame.
Red Lobster invented a mega-popular seafood dish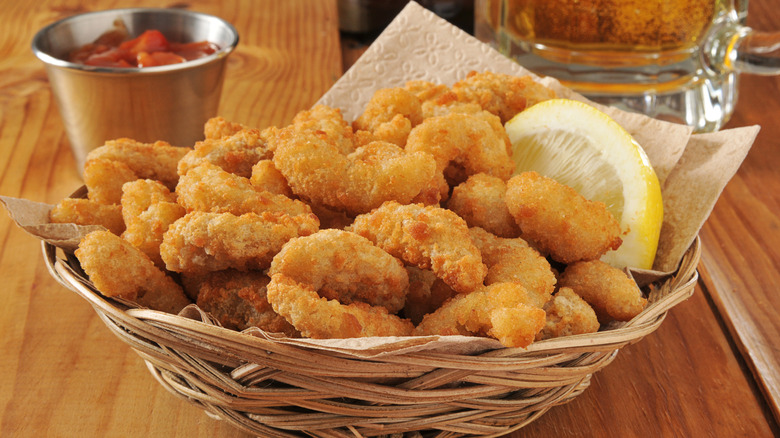 Shutterstock
Since its genesis, Red Lobster has grown its menu to include dozens of family favorites, including fish and chips, Maine lobster, Atlantic salmon, crab linguini alfredo, and more. One of the restaurant's top-selling orders of all time is its popcorn shrimp — battered, deep-fried, crunchy cuts of shrimp that, hence the name, are crafted to be eaten like bite-size pieces of popcorn. The munchable seafood snack, which has maintained its fame all these years, was invented by Red Lobster, according to the Orlando Business Journal. "We also invented popcorn shrimp and introduced snow crab and calamari to middle America," Darden Restaurants Inc. chair and CEO Joe Lee told the outlet in 1998.
Shrimp was on the rise as a highly-sought-after seafood grub in America in the 1970s, per The New York Times. Catching sight of this consumer trend, the innovative minds at Red Lobster decided to put their stake in the ground and dream up something new and exciting.
After its initial introduction to the culinary world by Red Lobster in 1974, popcorn shrimp has become a permanent menu item at several other restaurants, including Bubba Gump Shrimp Co., Popeyes, and Long John Silver's, reports First We Feast. Bloggers and chefs around the globe, including James Beard Award winner Chris Shepherd, have also shared popcorn shrimp recipes for fans to make at home (per Food & Wine). It's safe to say that Red Lobster has created a food trend that was built to last.
Popcorn shrimp remains a Red Lobster favorite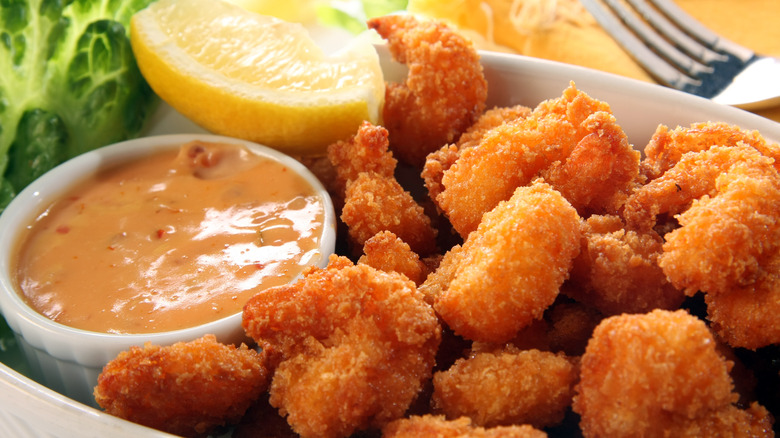 Hannamariah/Shutterstock
Popcorn shrimp is, without a doubt, tons of fun to eat. Whether you enjoy a platter of popcorn shrimp as a shareable appetizer or your main entrée, it's a satisfying, finger-licking-good dish that's sure to please a crowd. (As one Twitter user put it, "Bring me Red Lobster popcorn shrimp so I know it's real.")
Although the oceanic, bite-sized fritters taste amazing by themselves, popcorn shrimp is commonly served with a side of tartar sauce, ketchup, or sweet-and-sour cocktail sauce for dipping and dunking, plus a lemon wedge to squeeze over the pieces for a citrusy kick. 
But like most deep-fried treats, popcorn shrimp is often considered more of an occasional indulgence than an everyday dish. Per the Red Lobster website, one serving of Red Lobster popcorn shrimp packs in 49 grams of carbs, 19 grams of fat, 90 milligrams of cholesterol, 11 grams of sugar, and 430 calories. A serving of popcorn shrimp does, however, provide 5 grams of fiber and 16 grams of protein. Of course, a little indulgence never hurt anybody, so feel free to dig in!
Another iconic, one-of-a-kind Red Lobster order that diners everywhere can't seem to get enough of? The melt-in-your-mouth, chewy, cheesy Cheddar Bay Biscuits. Yum! Red Lobster has proven that a simple idea can create a major wave of influence in the world of food. And it's clear that popcorn shrimp, no matter how, where, or with whom it's eaten, is here to stay.