The Popular Seafood Dish Red Lobster Invented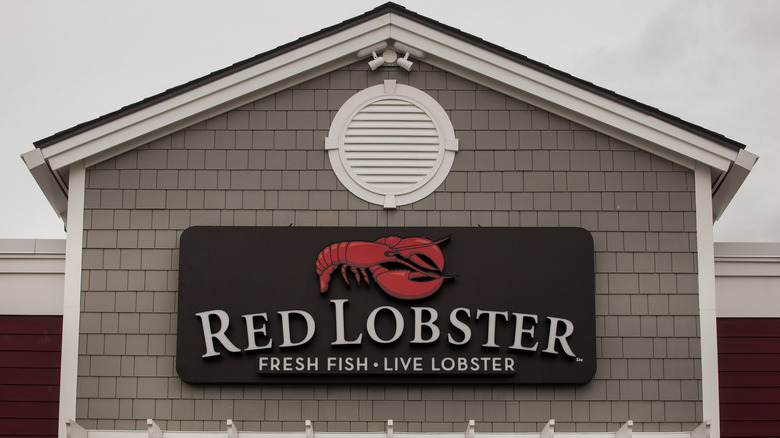 Bloomberg/Getty Images
If you're ever craving a quality seafood dinner, but don't necessarily feel like dressing to the nines or breaking the bank, Red Lobster has your back. The American restaurant chain has been serving delicious comfort foods to hungry customers of all walks of life for nearly a century. Over the years, Red Lobster has broken boundaries by not only creating new dishes that have become a staple in American households, but also by welcoming people of all socioeconomic statuses to its dining tables.
In 1938, a 19-year-old Bill Darden founded his first restaurant in Waycross, Georgia (via The Balance Small Business). The eatery was a small lunch counter named The Green Frog, which prided itself on its "service with a hop." After a successful run with his first luncheonette, Darden decided to expand his hotel restaurateur resume by purchasing a number of eateries all over the Southeastern U.S., including a handful of Howard Johnson's franchise locations and Gary's Duck Inn in Orlando, Florida. Finally, in 1968, Darden opened up his own seafood kitchen in Lakeland, Florida, and named it the Red Lobster Inn. Soon after, it was shortened to simply Red Lobster.
Which seafood dish was invented by Red Lobster?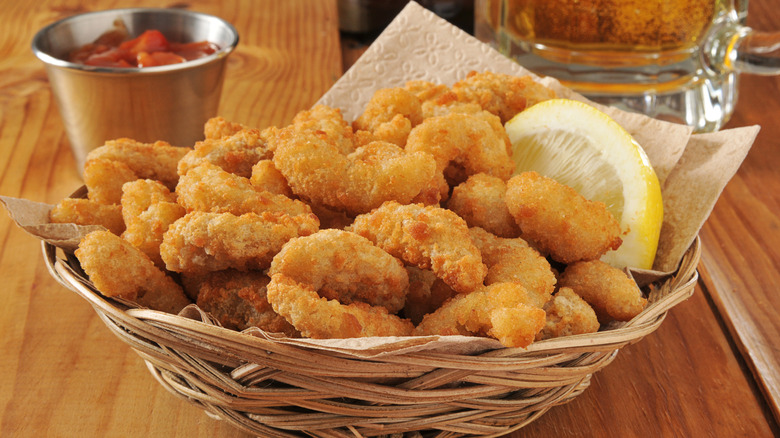 Shutterstock
Since its genesis, Red Lobster has altered and grown its menu to include dozens of family favorites. A good fraction of its offerings includes fare loved by seafood fanatics and seafood newbies alike. One of the restaurant's all-time top-selling orders is its popcorn shrimp — battered, deep-fried, crunchy, bite-sized cuts of shrimp that, hence the name, are crafted to be eaten like pieces of popcorn. This common seafood snack was invented by Red Lobster (via Mental Floss).
Shrimp was on the rise as a sought-after seafood grub in America in the 1970s. Catching sight of this consumer trend, the chain decided to put its stake in the ground and dream up something new and exciting. After its initial introduction to the culinary world by Red Lobster in 1974, popcorn shrimp has massively grown in popularity and has even become a permanent item on the menus of several other restaurants, including Bubba Gump Shrimp Co., Popeyes, and Long John Silver's, reports First We Feast. 
Popcorn shrimp is also tons of fun to eat and is often served with tangy tartar sauce, zippy ketchup, or sweet-and-sour cocktail sauce for dipping and dunking and a lemon wedge for a citrusy kick. Another iconic, one-of-a-kind Red Lobster menu item that people can't seem to get enough of? The melt-in-your-mouth, chewy, cheesy Cheddar Bay Biscuits. Yum!