The Truth About The Relationship Between Cake Boss And Ace Of Cakes - Exclusive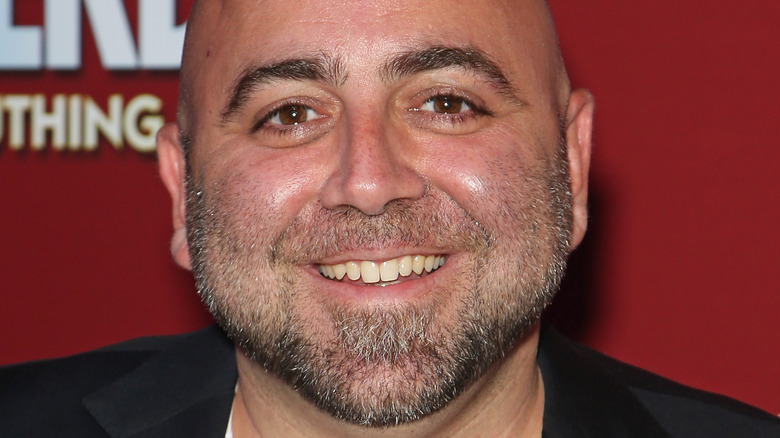 Gabe Ginsberg/Getty Images
You know what they say about having too many cooks in the kitchen ... but does that apply to cake bakers? That's the big question when it comes to Duff Goldman of "Ace of Cakes," and his confectionary counterpart, the "Cake Boss" Buddy Valastro. They have basically been pitted against one another for the last decade (via Eater), with each baker wowing national TV audiences and building empires with their masterful, even magical, dessert designs. The two have even competed head-to-head in two epic baking battles on Food Network's "Buddy vs. Duff." 
When the cameras are rolling, the flour is flying, and there's no doubt the competition is fierce. But does their kitchen rivalry extend behind the scenes and off the set, or do these two elite bakers put the friend in friendly competition? In an exclusive interview with Mashed, Duff Goldman set the record straight, in his own words, about his relationship with "Cake Boss" Buddy Valastro. Just like the incredible cakes they make, the truth is pretty sweet.
Duff Goldman says there's nothing but love between him and the Cake Boss
If you've picked a side when it comes to "Buddy vs. Duff," you might be disappointed to hear that the "Ace of Cakes" and "Cake Boss" only battle it out for the sake of TV entertainment. If you ask Duff Goldman, there's nothing but love (and a flair for frosting) between him and Buddy Valastro. "Actually earlier today, I was wearing a Team Buddy shirt," he told Mashed. Goldman said that when it comes to Valastro, they're totally friends. "There is all the mutual respect in the world there. ... There's no animosity there. Everybody's homey," he said.
According to Goldman, his relationship with Valastro is built on two fundamental truths. Number one, he says, is the fact that they share a unique craft, and it brings them together. As Goldman put it, "there's not many people in the world that do what we do, and we have to love each other because there's just not a lot of it." Secondly, Goldman admits that he and Valastro inspire each other to keep making better cakes. He explained, "Buddy and his team make incredible cakes, and as a fan of cakes, I love watching what they make."
The friendship between the two goes far beyond the kitchen. Goldman recently welcomed a baby girl (via Instagram) and said that Valastro was among the friends who congratulated him and sent their support. "When my daughter was born, he sent her this beautiful blanket, and really nice socks. And Buddy got her a Burberry jacket, it's amazing."
If you're craving more from the "Ace of Cakes," be sure to check out Goldman's latest show, "Duff's Happy Fun Bake Time," now streaming on discovery+.