Chewy Oatmeal Scotchies Recipe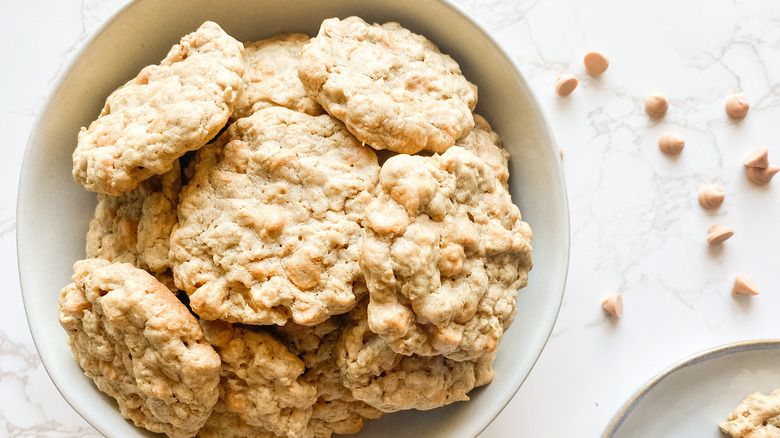 Kristen Carli/Mashed
There's something about the sight of fresh-out-of-the-oven, homemade cookies that makes everyone feel all ooey, gooey inside (much like the cookies themselves). And no mater where cookies are in the world, they are delicious, and just about everyone loves them.
While chocolate chip cookies seem to be one of the most popular recipes to bake in the U.S., the options when it comes to this treat are endless. Recipe developer Kristen Carli is the mastermind behind this chewy oatmeal scotchies recipe, and let us tell you — these delights are just as tasty to eat as they are mouthwatering to look at. Carli says she loves that this recipe strays away from the standard cookie. "I am obsessed with butterscotch. These are my favorite dessert of all time," she raves. If you aren't a fan of butterscotch, there are alternatives you can consider with the recipe. "You could easily sub for any other types of chips: chocolate or peanut butter would be delicious! Maybe even a mix," Carli shares. 
Gather the ingredients to prepare chewy oatmeal scotchies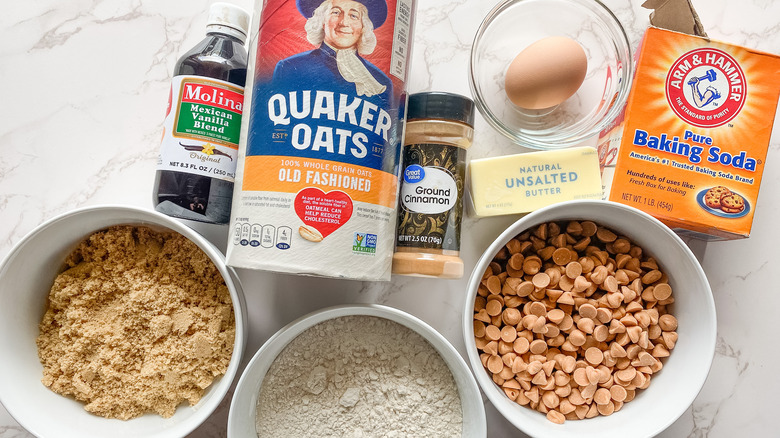 Kristen Carli/Mashed
This delicious cookie recipe requires only a small amount of ingredients, most of which you will hopefully already have at home in your pantry. You'll need one stick of butter, but make sure that it's unsalted and softened. You'll also need some brown sugar, all-purpose flour, and baking soda. Make sure to get some old-fashioned rolled oats and butterscotch chips as well. You'll also need an egg, vanilla extract, cinnamon, and salt to round off the ingredients. Now you're ready to get down to business!
Preheat the oven to 350 F, and start mixing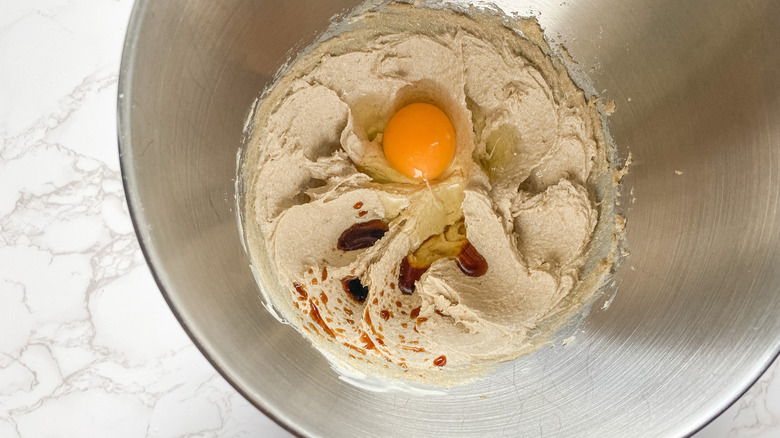 Kristen Carli/Mashed
Turn up your oven to 350 F, and wait for it to get hot while you tend to other steps you have to do. Grab a bowl with a stand mixer, and take the bowl off to begin your prep. In the bowl, add the butter and brown sugar. Mix them both well by hand to combine evenly. Once it's well-stirred, add the egg and vanilla to the mixture. Continue to mix until everything is a smooth texture.
Whisk the dry ingredients in a separate bowl
Kristen Carli/Mashed
Grab another bowl to prep the remaining ingredients separately. In the new bowl, add the all-purpose flour, cinnamon, salt, and baking soda. Whisk all the ingredients together. Once these items are whisked together and good to go, you'll fold in the oats, and continue to stir. 
Combine the wet and dry ingredients, and mix well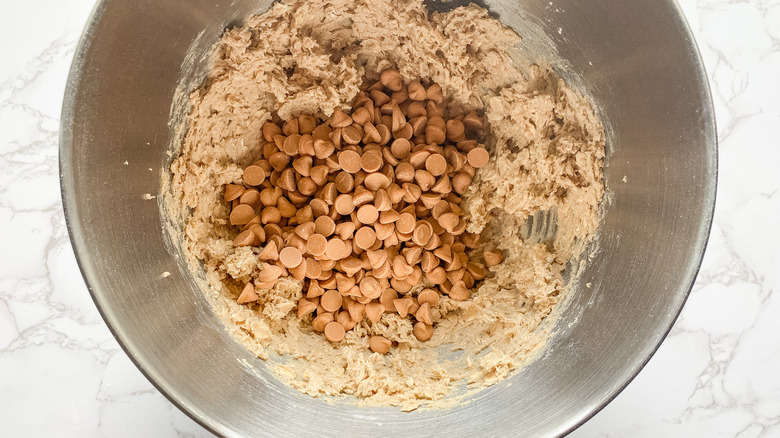 Kristen Carli/Mashed
Once you have two separate bowls that you mixed, you need to combine them both together. "Creaming the butter and sugar is a necessary step in cookie making," Carli says. "This will allow the sugar to incorporate well into the butter before adding the remaining wet ingredients."
Add the dry ingredients to the stand mixer, and mix well. Once everything is combined, turn off your mixer, and add in the butterscotch chips. For this part, you'll want to use a spoon so the chips don't break apart. 
Shape the cookie dough into 24 balls, and bake them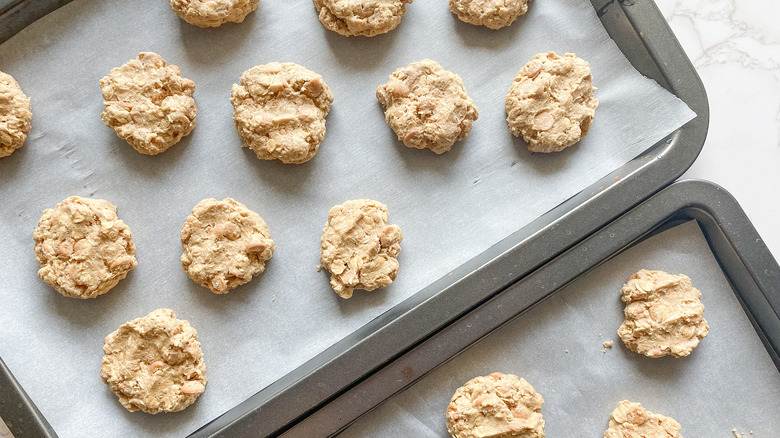 Kristen Carli/Mashed
Grab two baking pans, and cover them with parchment paper. Scoop out one tablespoon of mixture and roll it into a ball before placing it on the parchment paper. Don't crowd the cookies on the pans. Repeat this process until all the dough has been used up. You'll only need to bake these cookies for 10 minutes. 
Carli recommends serving these delights with a glass of milk. They're a great treat to make for the entire family or bring to a get-together with friends. You really can't go wrong with this recipe for oatmeal scotchies.
Chewy Oatmeal Scotchies Recipe
These chewy oatmeal scotchies will be your new go-to dessert recipe.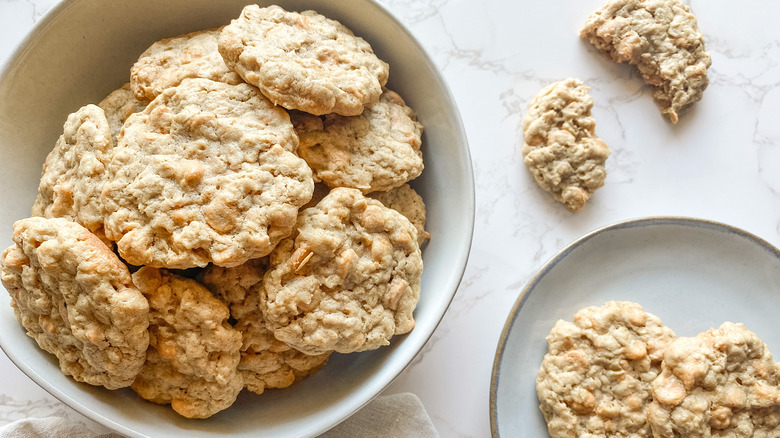 Ingredients
1 stick unsalted butter, softened
¾ cup brown sugar
1 egg
1 teaspoon vanilla extract
1 cup all-purpose flour
1 teaspoon cinnamon
½ teaspoon salt
½ teaspoon baking soda
1 ½ cups old fashioned rolled oats
1 ½ cups butterscotch chips
Directions
Preheat the oven to 350 F.
In the bowl of a stand mixer, add the unsalted butter and brown sugar. Mix until well combined. Add the egg and vanilla extract, and mix to combine.
In a separate bowl, whisk the all-purpose flour, cinnamon, salt, and baking soda. Then, add the rolled oats.
Add dry ingredients to stand mixer. Mix to combine. Add butterscotch chips and stir with a large spoon to combine.
Scoop out about 1 tablespoon, and roll into a ball shape. Place onto two baking sheets prepared with parchment paper. Repeat until all dough is used up.
Bake for 10 minutes.
Serve, and enjoy!
Nutrition
| | |
| --- | --- |
| Calories per Serving | 93 |
| Total Fat | 4.4 g |
| Saturated Fat | 2.5 g |
| Trans Fat | 0.2 g |
| Cholesterol | 16.8 mg |
| | |
| --- | --- |
| Total Carbohydrates | 12.3 g |
| Dietary Fiber | 0.7 g |
| Total Sugars | 4.8 g |
| Sodium | 51.0 mg |
| Protein | 1.5 g |