Easy Baked Honey Garlic Chicken Recipe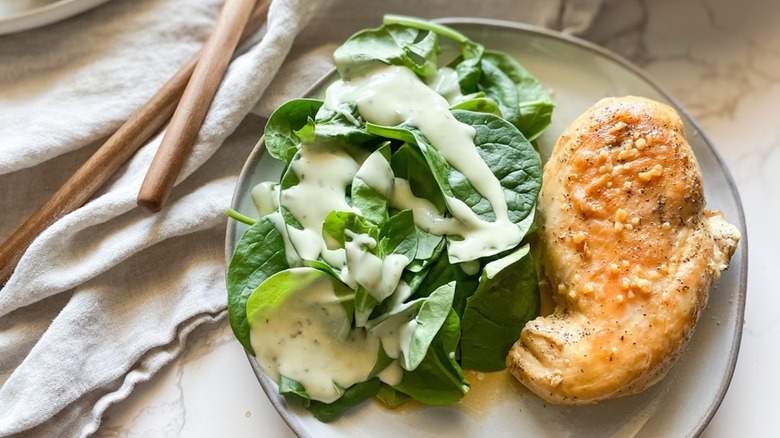 Kristin Carli/Mashed
Keeping some chicken breasts in the fridge means you'll always have an easy solution for dinner. However, it can be easy to fall into a rut of preparing your chicken the same way over and over again. If your go-to methods are starting to feel a bit dull, we have a solution for you, courtesy of recipe developer and registered dietician Kristin Carli: an easy baked honey garlic chicken.
Sure, maybe you usually add garlic to your chicken, but Carli's combination of garlic, honey, soy sauce, and chicken broth takes this baked chicken's flavor to the next level. It's sweet, it's savory, and it's definitely delicious.
This chicken gets its flavor not only from its mouthwatering sauce, but from searing it in a hot cast iron skillet before it goes in the oven to finish cooking. Searing your chicken at a high heat produces an effect called the Maillard reaction, which rearranges the proteins of the meat and, more importantly, makes everything taste better. 
The best part? You'll spend less than an hour whipping up this delectable chicken, making it a great choice for a busy weeknight. Here's how to make it.
Get your ingredients together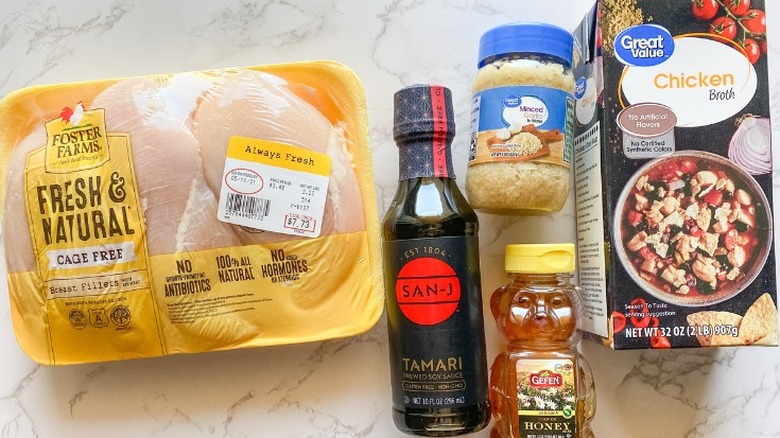 Kristin Carli/Mashed
Gather all your ingredients before you do anything else (well, besides preheating the oven, which you're going to set at 400 degrees Fahrenheit). For this baked chicken recipe, you'll need three chicken breasts, soy sauce or tamari (a gluten-free version of soy sauce), honey, minced garlic, and chicken broth. "I prefer this recipe with boneless skinless chicken breasts," recipe developer Kristin Carli notes.
It's ok to go the time-saving route and use pre-minced garlic instead of mincing fresh cloves. If you do want to mince fresh garlic, Carli says, "Depending on the size of your garlic cloves, one tablespoon minced garlic should be about four to eight garlic cloves."
Then, stir up your sauce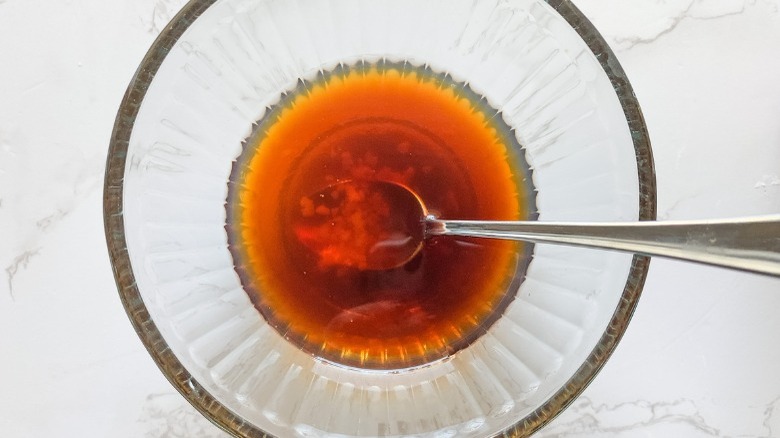 Kristin Carli/Mashed
Now that you have everything you need to make this baked honey garlic chicken, it's time to get started. The sauce is going to be the biggest bringer of flavor here, and on top of that, it's super simple to put together. All you need to do is combine six tablespoons of chicken broth, one tablespoon of minced garlic, a quarter cup honey, and a quartercup soy sauce or tamari. Whisk everything together, and there you have it: a delightfully savory sauce just waiting to take plain chicken breasts to the next level.
Searing your chicken breasts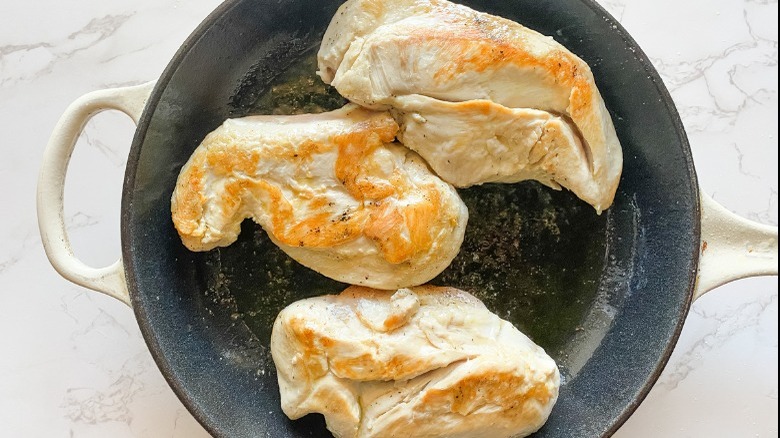 Kristin Carli/Mashed
Once your sauce is made, set it aside. You'll be coming back to it later.  Now, preheat a medium-size cast iron skillet (or another oven-safe pan) over medium heat. Recipe creator Kristen Carli says that a 10-inch cast iron skillet should be the right size for three chicken breasts. Once the pan is warm, add in your olive oil — you just need one tablespoon, as the chicken fat will render out as the meat sears. If you don't have olive oil or want to use a different oil, Carli says "you could easily substitute avocado oil."
When your skillet is nice and hot, add the chicken breasts, season them with salt and pepper, and sear them for five minutes on each side. When searing meat, it's important to let it cook undisturbed for maximum flavor development (and that Maillard reaction we mentioned earlier), so don't be tempted to peek or stir. 
Get saucy in the oven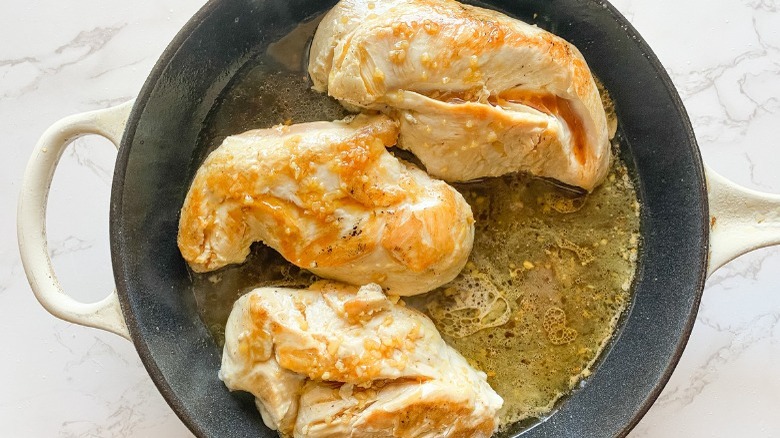 Kristin Carli/Mashed
Once your breasts are seared to perfection, good news: Your work is almost done. Remove the chicken skillet from heat and pour in the sauce, being sure to coat everything thoroughly. Then, simply place the skillet in the oven (which you've already preheated to 400 degrees Fahrenheit) and bake for 15 minutes. This time in the oven doesn't just finish cooking the chicken; it gives the sauce time to reduce and thicken, concentrating its flavors and making the chicken taste even better.
When the oven timer goes off, you're good to go! Unlike with some meat dishes, recipe creator Kristen Carli notes you don't need to rest the chicken before serving it.
Serving suggestions for your baked honey garlic chicken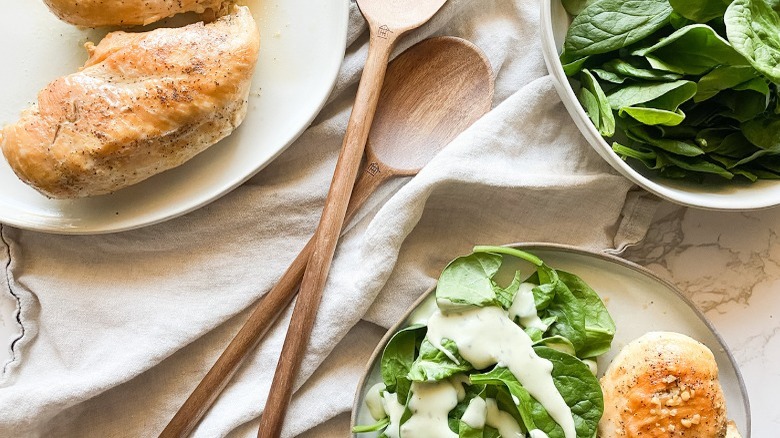 Kristin Carli/Mashed
The beauty of a baked chicken dish is that while it's in the oven, you're free to do other activities. Sure, that could mean watching some TikTok, but it also gives you the chance to whip up a side dish or two. If you're looking for inspiration, recipe developer Kristin Carli says "I love serving this over white rice and broccoli or with a big side salad." If you end up with leftovers, Carli says they'll keep for three days in an airtight container in the fridge.
This dish is quite flexible, since it's essentially just the pairing of sauce and protein. If you don't love chicken or don't eat meat, the sauce can be paired with other foods; Carli says she loves putting the honey garlic sauce over tofu. Happy eating!
Easy Baked Honey Garlic Chicken Recipe
This easy honey baked garlic chicken combines honey, garlic and soy sauce or tamari for a cook. Serve with rice or side dish and enjoy this weeknight go-to.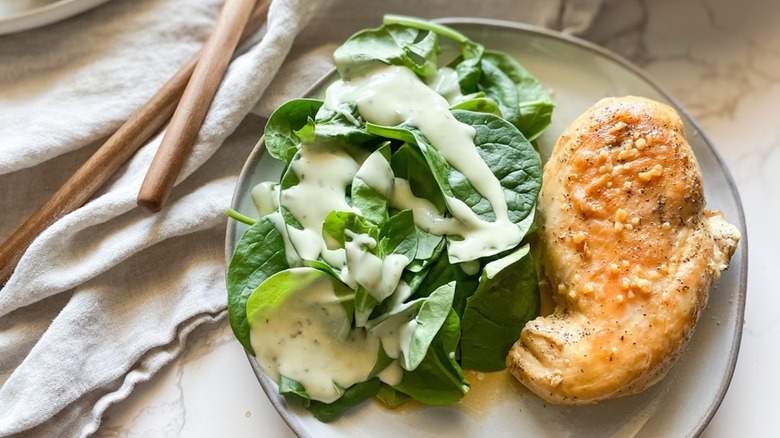 Ingredients
6 tablespoons chicken broth
1 tablespoon minced garlic
¼ cup honey
¼ cup soy sauce or tamari
1 tablespoon olive oil
3 chicken breasts
½ teaspoon salt
½ teaspoon pepper
Directions
Preheat the oven to 400 degrees Fahrenheit.
In a small bowl, add chicken broth, garlic, honey, and soy sauce. Stir to combine. Set aside.
Heat a medium cast iron skillet over medium heat. Add olive oil.
Once hot, add chicken breasts. Season with salt and pepper. Cook for 5 minutes on each side to sear the chicken.
Remove skillet from heat and add sauce to chicken.
Place skillet in oven and bake for 15 minutes.
Serve with rice or side dishes and enjoy!
Nutrition
| | |
| --- | --- |
| Calories per Serving | 226 |
| Total Fat | 10.6 g |
| Saturated Fat | 2.7 g |
| Trans Fat | 0.1 g |
| Cholesterol | 56.1 mg |
| | |
| --- | --- |
| Total Carbohydrates | 13.3 g |
| Dietary Fiber | 0.2 g |
| Total Sugars | 11.9 g |
| Sodium | 660.8 mg |
| Protein | 19.5 g |