The Difference Between Pizza Hut's Cheapest And Most Expensive Pizza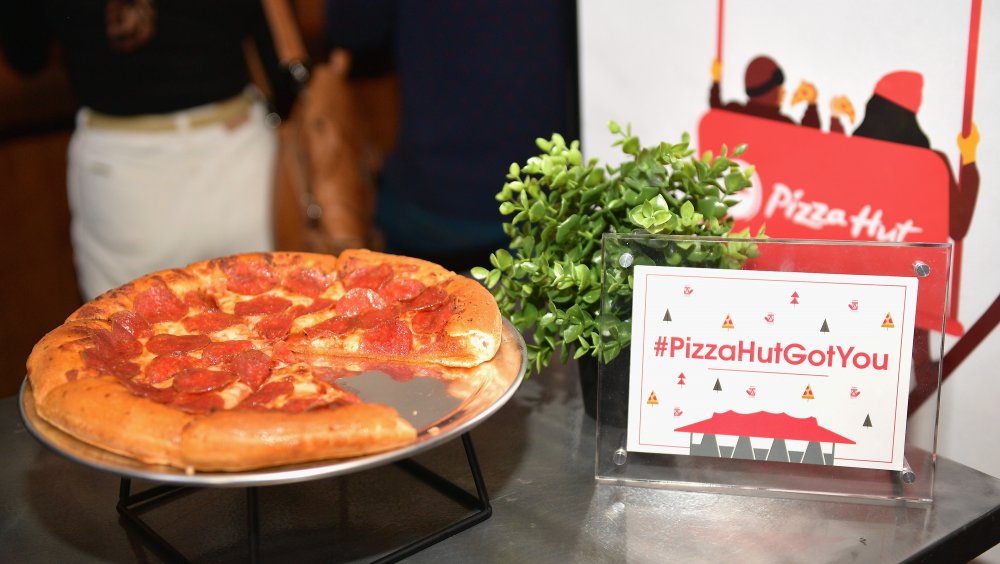 Matt Winkelmeyer/Getty Images
Have you ever wondered what the difference is between Pizza Hut's cheapest and most expensive pizza? Pizza Hut was started in 1958 by two brothers who borrowed $600 from their mom to open a pizza place in Wichita, Kansas (via Pizza Hut). The rest is history, as the pizza chain has climbed in revenues and stature and attracted spokespersons like Donald Trump and Jessica Simpson to endorse its product. Pizza is an American staple. In fact, according to the Sauce by Slice blog, Americans eat 3 billion pizzas a year with the average American eating around 46 slices a year — that's a lot of gooey cheese and pepperoni.
But what determines the price of one pizza from another at Pizza Hut? According to Fast Food Menu Prices, the difference seems to be first in the type of crust, followed by the size and the number of toppings. A large stuffed crust cheese pizza will run you $16.99, not including tax, delivery fees, and tip, but add on some toppings and the price goes up — and keep in mind that prices can vary by location. 
The most expensive pizza listed on the menu is the large Super Supreme Stuffed Crust pizza at $17.99. The Super Supreme Stuffed Crust pizza consists of a cheese-stuffed crust topped off with sauce, cheese, pepperoni, ham, beef, pork sausage, Italian sausage, red onions, mushrooms, green peppers, and black olives (via Pizza Hut).
Pizza Hut Super Supreme: Worth the price?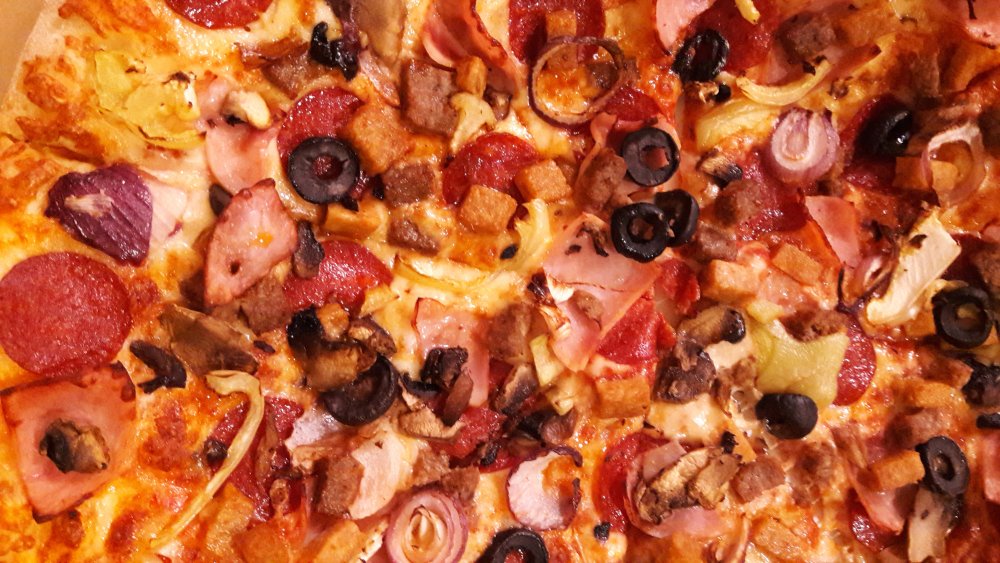 Shutterstock
Is the Super Supreme Pizza worth the cost? Pizza Lads think so. They noted it is a "good rounded pizza" and gave it a thumbs up. However, on the other side of the spectrum, Serious Eats says the pizza "barely makes it into the game." The reviewer found the sauce slightly bitter and didn't think the toppings were as fresh as its competitors. Still, Spoon University, a review site run by college students, called the Pizza Hut pizza tried and true. But what about that cheese stuffed crust? One Reddit reviewer was left unimpressed and "disappointed" while the Impulsive Buy called it "mind blowing".
So how does the cheapest pizza on the Pizza Hut menu compare to the Super Supreme Stuffed Crust pizza? The cheapest pizza on the Pizza Hut menu according to Fast Food Menu Prices is the personal pan cheese pizza with a price tag of $4.79. This pizza is just what you would expect, i.e. Pizza Hut's traditional pan pizza with lots of cheese. The Internet verdict on this one tends to be positive — a reviewer at Trip Advisor found this pizza to be really good.
Bottom line: you don't have to spend a lot of dough on Pizza Hut dough for it to be enjoyable, but the size of your party (or your appetite) will factor in when you pay your bill.