Here's How To Get Cast On Iron Chef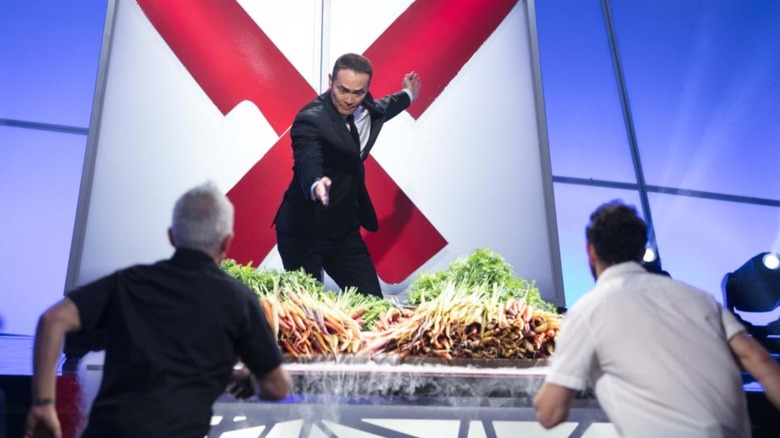 Food Network
If you've ever watched an episode of "Iron Chef," you know that not everyone has what it takes to earn the coveted title of, well, Iron Chef. What began as a culty Japanese show has grown to an international fan favorite. At the famed Kitchen Stadium, you'll have to battle against some of the world's best chefs, like America's Bobby Flay, Japan's Masaharu Morimoto, and France's Hiroyuki Sakai in a heated nail-biting culinary competition. 
Your culinary chops will also be tested in front of food extraordinaire Alton Brown and a live studio audience, where you'll be asked to whip up a dish with that week's "secret ingredient" on the spot. But that's not even where the challenge really begins. First, you actually have to make it onto the show to begin with — and that's half the battle. Confident that you could become the next Iron Chef? Here's how to get cast on the Food Network's popular show.
You'll have to win another cooking competition first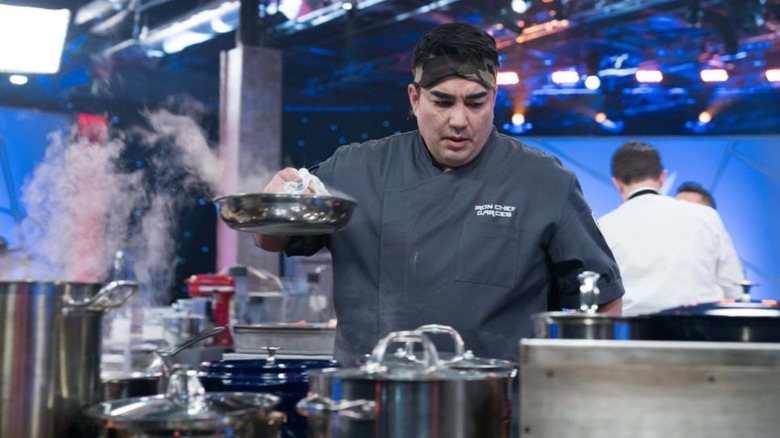 Food Network
To even get the chance to compete on "Iron Chef," you'll first have to make it through "The Next Iron Chef," the Food Network show where up-and-coming chefs go head-to-head for their shot at the big stage. It's no easy feat, either — past cheftestants include celeb cooks Alex Guarnaschelli, Amanda Freitag, and Geoffrey Zakarian. "It was the most difficult and physically demanding thing I have ever done, and never hope to do it again!" Zakarian confessed to Atlantic City Weekly.
It's not clear how to get cast on "The Next Iron Chef." However, in the same article, Zakarian says he was approached by the network after winning "Chopped Champions." A good place to start? Leaf.TV recommends practicing and honing your own unique cooking style and applying for similar cooking competition shows — like "Chopped" or "Top Chef" — in the meantime to get experience.