This New Marcus Samuelsson Restaurant Was Named One Of The Top In The World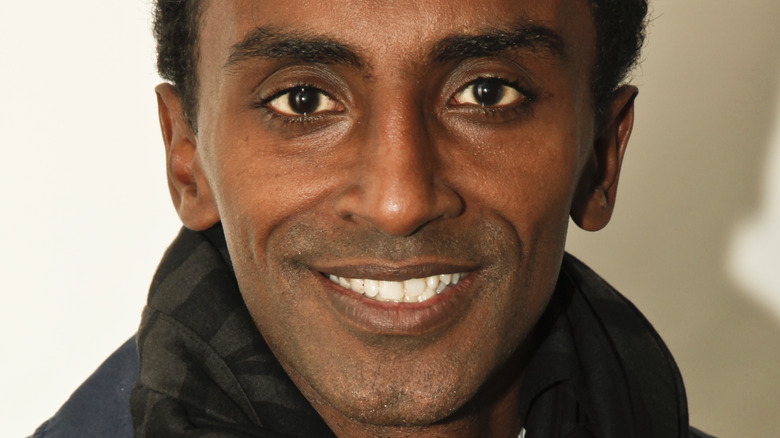 Shutterstock
You already know and love Chef Marcus Samuelsson. Whether it's watching his judging skills on "Chopped" or cheering as he breaks out the knives to win "Top Chef Masters 2" (via Marcus Samuelsson), this talented chef always makes food look good. Yet, while most of us are limited to our televisions to ponder these beautiful looking eats from afar, world-renowned food critics have taken the time to taste these dishes and agree that Samuelsson is truly world class. 
Samuelsson's Red Rooster Overtown, Miami — his second restaurant by this name — was just recognized as one of the 12 best new restaurants in the world by Conde Nast (via Conde Nast Traveler). Per the publication: "For the 25th edition of the Hot List — Condé Nast Traveler's picks of the year's top hotel and industry openings — we highlight the innovative new spots that are changing the way we dine." This Miami spinoff pairs the already successful New York restaurant's food with a uniquely Miami twist, including the inclusive use of a local tamarind tree, flavorful adds, like a tropical sour honey-orange sauce, and decor that represents this historically Black, Latino, and Caribbean neighborhood.
Southern flair specifically for Miami
If you dine at Red Rooster, a meal might begin with appetizers like the CCC Fritter, which features conch, corn, crab, collard green togarashi, or the Mr. T's Uni-Corn that features sea urchin custard, sugar peas, heirloom baby tomatoes, and fresno (via Red Rooster Overtown). Diners might then enjoy a Tasmanian sea trout crudo featuring passion fruit mojo, cauliflower, hammock greens, spicy arugula or an entree of sour orange pig ribs featuring spicy pickled cabbage, kumquat, puffed rice. You will find classics like Samuelsson's take on fried chicken, Wagyu, and rib eye, as well as an extensive creamery dessert menu that pairs well with the restaurant's unique desserts. For those who can't make the dinner rush, be sure to check out the breakfast, lunch, and takeout menus, or simply try a signature cocktail on the patio.  
Other U.S. mentions on the Hot List include Cat-Su Sando, Chicago; The Mayfair Supper Club, Las Vegas; Communion, Seattle; Miro Kaimuki, Honolulu; Chifa, Los Angeles; Cozy Royale, New York City; and Laser Wolf, Philadelphia. Non-U.S. locations include New Zealand, Denmark, Switzerland, and Hong Kong.