Good News For Fans Of McDonald's Frozen Drinks
Shutterstock
Summer is the perfect time to try out new frozen drinks. Whether you want to make frozen cocktails while having an outdoor BBQ with your friends or family or you want to stop by 7/11 to get their famous slurpee, frozen, icy drinks are the best way to beat the heat.
If you're a fan of McDonald's, you need to keep an eye out for their new frozen drinks. They're taking classics, like soda and lemonade, and turning them into slushie-style drinks. We can't wait to give them a try.
These drinks are coming out to participating McDonald's stores in Houston, Texas, according to Click 2 Houston. If you can't find these new frozen drinks at a McDonald's near you, you can still find other classic cold drinks like McDonald's frappes in stores. Alternatively, you can make your own slushies and frozen drinks at home with this guide from The Kitchn.
What frozen drinks are coming to McDonald's this summer?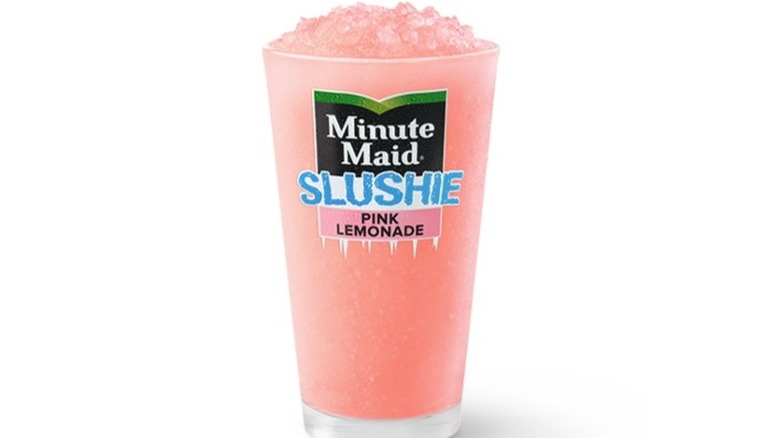 McDonald's
Click 2 Houston reported that there are five new frozen drinks coming to McDonald's soon. This includes Frozen Coca-Cola, Frozen Fanta Wild Cherry, Frozen Fanta Blue Raspberry, a Minute Maid Pink Lemonade Slushie, and a Minute Maid Strawberry Watermelon Slushie. With this variety, whether you're a fan of soda, fruit, or lemonade, there's something for you to sip on to stay cool during the hotter months.
On McDonald's official website, the company said that the Minute Maid Pink Lemonade Slushie (which they've offered in the past) pairs well with their burgers and french fries, and the official website also says the restaurant chain offers a Minute Maid Blue Raspberry Slushie. The best way to check what's at your local McDonald's is to go to the store itself or check online through their app.
While you're stopping by your nearest McDonald's, don't forget to try out some food hacks from TikTok that will completely change your McDonald's experience. Which frozen drink are you most excited for this year?