Grilled Steak Au Poivre Recipe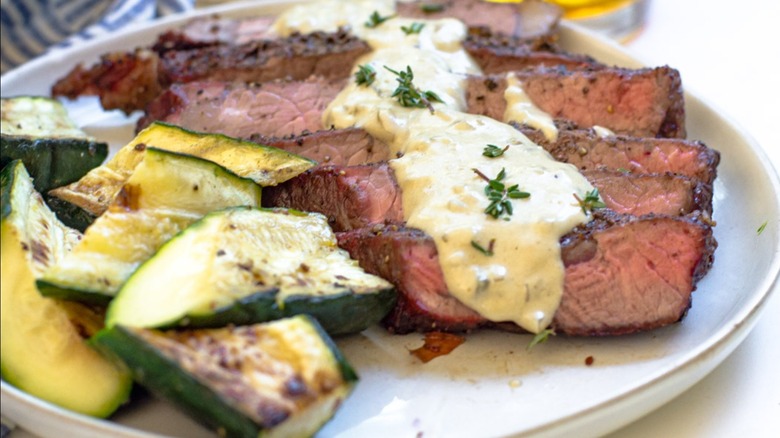 Mackenzie Ryan/Mashed
In the 19th century, the meat that was served with a cracked-pepper crust and buttery, brandy-laced topping was venison, with the spice being meant to mask the gaminess and the creamy sauce to provide moisture to what could be an otherwise dry cut of meat (via Four Pounds Flour). As time went by, beef steaks became easier to come by (When's the last time you saw deer meat on sale at Kroger, anyway?). During the early 20th century, French chefs christened the new dish "steak au poivre."
It was an American French chef, the legendary Julia Child, who was the first to create the recipe in the U.S., including it in her 1961 magnum opus, "Mastering the Art of French Cooking" (via Four Pounds Flour). While Child herself may not have done much backyard barbecuing, we nevertheless feel sure that she'd approve of the all-American twist recipe developer Mackenzie Ryan of Food Above Gold added to this classic French dish. Ryan says, "Steak au poivre is one of those traditional French dishes that comes with my culinary training at the Le Cordon Bleu," but she goes on to say that "grilling the steak adds a smoky flavor that otherwise wouldn't exist."
Steak au poivre starts with the right ingredients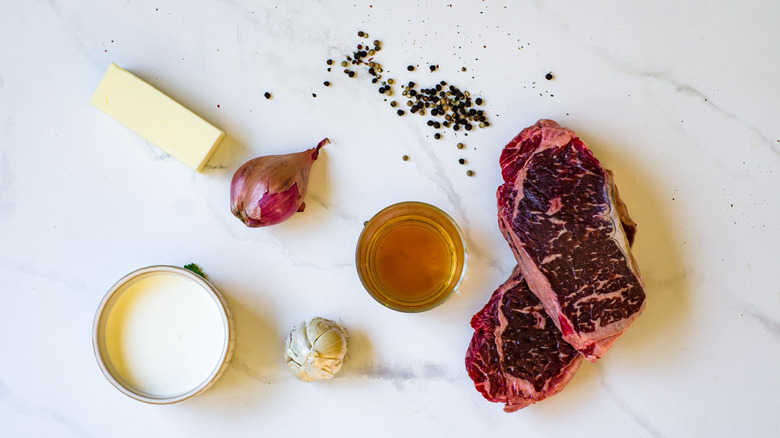 Mackenzie Ryan/Mashed
While Ryan says that filet mignon is the traditional cut that is used when making steak au poivre, she explains, "The New York Strip is a more economical alternative — especially if you aren't extremely confident with the grill." Plus, there's the fact that the less fatty filet mignon is a cut better suited to a pan. Ryan does say, though, "Really, any steak can be used, so don't miss the opportunity to enjoy the recipe because the right steak wasn't available."
In order to prepare this recipe, you're also going to need salt, black peppercorns (whole ones), butter, heavy cream, a shallot, a clove of garlic, and cognac to make the sauce. If you don't feel you can justify buying an expensive bottle of cognac if you're only going to be using a small amount of it here, you could buy one of those mini-airline size bottles, but you could also use a much more affordable bottle of brandy instead. That way, you may even be able to afford slightly bigger steaks!
Prepare the steaks for cooking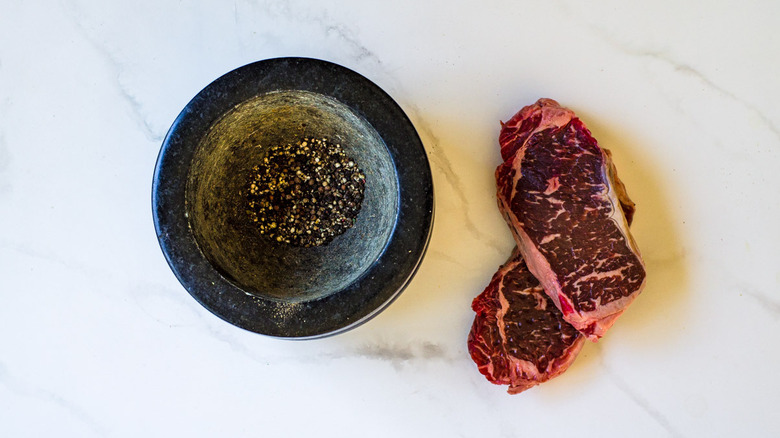 Mackenzie Ryan/Mashed
Take the steaks out of the fridge about ½ hour before you plan to start the grill. That way, they can warm up a bit to room temperature before you cook them. Salt each steak on both sides while they rest. If you're wondering what salt to use, Ryan recommends Kosher salt, because "it doesn't have as stringent a taste as iodized table salt," but says you can also use sea salt, which is a great alternative.
After salting the steaks, it's time to crush the peppercorns. A mortar and pestle or a spice grinder will come in handy for this task, if you've got one. If not, the old heavy plastic bag and hammer technique can get the job done, too.
Pour the cracked pepper into a dish, then press each steak into the pepper on both sides until it's coated nicely. Shake off any excess pepper, and set the steaks to the side until the grill is good to go.
Get the grill ready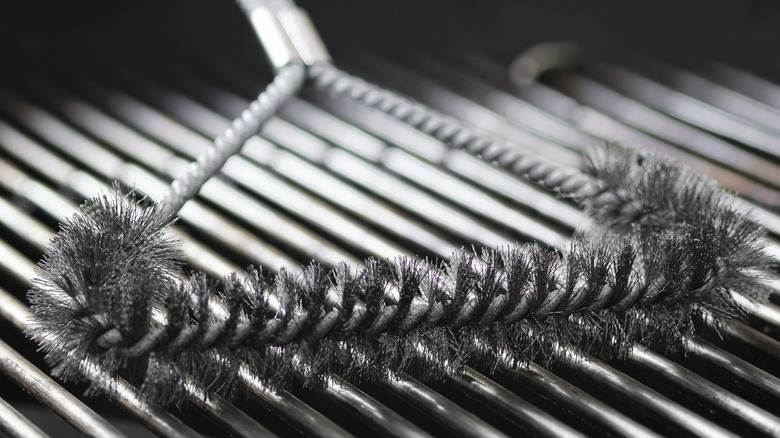 Shutterstock
In case you're wondering, it really doesn't matter whether you make this dish using a charcoal grill or a gas one. While Ryan says, "I love charcoal myself because it adds flavor, " she admits that "it's a bit trickier because you can't control the temperature of the grill as well as with gas." Whichever grill you use, there are two things you should always do  before you start cooking: clean the surface area, and preheat it. 
Start by giving the grill grates a good scrubbing while they're cold, then let the grill heat up for 10 to 15 minutes before scrubbing the grates again. Don't think you're done yet, though. Before you add the meat, you'll need to take a damp cloth and very carefully wipe down those hot grill grates to remove any soot. For one final touch, take another clean rag, and use it to apply a very light layer of oil to ensure that the meat won't stick to the grill. 
All of this may sound like a lot of extra steps, but the end result will be worth it.
Cook the steaks to perfection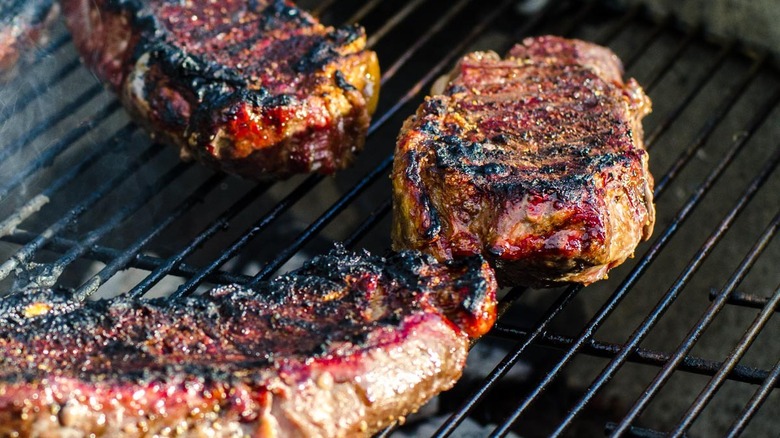 Mackenzie Ryan/Mashed
Place the steaks on the hot grill, and allow them to cook for about five minutes. If you want to achieve those photogenic crosshatch marks for all of the Instagram pics you are bound to post, you may want to reposition the steaks after about two or three minutes in order to get good ones. But if you forget or can't be bothered, don't worry, since the grill marks are going to wind up hidden under a sauce anyway. After the steaks have cooked for five minutes on one side, flip them and allow them to finish cooking on the other side.
Ryan says to cook until the steaks reach the desired internal temperature, but a meat thermometer will be your best bet for determining this rather than just poking, eyeballing, or guessing. A medium-rare steak, which many experts consider to be the optimum temperature for flavor and juiciness, will have an internal temperature of 135 F, and your steak will be well-done (or perhaps over-done) once it reaches 160 F. Take the steaks off the grill when they are at your desired doneness, and allow them a well-deserved rest while you put together the sauce.
Whip up the sauce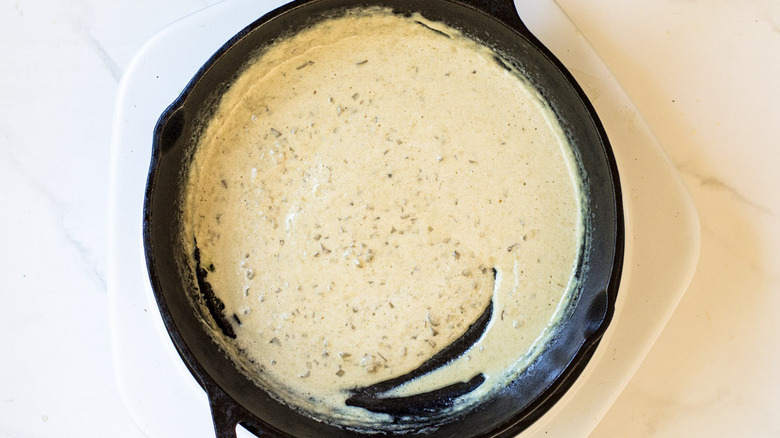 Mackenzie Ryan/Mashed
The next step is going to be melting the butter in a saucepan over medium heat. Add the chopped garlic and shallots, and sauté until they're slightly translucent but not yet browned, something that should only take about 30 seconds. Pour in the cognac, and cook until it has reduced by about ⅔. Pour the cream into the pan, and reduce the heat to medium-low. Then, simmer the sauce until the cream reduces by half. 
If you're not great at eyeballing these fractional reductions, Ryan offers this helpful hint: "As the sauce reduces, you should be able to see the line where the sauce originally started ... [this] can help you gauge roughly how much it has reduced." Even if you're still not sure about things, though, Ryan does say that the sauce is done once it gets "thick enough to coat the back of a spoon." Season the sauce with salt and pepper, then add the steaks to the pan, and allow them to simmer for one minute. Things are going to be looking and smelling really good right about now.
Plate the steak, and enjoy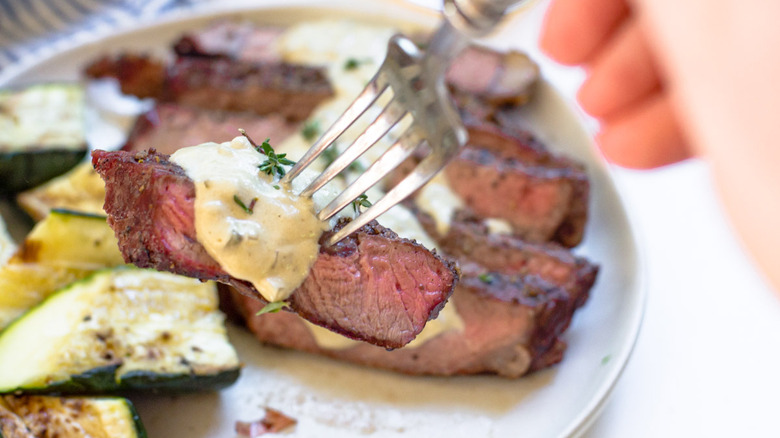 Mackenzie Ryan/Mashed
Now is the fun part. Plate the steaks, and finish them off with the pan sauce you just created. For a side dish, Ryan went with zucchini, though she also suggests "a beautiful green vegetable like green beans or asparagus," as well as roasted potatoes or fries. A freshly tossed green salad or a spinach salad would also complement this rich and slightly decadent dish, and a glass of red wine or mineral water would be the perfect beverage to serve alongside it. Be sure to pick up some of your favorite dinner rolls, and you have just completed an amazing dinner to serve for your family or guests. Kick back, and enjoy your grilled steak au poivre. This recipe is definitely a keeper.
Grilled Steak Au Poivre Recipe
This grilled steak au poivre pairs so well with a side of zucchini, green beans, asparagus, or roasted potatoes.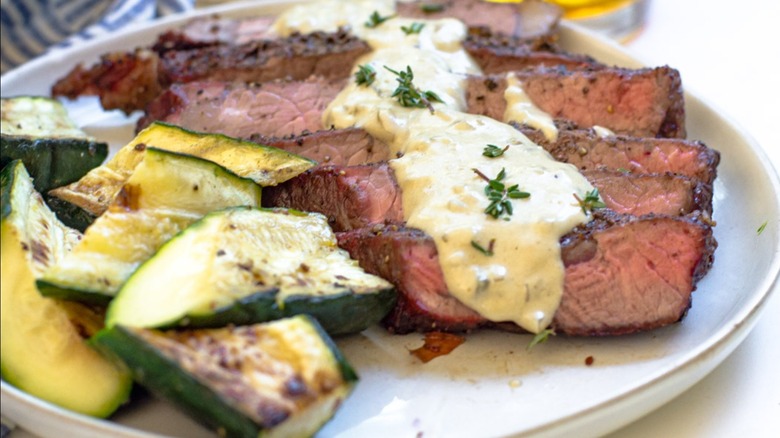 Ingredients
2 New York Strip Steaks
salt, to taste
¼ cup whole black peppercorns
1 tablespoon butter
1 garlic clove, minced
1 shallot, minced
⅓ cup cognac
1 cup heavy cream
ground black pepper, to taste
Directions
Take the steaks out of the refrigerator about 30 minutes before cooking so they can come to room temperature.
Salt the steaks on both sides.
Crush the peppercorns until no whole ones remain. Transfer them to a dish, and press the steaks into the peppercorns until coated. Shake off any excess.
Clean and preheat the grill.
Place the steaks on the grill, and cook for 5 minutes. Flip and cook on the other side until the steaks reach desired internal temperature. Remove steaks from the heat, and allow them to rest.
Melt the butter in a pan over medium heat.
Add the minced garlic and shallots, and cook until they are slightly translucent, which should take about 30 seconds.
Pour in the cognac, and cook until it has reduced by ⅔.
Pour in the heavy cream, and reduce the heat to medium-low. Let the sauce simmer until it has reduced by half and is thick enough to coat the back of a spoon.
Season the sauce with salt and pepper.
Add the steaks to the sauce, and let them simmer for 1 minute.
Serve steaks with sauce drizzled on top.
Nutrition
| | |
| --- | --- |
| Calories per Serving | 1,323 |
| Total Fat | 101.8 g |
| Saturated Fat | 52.1 g |
| Trans Fat | 0.2 g |
| Cholesterol | 425.1 mg |
| | |
| --- | --- |
| Total Carbohydrates | 18.6 g |
| Dietary Fiber | 4.9 g |
| Total Sugars | 5.8 g |
| Sodium | 1,187.9 mg |
| Protein | 63.1 g |