These Are The Best Desserts Coming To Aldi In June 2021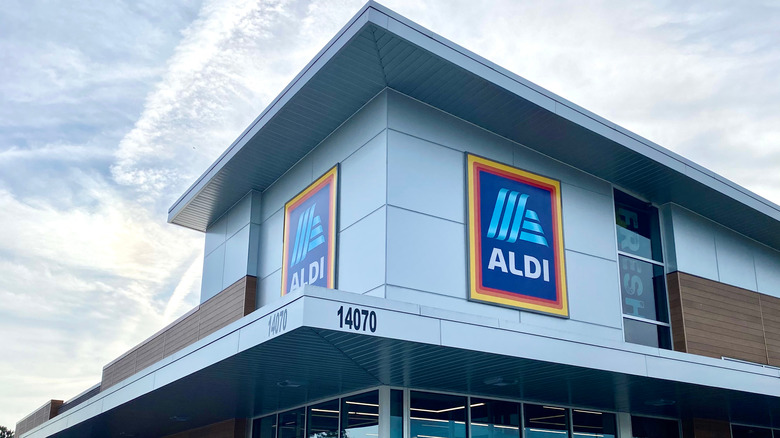 Shutterstock
Bored with your weekly grocery run? Not if you're an Aldi shopper. Every week brings a whole new batch of limited-time finds and special buys, so there's always something fun in store. Sure, you'll want to stock up on all the basics at Aldi — you can't beat its prices on milk, cheese, or meat, after all — but once you've checked off all the staple items on your list, surely you deserve a few little treats.
Well, good news for all those sweet teeth out there: Aldi's doubling down on delicious desserts this summer! Mashed got a sneak preview of the upcoming June finds, and we're pretty excited about these items. They range from bite-sized snacks to healthy indulgences to a DIY cookie kit, so no matter what you're in the mood for, chances are you'll find something that will appeal to your tastebuds. Go ahead and toss a few of these desserts in your cart to reward yourself for another successful Aldi haul.
Simply Nature Organic Mini Cookies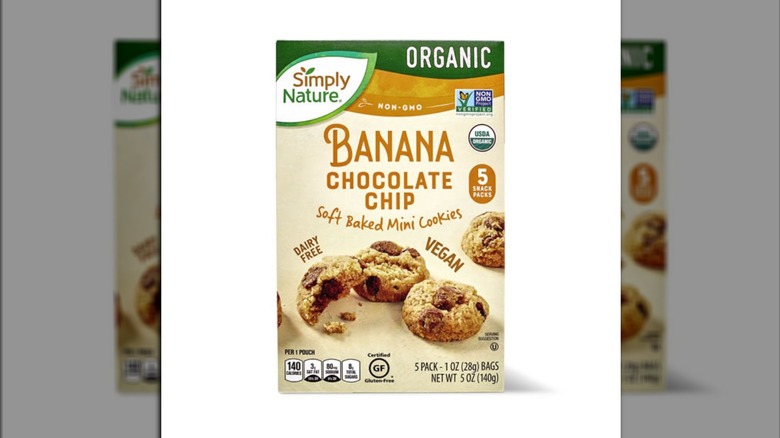 Aldi
Remember the whole tiny food trend? Yes, well, these Simply Nature Organic Mini Cookies aren't that small. They are mini-sized, though, and come packaged in individual serving pouches for portion control. They are also non-GMO and vegan and come in two different varieties: banana chocolate chip and regular chocolate chip. These cookies will run you $2.99 for a box containing five pouches, and you can pick them up at Aldi starting on June 2.
Granny B's Unicorn Frosted Sugar Cookies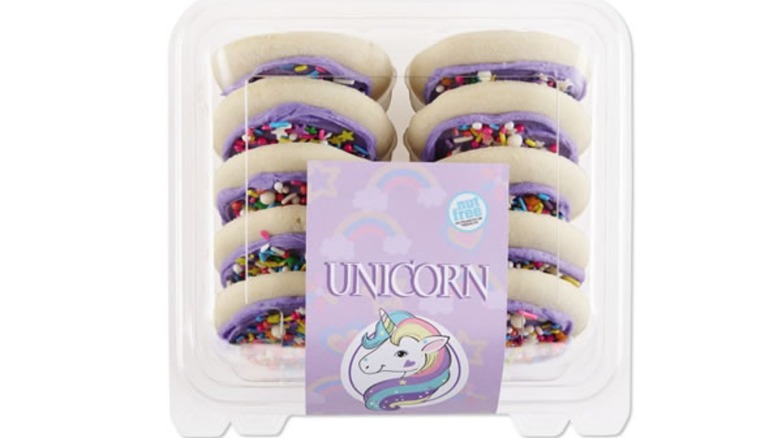 Aldi
Unicorn food was another fad from the late 20-teens, but it's one that will never truly go away. As long as there are little kids who like to dress up as fairy princesses (or princes), colorful, sprinkled foods will have their fans. Plus, okay, some of us adults have a secret fondness for rainbow jimmies, too. As long as you're not ashamed to have such a thing in your cart (perhaps pretend they're for your 5-year-old niece's birthday party?), you'll likely be tempted by Granny B's take on the unicorn cookie. These are those big fat puffy kind of sugar cookies, topped with a thick layer of lavender-colored frosting, and decorated with star-shaped sugar sequins.
While you can't put a price on magic, a package of 10 Granny B's Unicorn Frosted Sugar Cookies will run you $2.89. Can't wait to try them? You won't have to, since they go on sale June 2.
Park Street Deli Cocktail Hummus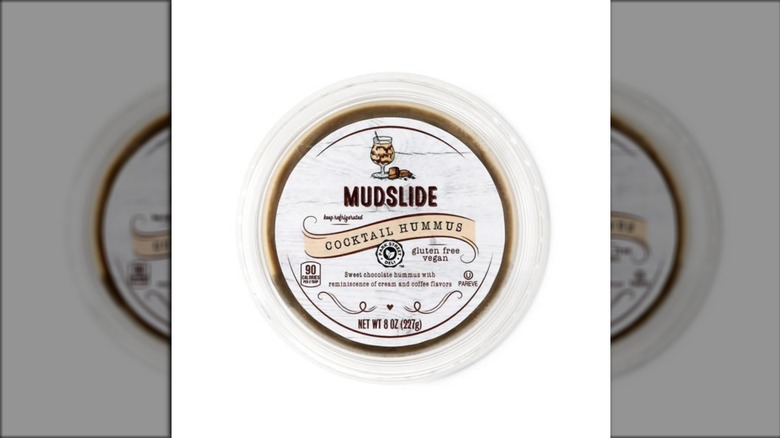 Aldi
Here's one more blast from the recent past of food fads: Aldi is reviving a trend that never really took off: dessert hummus. Chocolate hummus has been around for a couple of years now, but it's not everyone's preferred indulgence (healthy or otherwise). In fact, at a time when grocery shelves were nearly bare last year, chocolate hummus was one of the few items you could still find in abundance. Well, Aldi's gone the dessert hummus route before, offering both sugar cookie and chocolate mint flavors as wintertime seasonal items. For summer, its new spin is cocktail flavors, featuring the chocolate-ish mudslide hummus as well as the fruitier strawberry daiquiri and piña colada versions.
Still skeptical? Sweetened mashed chickpeas aren't to everyone's taste, but if you are at least a little bit dessert hummus-curious, this Park Street Deli Cocktail Hummus won't set you back too much. It's priced at just $1.95 per 8-ounce tub and will be available the week of June 9.
Choceur Mini Peanut Butter Cups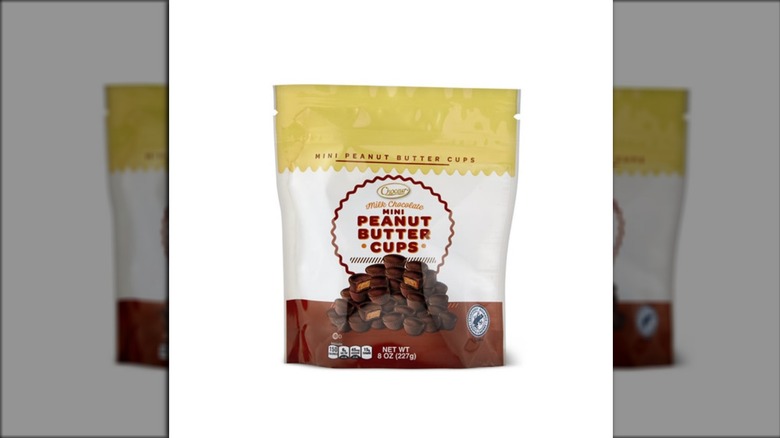 Aldi
When Aldi came out with its Choceur peanut butter cups, many of us thought they were just another Reese's knock-off. Fine as far as that goes, since who doesn't love a good peanut butter cup, but nothing that was poised to knock the OG PBC off its perch. Well, how wrong were we? Taste of Home set the peanut butter cup world on its ear (or at least tilted it a bit) when they conducted a blind taste test of five different brands: Butterfinger, Choceur, Justin's, Reese's, and Trader Joe's. To everyone's shock, those delicious Reese's cups we all know and love came in at a solid number two. Taking the top spot, with a score of 9.5 out of 10 to Reese's 8.6, was Choceur's version of the classic candy.
Well, these Choceur Mini Peanut Butter Cups are the same thing, only smaller. You can gobble them down by the handful, or else make the 8-ounce bag last for a long, long time if you have supreme self-control. Plus, at $2.29 a bag, you can afford to experiment with them by using them for cookie baking, cake decorating, or even spelling out secret messages. They're available starting on June 16, but you might want to hurry since Aldi's peanut butter cups tend to sell out pretty quick.
Baker's Corner S'mores Cookie Kit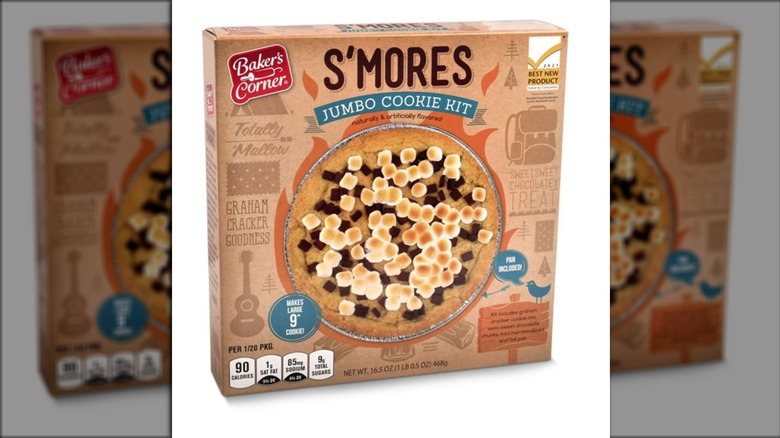 Aldi
Feel like you want to do some baking, but you just can't find the time? Aldi's meeting you halfway by offering a cookie kit. Everything you need to make one jumbo-sized (9-inch) cookie is included in this Baker's Corner S'mores Cookie Kit. For $4.99, you get the graham cracker crust, the chocolate chips and marshmallows for topping, and even the foil pan for baking, and it can be all yours on June 23.