The Truth About Max Hardy From BBQ Brawl Season 2
Few chefs have what it takes to take on Bobby Flay, and even fewer can take him on when faced with severe limitations. Max Hardy did just that, as he squared off against the television personality on "Beat Bobby Flay" and served up refined takes on classic food for kids. Hardy now returns to either take on or team up with Flay on the upcoming season of "BBQ Brawl." 
However, Hardy's journey didn't just start on the Food Network. He started off as an aspiring chef from Tampa, Florida and won a scholarship to attend Johnson and Wales University in Miami (via Chef Maxcel Hardy). After studying at this culinary institute, Hardy went on to found Chef Max Miami, a catering service that led Hardy to serve as a personal chef to NBA players and hip hop artists alike. 
Hardy has cooked for the Prince of Dubai and prime minister of Turks and Caicos and served as the personal chef for the New York Knicks' Amar'e Stoudemire from 2009 to 2014. During this period, Hardy also released a cookbook alongside Stoudemire documenting 100 recipes he served up for the basketball player. Hardy's entrepreneurial spirit doesn't end there — the chef opened a Caribbean restaurant named Coop and a casual eatery called What's Crackin' in Detroit back in August 2020 (via Eater).
A history of culinary philanthropy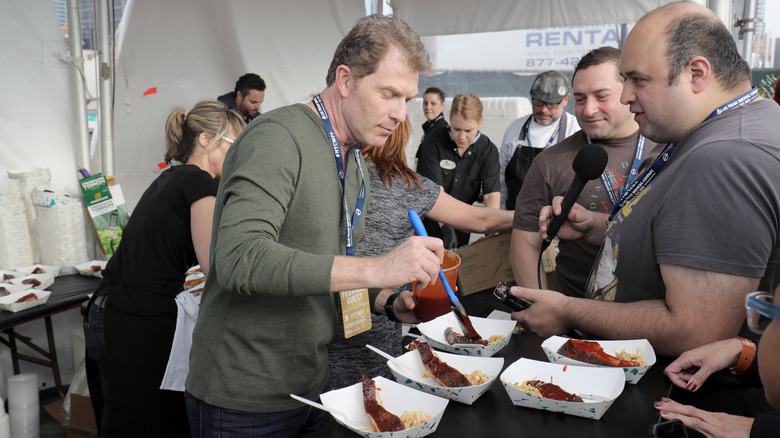 Neilson Barnard/Getty Images
In addition to cooking, Hardy has a long history of giving back to his community (via Chef Maxcel Hardy). The chef founded the non-profit One Chef Can 86 Hunger foundation, a group that strives to raise awareness and fight hunger across America. The foundation helps raise awareness about food insecurity in communities across the country, while supplying healthy and cost-effective alternative food sources to those in need. Hardy has partnered with schools across the country and high school cooking plans to help address hunger, and specifically aims to curb hunger issues among America's youth.
With a rich background like this, no one has the chops to join up with Michael Symon, Flay, and more on the upcoming season of "BBQ Brawl." This chef who passionately pursues philanthropy and good cooking could easily give any other competitor a run for their money and has the potential to win it all this season. Make sure to tune in on June 14 to check out the action and see if Hardy has what it takes to go all the way.