Instant Pot Bolognese Sauce Recipe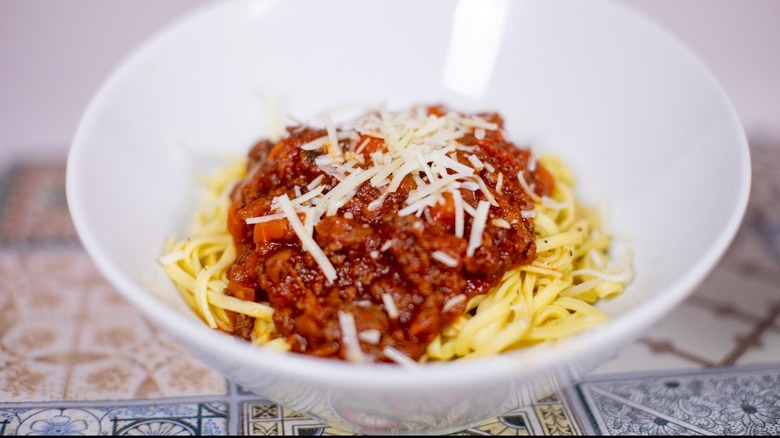 Nathaniel Lee/Mashed
Spaghetti Bolognese, or "spag bol" for short, is one of those "Italian" pasta dishes that is actually not all that authentic, at least not in the form we're familiar with. Recipe developer Nathaniel Lee of Beginner Food explains that "Bolognese is more of a 'food in the style of Bologna' than a specific dish or recipe on its own," going on to say that "What we generally consider a Bolognese is really a ragu-style dish, which is often a braised/simmered tomato based sauce." According to La Cucina Italiana, however, a traditional Bolognese as made in the northern Italian city of Bologna might actually be made with tuna instead of ground beef. Umm ... yummy? It could be good, not going to knock it 'til we try it. Still, if you tell your family you're making Bolognese for dinner, that's not what they're going to be expecting, and chances are it won't be received as well as you might hope.
Lee's spag bol, on the other hand, is everything you and your family could wish for, and more. The "more" part being the sneaky veggies this recipe incorporates in the form of diced carrots and onions along with the savory ground beef in tomato sauce. Best of all, you prepare it in an Instant Pot so there's no need to stand over a hot stove.
Assemble your ingredients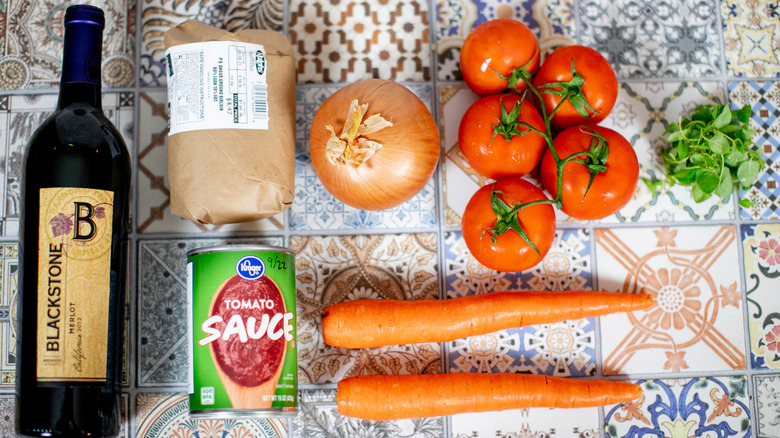 Nathaniel Lee/Mashed
While many Italian(esque) recipes rely on using pasta sauce from a jar, there's no need for that here since this recipe is simple enough without having to resort to such shortcuts. You're going to need a few fresh veggies: the aforementioned onion and carrots, as well as a few tomatoes. You'll also be using olive oil — and forget what Rachael Ray might say, it's perfectly okay to use the cheaper pure olive oil for cooking rather than insisting on all EVOO all the time. You're also going to need some ground beef, but not too much of it, as this super-economical dish calls for just half a pound. A can of tomato sauce goes into the mix, as does red wine (about half a bottle), and a sprinkling of chopped fresh oregano finishes the dish off nicely.
Why is there no garlic in this recipe?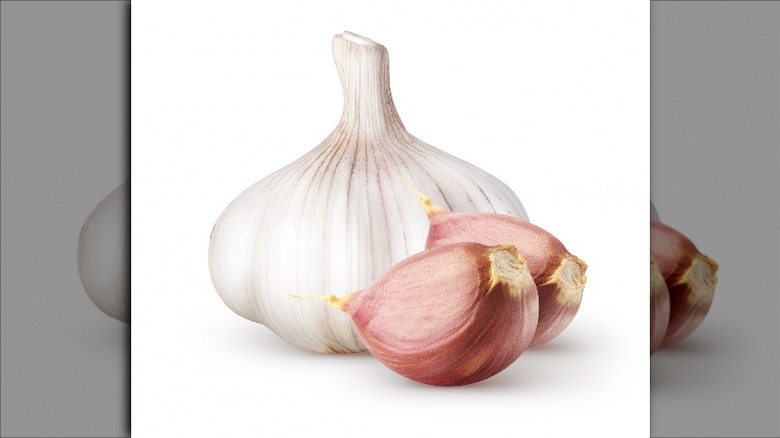 Shutterstock
While many people automatically equate garlic with Italian food and assume you can't have one without the other, garlic really isn't used all that much in Italy. Sure, it may be added to a dish here and there, but classic Italian cooking involves a wide range of flavors and is not over-reliant on any one single spice.
This Bolognese sauce gets its all the alliaceous goodness it needs from the onions, while the diced carrots add an earthy sweetness that might be masked by a strong garlic flavor. In fact, Lee says that when you pressure cook a dish or even just simmer it for a long time, "the garlic is basically going to dissolve and get pretty lost in the flavor of the wine and meat." He feels garlic works better in green or white sauces that are quick-cooked or raw than it does in slow-cooked red ones. If you just can't conceive of a pasta sauce sans garlic, though, Lee says you can mince some fresh garlic very finely and then toss it with the strained pasta along with a teeny bit of melted butter or olive oil. That way, he explains, "The heat and fat will infuse the pasta with the garlic flavor."
Prep and cook the veggies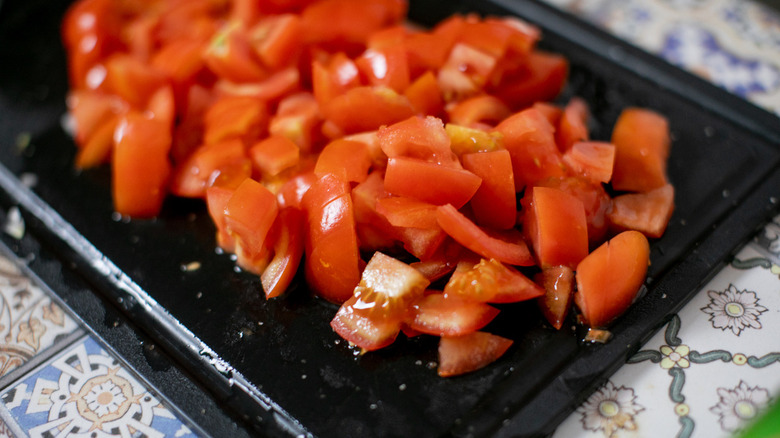 Nathaniel Lee/Mashed
Begin prepping your Bolognese by washing the carrots, tomatoes, and oregano — all of these flavors will be front and center, so you want to make sure they're nice and clean. Peel the carrots and dice them small, then peel and dice the onion as well. Now wipe your eyes, blow your nose, wash your hands(!), and dice the tomatoes as well.
Set the Instant Pot to sauté and let it heat up for 5 minutes. Lee says it's important to let the Instant Pot reach the proper temperature before you add the oil and vegetables, telling us "You want to hear sizzle when it hits the pot." Once it's hot enough, pour the olive oil into the pot and add the onions and carrots. Sauté these veggies for 10 minutes or until the unions are a nice golden brown.
Add the rest of the ingredients and let the Instant Pot do its thing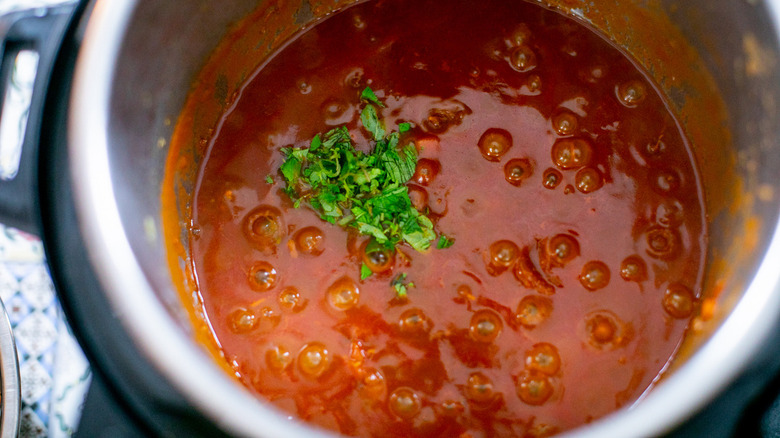 Nathaniel Lee/Mashed
Now crumble the beef into the pot, breaking it up with a wooden spoon or a spatula and seasoning it with the salt. Sauté the beef along with the vegetables for another 10 minutes, then add the diced tomatoes and tomato sauce and sauté for 10 more minutes. Add the wine, then cover and lock the Instant Pot and set it to cook on high pressure for an hour.
After the hour is up, vent the steam with the release button, then open the Instant Pot and set it to sauté for another 10 minutes to reduce the liquid a little bit. Lee warns never to pressure cook the sauce for more than an hour, saying "your vegetables will turn into mush" if you do. He also reminds us that when cooking with an Instant Pot, you should always have the lid off when you're sautéing. As a finishing touch before serving the sauce, add in the chopped oregano.
Pick your pasta and serve the spaghetti Bolognese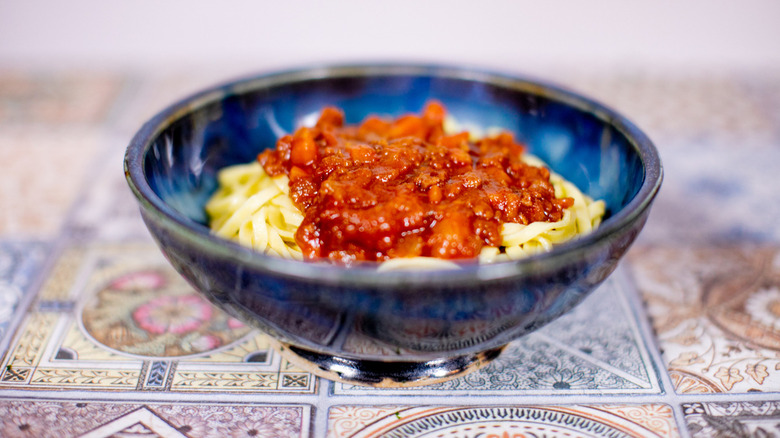 Nathaniel Lee/Mashed
This Bolognese sauce will go well with just about any type of pasta you can think of. While Lee served his sauce over thin, flat linguine noodles, fettucine, spaghetti, or capellini (angel hair) would also work just fine. You can also serve your pasta over a shorter, chunkier type of noodle like shells, penne, or rigatoni, or you could always use it as the basis for building a delicious lasagna or baked ziti.
With the pasta, the meat, and the veggies, spaghetti Bolognese is pretty much a complete meal on its own, although a fresh green salad would be a welcome accompaniment. The classic beverage pairing would, of course, be a glass of red wine (you should still have half a bottle leftover from making the sauce), but non-drinkers might consider a glass of mineral water or a not-too-sweet Italian soda like San Pellegrino's limonata as a refreshing alternative.
You can always make a few tweaks to the recipe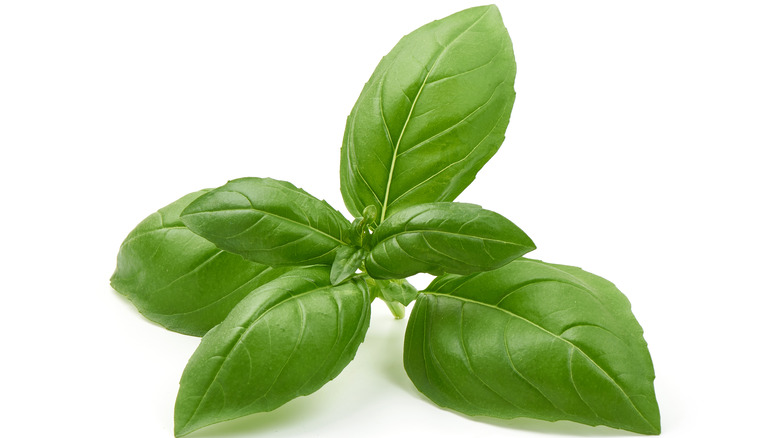 Shutterstock
While this Bolognese recipe is just about perfect as is, Lee recognizes that many cooks like to tailor things to their individual preferences. While this is by no means a comprehensive list of all the changes you are permitted to make –  there's no such thing as the recipe police, you can do what you like in your own kitchen! — he did suggest a few alternatives for several of the ingredients he uses.
Fresh oregano can be replaced with fresh basil, or you may want to use a mix of both types of herbs. If you're not a fan of canned tomato sauce, you can always use a similarly-sized can of tomatoes instead. If you're more of a white wine drinker, you can use white in place of the red for a slightly lighter-bodied sauce, and if you'd like a slightly spicier sauce, you can substitute Italian sausage meat for the ground beef. You could also, if you want to be super-authentic, even try using tuna as the meat, but good luck using the "when in Bologna, do as the Bolognese do" excuse with any dinner guests who might be less than thrilled at the thought of StarKist in their spaghetti.
Instant Pot Bolognese Sauce Recipe
This Bolognese sauce is easy to make in your Instant Pot, and packs a strong flavor punch you'll want to have every night.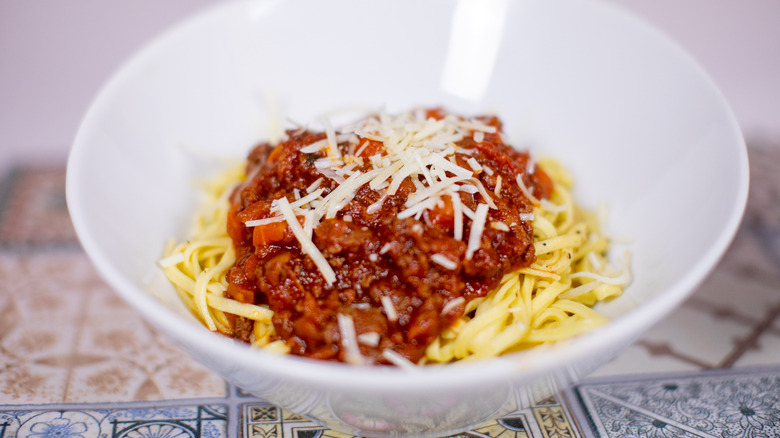 Ingredients
2 carrots
4 tomatoes
2 tablespoons fresh oregano
1 onion
2 tablespoons olive oil
½ pound ground beef
2 pinches salt (or to taste)
1 15-ounce can tomato sauce
2 cups red wine
2 tablespoons fresh oregano, chopped
Directions
Wash the carrots, tomatoes, and oregano.
Peel and dice the carrots and onion. Dice the tomatoes and chop the oregano.
Set Instant Pot for sauté and let it preheat for 5 minutes.
Add olive oil to the pot. Sauté the onion and carrots for 10 minutes or until onions are golden.
Add the beef, breaking up with spatula or wooden spoon and seasoning with salt.
Sauté the beef with the onions and carrots for 10 minutes.
Add the diced tomatoes and tomato sauce to the mix and sauté for 10 minutes.
Add the wine to the pot. Cover and lock the Instant Pot and set it to cook at high pressure for 1 hour.
After an hour, vent the steam with the release button. Open the Instant Pot and set it to sauté for 10 minutes to reduce the liquid.
Add the chopped oregano to finish off the sauce.
Serve the Bolognese sauce on your favorite pasta.
Nutrition
| | |
| --- | --- |
| Calories per Serving | 384 |
| Total Fat | 18.9 g |
| Saturated Fat | 5.4 g |
| Trans Fat | 0.7 g |
| Cholesterol | 40.3 mg |
| | |
| --- | --- |
| Total Carbohydrates | 21.4 g |
| Dietary Fiber | 5.7 g |
| Total Sugars | 10.6 g |
| Sodium | 649.0 mg |
| Protein | 13.1 g |